Subscribe Today: Ask Better Questions, Get Better Answers.
Why Subscribe?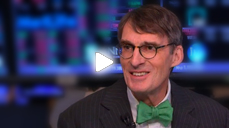 Watch the video and see
There's more.
How much more?
Call John D'Alberto:
(646) 312-8890
Group, bulk and gift subscription rates are available on request. Call 212-809-7994, for more info.
Every subscription to GRANT'S includes a copy that is mailed to you, complimentary online access and mobile access.
All subscribers to GRANT'S can also enjoy GRANT'S online archive - a treasury of past issues.
What You'll Get...
Clear and unconventional thinking
Analysis both micro and macro
Ideas both long and short across a range of asset classes
33+ years of archived material --yours to browse for free
Speculation about the future informed by knowledge of the past
Writing you'd read for pleasure alone.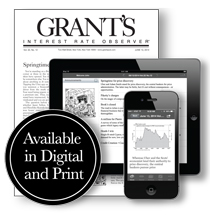 "James Grant's 'Mr. Market Miscalculates' may well be the most perceptive book on the current financial crisis yet published. What is most impressive is that almost all of it was written [in Grant's Interest Rate Observer] years before the crisis finally struck..."
—Financial Times