Subscribe Today: Ask Better Questions, Get Better Answers.
Why Subscribe?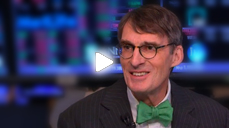 Watch the video and see
There's more.
How much more?
Call John D'Alberto:
(646) 312-8890
Group, bulk and gift subscription rates are available on request. Call 212-809-7994, for more info.
Every subscription to GRANT'S includes a copy that is mailed to you, complimentary online access and mobile access.
All subscribers to GRANT'S can also enjoy GRANT'S online archive - a treasury of past issues.
What You'll Get...
Clear and unconventional thinking
Analysis both micro and macro
Ideas both long and short across a range of asset classes
35+ years of archived material --yours to browse for free
Speculation about the future informed by knowledge of the past
Writing you'd read for pleasure alone.