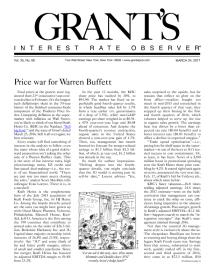 Price war for Warren Buffett
"There are just way too many assets chasing the sales," says a man as wise—in this particular instance—as the Sage of Omaha himself. Ultra-low interest rates, high price/earnings ratios and credit markets fitted out with red carpets share the blame. No profits? No problem.
Excess lingers long
"The hedge fund isn't an asset class. It is a compensation scheme." It became an over-compensation scheme. Tracing the rise and ongoing pratfall of the modern-day hedge fund.
'Yes, but' they said
Bullishness dominated, though they did not quite monopolize, the day's proceedings. A vision of 20 years on the investment equivalent of an exercise bicycle.
$1 billion a day
"Indexing doesn't need any help. It is growing at an astonishing rate and, for someone who never intended to build a colossus, a kind of frightening rate."
Rejoice, mediocrities!
Where in life can a sub-par performer achieve average results with a light tap on a computer key? Investment indexation, attested a preeminent active investor, is "incredible."
The Age of Trump
The text of your editor's early-morning remarks: "The Age of Trump will go down as the Age of the Consequences of Radical Monetary Policy."
Whence D. Trump?
A long and a short for a Trump Market where "what has worked so well in investing will fade or stop working."
Four letters unspoken
The word "gold" went unmentioned at the Plaza, except in the context of an unassailable rule for living: "Never stand in line to buy an asset."
Last to first
Yes, buying low and selling high is hard to do, but there are ways. "Trailing three-year performance is very predictive."
The great escape
To close the era of extraordinary monetary policy, the Federal Reserve must open its mind. "There is no wealth effect, only a wealth illusion."
Narendra Reagan
A pair of stocks in a country poised on the brink of capitalist emergence.
Mentioned at the Plaza
Other investment ideas presented by our speakers at the Spring 2017 Grant's conference.
Where's that boom?
While the S&P 500 is near an all-time high, the much-vaunted wealth effect does not seem to be working its magic.
Undoing Extraordinary Monetary Policy
Remarks of Peter R. Fisher Tuck School of Business at Dartmouth *** Grant's Interest Rate Observer Spring 2017 Conference New York, New York *** March 15, 2017
Books by the editor
James Grant is the author of these books on finance and American history.
Center Section Explained
What the figures say is obvious enough. But what do they mean? Click for a guided tour of the statistics.
Share
Articles
As a subscriber to Grant's, you may share articles with your friends and colleagues. Simply click on the "share button" next to the article to spread the wealth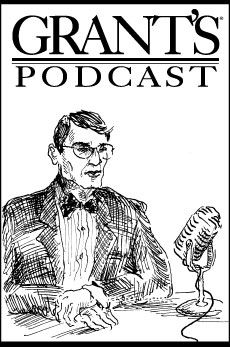 Episode 5: Bulls in unison
Mar 23, 2017
A record net short position in Eurodollar futures raises contrary hackles. Hedge funds—whatever happened to them? And observations on the supermarket bargains for which you may thank ultra-low interest rates and EZ money.
00:09:38
Listen to the Podcast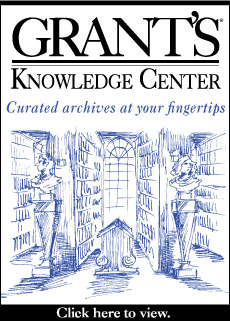 Grant's 30-year
Highlight Reel
Peruse a baker's dozen of articles Grant's produced at some of the critical junctures in the past generation.

Click the link to see what we had to say when opportunity knocked.