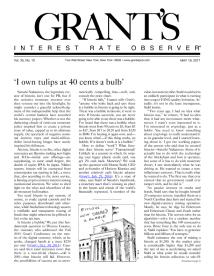 'I own tulips at 40 cents a bulb'
Bitcoin is on fire, other digital currencies are likewise making new highs and ICOs--initial coin offerings--are supplanting, in some small degree, the dearth of equity IPOs. Still, the question lingers: What's the wampum good for?
Bank sells dresses
Shrinkage is the corporate theme. In store count, share count and revenue count, less is the new more. In the absence of growth, apply more debt.
'No More Champagne'
There are innumerable books on how to manage your money. Here might be the best book on how to mismanage it.
Chinese Wallpaper
In China, too, April is the cruelest month.
Loaded for bear
Take every known principle of long-term investment success, negate those precepts and multiply the negative times leverage. Welcome to the world of the ultra-funds.
The story changed
A land of opportunity--for value investors, that is--loses its allure.
Monetary confidence meter
A short survey of the world's listed central banks. How many can you name?
Books by the editor
James Grant is the author of these books on finance and American history.
Center Section Explained
What the figures say is obvious enough. But what do they mean? Click for a guided tour of the statistics.
Share
Articles
As a subscriber to Grant's, you may share articles with your friends and colleagues. Simply click on the "share button" next to the article to spread the wealth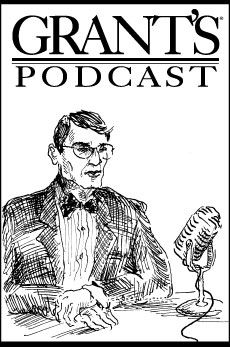 Best statesman, worst investor
May 18, 2017
Risk management as taught by---among others---Sir Winston Churchill
17:44
Listen to the Podcast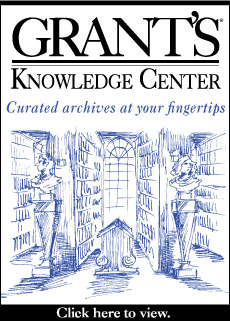 Grant's 30-year
Highlight Reel
Peruse a baker's dozen of articles Grant's produced at some of the critical junctures in the past generation.

Click the link to see what we had to say when opportunity knocked.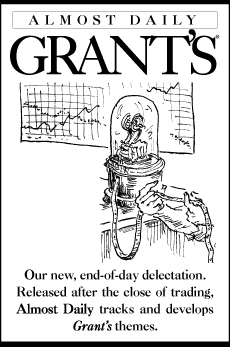 Why Subscribe?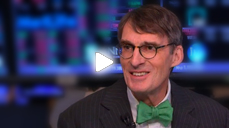 Watch the video and see
There's more.
How much more?
Call John D'Alberto:
(646) 312-8890
Hand-Picked Grant's
What delights await a Grant's subscriber? Read the free sampler of complete issues to find out.
About Grant's
Our editorial mission...
Cartoons