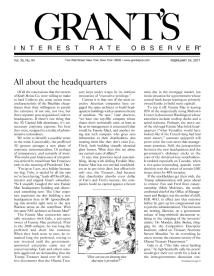 All about the headquarters
A pair of big, profitless, stockholder-defying American companies are building shiny new glass corporate offices with a common theme of sunshine. What the "fake moon landing guys" are demanding from Steve Mnuchin.
Disabled vehicles
For long-range worry, imagine a Detroit that produces not 17 million new vehicles a year but three or four million (who needs a car in the Age of Autonomy?). For a timelier set of concerns, observe today's falling used-car prices, decaying credit metrics and at-risk auto lease market.
White flag at Fortress
Last week, the first private alternative asset manager to go public became the first public alternative asset manager to declare its intention to go private--at less than one-half the 2007 IPO price. Could the business model use a tweak?
How long's 'secular'?
Only 43% of money managers believe in a future of persistently low growth and chronically droopy prices, just half as many as the year before. What ever happened to long-term investing?
So long for now
A favorite Grant's income play has progressed from reasonably cheap to fully valued. While there are better examples of excess in the beautiful Trump stock market, "fully valued" is the amber light of investment.
Making better facts
The Trump administration is casting a creative eye on more than the trade data. Not so easily amendable is the flattening trend in bank lending and Federal Reserve credit.
Books by the editor
James Grant is the author of these books on finance and American history.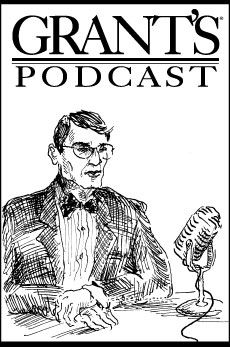 Episode 3: Credit, cars trouble
What easy money giveth, easy money taketh away. On the coming glut in off-lease cars and trucks. And more highlights from the current issue of Grant's.
Episode 2: Just enough about interest rates
The most important prices in capitalism have a long, colorful and—in the capable hands of James Grant—witty history. What the past may teach about the future.
Episode 1: Grant's Interest Rate Observer
How has this celebrated 12-page beacon of skeptical long-form financial journalism prospered for almost 34 years in an age of credulous inattention?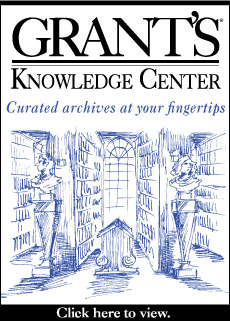 Grant's 30-year
Highlight Reel
Peruse a baker's dozen of articles Grant's produced at some of the critical junctures in the past generation.

Click the link to see what we had to say when opportunity knocked.
Center Section Explained
What the figures say is obvious enough. But what do they mean? Click for a guided tour of the statistics.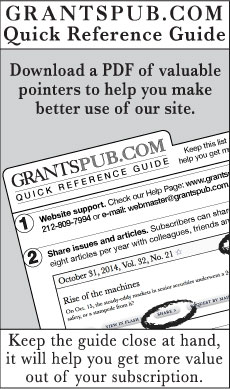 Share
Articles
As a subscriber to Grant's, you may share articles with your friends and colleagues. Simply click on the "share button" next to the article to spread the wealth