Grant's Dispatch
Are you on the list? Sign up for a free email notification of upcoming Grant's events - from new issue postings to conference updates to Jim Grant's appearances in other media.

PLEASE NOTE: To receive these bulletins, please add grantspub.com and grantsdispatch@grantspub.com to your list of approved e-mail address and domain names
Dispatch
Are you on the list? Sign up for a free email notification of current Grant's news - from new issue postings, to conference updates, to Mr. Grant's appearances in the media.
About James Grant

James Grant founded Grant's Interest Rate Observer in 1983 following a stint at Barron's, where he originated the "Current Yield" column.

His books include works of financial history, finance and biography. They are: "Bernard M. Baruch: The Adventures of a Wall Street Legend" (Simon & Schuster, 1983); "Money of the Mind: Borrowing and Lending from the Civil War to Michael Milken" (Farrar, Straus & Giroux, 1992); "Minding Mr. Market" (Farrar, Straus & Giroux, 1993); "The Trouble with Prosperity" (Times Books, 1996); "John Adams: Party of One" (Farrar, Straus & Giroux, 2005); "Mr. Market Miscalculates" (Axios Press, 2008); and "Mr. Speaker! The Life and Times of Thomas B. Reed, the Man Who Broke the Filibuster" (Simon & Schuster, 2011).
Books by James Grant View All
The definitive biography of one of the most brilliant and influential financial minds?banker, essayist, and editor of the Economist...
Read More >
By the publisher of the prestigious Grant's Interest Rate Observer, an account of the deep economic slump of 1920–21 that proposes, with respect to federal intervention, "less is more...
Read More >
"It is good to have this excellent biography of Thomas Reed, a vastly underappreciated major figure in American political history...
Read More >
"James Grant's Mr. Market Miscalculates may well be the most perceptive book on the current financial crisis yet published...
Read More >
Hand-Picked Grant's
What delights await a Grant's subscriber? Read the free sampler of complete issues to find out.
Current Issue
View More >
The yield verdict is in
Interest rates did not just fall, the journalistic evidence suggests, the central banks pushed them...
Better than bills?
An excellent security in which to bide one's time and conserve one's principal...
Wages of sin
Bullish on a pair of pariahs that change hands near eight year lows with dividend yields at record spreads to Treasurys and earnings multiples in the single digits...
Burn notice
Twenty IPOs with a combined market cap of $164.5 billion that fail to generate free cash flow...
'Bizzle' watch
There's a word for the prosperity of the barnacles that cling to the bottoms of stately venture-capital promotions...
Just in case
On the sources and uses of volatility, a sampling of ideas and value propositions intended to engage amateur and professional alike...
Whipsaw Tuesday
Have you heard this before? The long bull market in bonds just might be nearing its end...
What You'll Get...
Clear and unconventional thinking
Analysis both micro and macro
Ideas both long and short across a range of asset classes
35+ years of archived material --yours to browse for free
Speculation about the future informed by knowledge of the past
Writing you'd read for pleasure alone.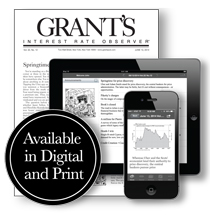 Follow Grant's
Archives
Browse 35 years of Grant's archives by topic or article.
Cartoons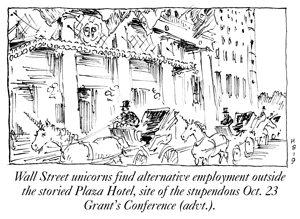 Conferences
Grant's hosts semiannual investment conferences in New York.
Help?
Questions/Problems with the site?
Questions regarding your subscription?