Grant's Dispatch
Are you on the list? Sign up for a free email notification of upcoming Grant's events - from new issue postings to conference updates to Jim Grant's appearances in other media.

PLEASE NOTE: To receive these bulletins, please add grantspub.com and grantsdispatch@grantspub.com to your list of approved e-mail address and domain names
Dispatch
Are you on the list? Sign up for a free email notification of current Grant's news - from new issue postings, to conference updates, to Mr. Grant's appearances in the media.
About James Grant

James Grant founded Grant's Interest Rate Observer in 1983 following a stint at Barron's, where he originated the "Current Yield" column.

His books include works of financial history, finance and biography. They are: "Bernard M. Baruch: The Adventures of a Wall Street Legend" (Simon & Schuster, 1983); "Money of the Mind: Borrowing and Lending from the Civil War to Michael Milken" (Farrar, Straus & Giroux, 1992); "Minding Mr. Market" (Farrar, Straus & Giroux, 1993); "The Trouble with Prosperity" (Times Books, 1996); "John Adams: Party of One" (Farrar, Straus & Giroux, 2005); "Mr. Market Miscalculates" (Axios Press, 2008); and "Mr. Speaker! The Life and Times of Thomas B. Reed, the Man Who Broke the Filibuster" (Simon & Schuster, 2011).
Books by James Grant View All
By the publisher of the prestigious Grant's Interest Rate Observer, an account of the deep economic slump of 1920–21 that proposes, with respect to federal intervention, "less is more...
Read More >
"It is good to have this excellent biography of Thomas Reed, a vastly underappreciated major figure in American political history...
Read More >
"James Grant's Mr. Market Miscalculates may well be the most perceptive book on the current financial crisis yet published...
Read More >
The life and times of the renowned investor, venture capitalist and Democratic political operative...
Read More >
Hand-Picked Grant's
What delights await a Grant's subscriber? Read the free sampler of complete issues to find out.
Current Issue
View More >
Bonfire of the yields
Yen for yen and euro for euro, no balance sheets make more mischief than the ones deployed by the sponsors of today's negative nominal yields...
'Big passion project'
A high-risk, still early-stage arbitrage play between the divergent prices of crude oil and natural gas...
Uneconomic animals
A small bet against the Hong Kong dollar still seems entirely rational...
Incumbency advantage
In the contest between, on the one hand, the merits of free cash flow and, on the other, the prospective fruits of business disruption, the innovators are pledging to build a new industry on the ashes of the old one...
No cheese whiz
A known Grant's pick-to-not-click previews the problems in relisting pricey leveraged buyouts...
The story of 24 hours
With everything that is going on, the most noteworthy item is what China is not doing...
What You'll Get...
Clear and unconventional thinking
Analysis both micro and macro
Ideas both long and short across a range of asset classes
35+ years of archived material --yours to browse for free
Speculation about the future informed by knowledge of the past
Writing you'd read for pleasure alone.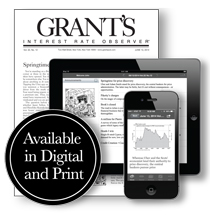 Follow Grant's
Archives
Browse 35 years of Grant's archives by topic or article.
Cartoons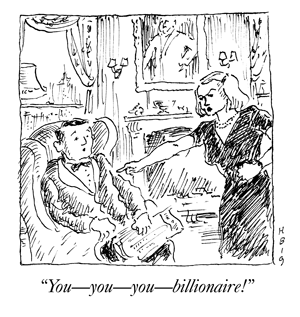 Conferences
Grant's hosts semiannual investment conferences in New York.
Help?
Questions/Problems with the site?
Questions regarding your subscription?