User Service Agreement
User Service Agreement
You may not reproduce, distribute, transmit, disseminate, sell, publish, display, broadcast, circulate or forward any part of Grant's Interest Rate Observer or this web site to anyone, including but not limited to others in the same company or organization, without the express prior written consent of Grant's Financial Publishing, Inc. dba Grant's Interest Rate Observer. This requirement and limitation includes, for example, electronic activities (such as emailing, scanning, web site posting, downloading, printing, ftp, etc.), photocopying, printing, faxing and the like. Authorized subscribers may print a single copy, not multiple copies, of Grant's Interest Rate Observer from this web site solely for your own personal use. Additionally, authorized subscribers occasionally may use the Grant's website "Share an Article" function to provide an Grant's Interest Rate Observer article to a non-subscriber who may find it of interest. Subscribers may not share articles on a regular basis that could provide the recipient the benefits of a subscription. Using the share function results in Grant's receiving contact information for persons who might be interested in subscribing and information on which articles subscribers believe to be of wider interest.
NO OTHER COPYING, OF ANY KIND IS AUTHORIZED.
THE ACCESS THAT A SUBSCRIBER IS GIVEN TO THIS WEB SITE IS PERSONAL TO YOU, INDIVIDUALLY. YOU MAY NOT SHARE YOUR PASSWORD WITH OTHERS, EVEN OTHERS IN THE SAME COMPANY OR GROUP, OR PROVIDE OTHERS WITH ACCESS TO THIS SITE USING YOUR PASSWORD. THE SOFTWARE INSTALLED ON GRANT'S WEB SITE AND ON SUBSCRIBERS' COMPUTERS ENABLES GRANT'S TO MONITOR SUBSCRIBERS' COMPLIANCE WITH THIS USER SERVICE AGREEMENT, AND YOU AGREE GRANT'S MAY DO SO. GRANT'S PUBLICATIONS, THIS WEB SITE, AND OTHER MATERIALS ALSO ARE PROTECTED BY FEDERAL COPYRIGHT LAW. THE COPYRIGHT ACT IMPOSES LIABILITY OF UP TO $150,000 PER ISSUE FOR INFRINGEMENT.
INFORMATION CONCERNING UNAUTHORIZED REPRODUCTION, DISTRIBUTION, DISPLAY OR OTHER INFRINGEMENT WILL BE GRATEFULLY RECEIVED.
Multiple copy discounts and limited (one-time) reprint arrangements may be available upon inquiry.
LOGGING IN AND USING THIS SITE MEANS THAT YOU AGREE TO THESE TERMS.
If you do not agree to these terms, you may cancel your subscription.
As of 3/20/17, if you cancel within 30 days, you will receive a pro rata refund.
There will be NO refunds after 30 days.
Please contact us at 212.809.7994 or subscriptions@grantspub.com regarding these terms, or if you have other questions.
What You'll Get...
Clear and unconventional thinking
Analysis both micro and macro
Ideas both long and short across a range of asset classes
35+ years of archived material --yours to browse for free
Speculation about the future informed by knowledge of the past
Writing you'd read for pleasure alone.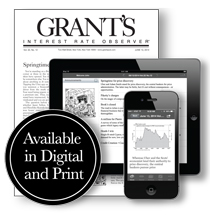 Follow Grant's
Archives
Browse 35 years of Grant's archives by topic or article.
Cartoons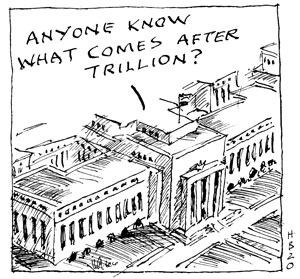 Conferences
Grant's hosts semiannual investment conferences in New York.
Help?
Questions/Problems with the site?
Questions regarding your subscription?