Help
General
Renewals
Dispatch
Are you on the list? Sign up for a free email notification of current Grant's news - from new issue postings, to conference updates, to Mr. Grant's appearances in the media.
About James Grant

James Grant founded Grant's Interest Rate Observer in 1983 following a stint at Barron's, where he originated the "Current Yield" column.

His books include works of financial history, finance and biography. They are: "Bernard M. Baruch: The Adventures of a Wall Street Legend" (Simon & Schuster, 1983); "Money of the Mind: Borrowing and Lending from the Civil War to Michael Milken" (Farrar, Straus & Giroux, 1992); "Minding Mr. Market" (Farrar, Straus & Giroux, 1993); "The Trouble with Prosperity" (Times Books, 1996); "John Adams: Party of One" (Farrar, Straus & Giroux, 2005); "Mr. Market Miscalculates" (Axios Press, 2008); and "Mr. Speaker! The Life and Times of Thomas B. Reed, the Man Who Broke the Filibuster" (Simon & Schuster, 2011).
Books by James Grant View All
By the publisher of the prestigious Grant's Interest Rate Observer, an account of the deep economic slump of 1920–21 that proposes, with respect to federal intervention, "less is more...
Read More >
"It is good to have this excellent biography of Thomas Reed, a vastly underappreciated major figure in American political history...
Read More >
"James Grant's Mr. Market Miscalculates may well be the most perceptive book on the current financial crisis yet published...
Read More >
The life and times of the renowned investor, venture capitalist and Democratic political operative...
Read More >
Hand-Picked Grant's
What delights await a Grant's subscriber? Read the free sampler of complete issues to find out.
Current Issue
View More >
In the words of Paul Krugman
Propounded by the economist Abba Lerner, modern monetary theory is an old thing made new...
Lifting the veil
Half of the moon is dark, but 85% of the leveraged-loan market is shrouded...
'It is not a cycle'
"China will elect to float the renminbi," speculated Russell Napier, leadoff speaker at the Spring 2019 Grant's Conference, "and a jarring deflationary shock will quickly give way to rip-roaring global inflation...
The power of ideas
"If you pay a price expecting an incremental reinvestment of 14% and it's on its way to 7%, it can be an expensive lesson...
Outside the lines
"I'm looking forward to having my Warhol Campbell's Soup painting arrive at my doorstep in an Amazon van...
FOMO headed here
"You will get new highs on all of the averages," observed Wall Street's best stock-market technician...
Muse to central bankers
On money and banking and the duty of a central bank to clean up after a boom: Thoughts from the Greatest Victorian prove especially timely...
In the Age of Trump
"I like the market here, but I don't like the direction we're going...
Deflation on the brain
"You don't need much of an increase in inflation to change the market tone of TIPS, because expectations right now are a deflationary kind of thing...
A retiring country
"In Mexico, people retire when they are 72 years old, in Brazil at 59, so this is an impossible system...
Interest-rate overview
Seated with your editor onstage at the Plaza, the financial market historian Richard Sylla came prepared with a multi-millennia view...
'It just ain't so'
"You can have no certainty that stocks will beat bonds over multi-decade intervals," our speaker informed the Grant's audience, "and I would not assume that you can get 6...
Melting to the upside
Volatility takes a cat nap.
What You'll Get...
Clear and unconventional thinking
Analysis both micro and macro
Ideas both long and short across a range of asset classes
35+ years of archived material --yours to browse for free
Speculation about the future informed by knowledge of the past
Writing you'd read for pleasure alone.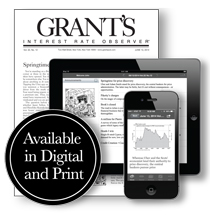 Follow Grant's
Archives
Browse 35 years of Grant's archives by topic or article.
Cartoons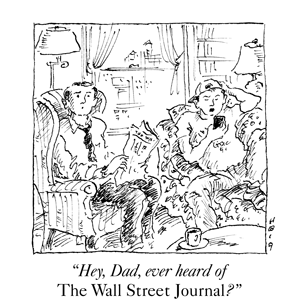 Conferences
Grant's hosts semiannual investment conferences in New York.
Help?
Questions/Problems with the site?
Questions regarding your subscription?