Contact us.
Grant's Interest Rate Observer is published every other Friday, 24 times a year.
Office at 233 Broadway, Suite 2420 New York, N.Y. 10279. Telephone: (212) 809-7994; Fax: (212) 809-8492.
Grant's does not license or authorize reproduction or redistribution by subscribers or anyone else. However, multiple copy discounts and limited (one-time) reprint arrangements are available. Call for more information.
Grant's® and Grant's Interest Rate Observer® are Registered Trademarks of Grant's Financial Publishing, Inc.
Advertising Information, please call (212)809-7994. Or click here to download our rate card.
Questions and/or Problems:
Concerning your subscription please email subscriptions@grantspub.com.
If you would like information regarding group subscriptions: groups@grantspub.com.
Web site questions please email webmaster@grantspub.com
Questions regarding cartoon and article licenses may email webmaster@grantspub.com
NOTE: To make sure your e-mail is read in a timely manner and not simply deleted as junk mail, PLEASE enter a short, concise description of your question/problem in the subject line.
Grant's Staff:
James Grant, Editor
Philip Grant, Associate Publisher
Evan Lorenz, CFA, Deputy Editor
Katherine Messenger, Copy Editor
Harrison Waddill, Analyst
Hank Blaustein, Illustrator
Eric I. Whitehead, Controller
Delzoria Coleman, Circulation Manager
John D'Alberto, Sales & Marketing
Copyright warning and notice: It is a violation of federal copyright law to reproduce all or part of this publication or its contents by: photocopying, faxing, scanning or any other means. The Copyright Act imposes liability of up to $150,000 per issue for such infringement.
Information concerning illicit duplication will be gratefully received.

What You'll Get...
Clear and unconventional thinking
Analysis both micro and macro
Ideas both long and short across a range of asset classes
35+ years of archived material --yours to browse for free
Speculation about the future informed by knowledge of the past
Writing you'd read for pleasure alone.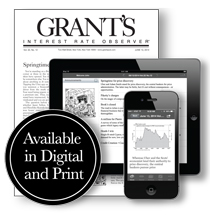 Follow Grant's
Archives
Browse 35 years of Grant's archives by topic or article.
Cartoons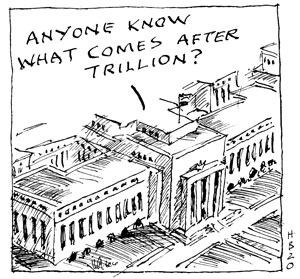 Conferences
Grant's hosts semiannual investment conferences in New York.
Help?
Questions/Problems with the site?
Questions regarding your subscription?