FileOpen Systems Plug-in
CLICK HERE TO DOWNLOAD THE FILEOPEN PLUGIN
Grant's posts its issues in a "locked" PDF format and in Flash. To view the issue in a PDF format you must install a third party plug-in on your computer that will work (invisibly) with your Adobe Acrobat Reader. This will take only a few moments and will help to protect both your investment and our intellectual property. This plug-in, from FileOpen Systems, will allow registered subscribers to open issues of Grant's in PDF format. The Flash view is built into your web broswer and no additional software is required. The Plug-in, Flash viewer and associated software on the Grant's website and on subscribers' computers enable Grant's to monitor subscribers' compliance with the Copyright Act and the User Service Agreement, and please be advised that Grant's may do so. Acceptance of the User Service Agreement includes your agreement to such monitoring.
The plug-in can only be installed on one computer, as well as the Flash Viewer. It will not enable you to forward the issue to open it on another computer or login from another location to download a PDF. If you change computers or update your hard drive, system software or Adobe Reader, please call Grant's at 212-809-7994 to have your key reset.
The computer you on which you install FileOpen and the Flash view will be, for the purposes of reading Grant's (and of making a single hard copy) your one and only computer. Sure it's the right one?
**PLEASE NOTE: Grant's Interest Rate Observer is first and foremost a print publication. Access to the Website is a courtesy extended to subscribers at no additional cost. GRANT'S HAS NO CONTROL OVER THE END-USERS' ENVIRONMENT--regarding hardware and software--and can make no guarantee that you will be able successfully to install and use the plug-in. Before purchasing an issue, you should install the plug-in and download a test issue.
Trouble installing the plug-in? Click Here for more options.
Access is restricted to registered subscribers only.
Assistance? Kindly call us at 212-809-7994.
What You'll Get...
Clear and unconventional thinking
Analysis both micro and macro
Ideas both long and short across a range of asset classes
35+ years of archived material --yours to browse for free
Speculation about the future informed by knowledge of the past
Writing you'd read for pleasure alone.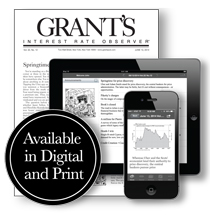 Follow Grant's
Archives
Browse 35 years of Grant's archives by topic or article.
Cartoons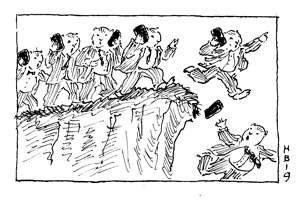 Conferences
Grant's hosts semiannual investment conferences in New York.
Help?
Questions/Problems with the site?
Questions regarding your subscription?