Shared Articles

Congratulations! A friend or colleague has thought enough of you to share a Grant's article.

Subscribers get 24 bi-monthly issues a year of the most informative, stimulating and unconventional financial periodical in English. They are nourished by a fascinating range of subject matter. It's American farmland and a Finnish elevator manufacturer in one issue, a Canadian silver miner and a deeply discounted American real estate investment trust in another. In just about every issue, you'll find a comment on central banking (often astringent) and interest rates (such as they are these days). Buy low, sell high is the unifying theme.

Grant's is for the kind of investor that Benjamin Graham described as "enterprising"-the kind who values analysis more than canned conclusions.

Please enjoy the article.

Americans may be buying the stocks. They are not – as they have done in the past – buying the products. The trouble is that crowds are

Ultra-low rates push and they pull. They push business failure out into the future. They pull consumption forward into the present. Here with a grand tour of the credit horizon. In the background: auto sales and corporate M&A. In the foreground: a booming regional bank and a credit-dependent time-share vendor.

In the 1960s came Leasco and the big conglomerate boom. Now comes Valeant and the bigger platform-company boom. Starved for income, 21st century investors reach not only for yield but also for heroes: "our thirst to believe in others."

Is contemporary art one of the "greatest stores of wealth?" Not if the life, celebrity and obscurity of the 19th century French painter Jean-Louis-Ernest Meissonier is any guide.

*PLEASE NOTE: sharing select articles of Grant's Interest Rate Observer is a courtesy provided to subscribers. A friend or colleague has opted to share this copyrighted material with you. As their recipient, PLEASE do not post this on any website, forward it to anyone else, or make copies (print or electronic). Downloading this content means you agree to these terms.
What You'll Get...
Clear and unconventional thinking
Analysis both micro and macro
Ideas both long and short across a range of asset classes
35+ years of archived material --yours to browse for free
Speculation about the future informed by knowledge of the past
Writing you'd read for pleasure alone.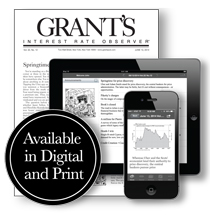 Follow Grant's
Archives
Browse 35 years of Grant's archives by topic or article.
Cartoons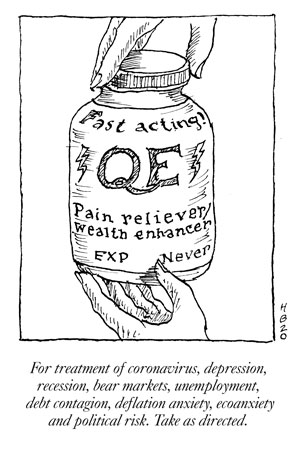 Conferences
Grant's hosts semiannual investment conferences in New York.
Help?
Questions/Problems with the site?
Questions regarding your subscription?