"The only research that I pay for."
—Jeffrey Gundlach, founder and CEO, DoubleLine Capital, LP.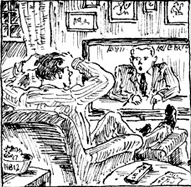 Our editorial mission is to see the present more clearly and to squint into the future more imaginatively. Twenty-four times a year, we strive to uncover good ideas and to expose bad ones. To identify the next important event in markets is the main prize. We try hard to win it, and sometimes—as with the 2008 mortgage meltdown and 2009 recovery in credit or the 2015 "specialty pharmaceuticals" industry belly flop—we succeed.

In every 12-page issue, we present long and short investment candidates in a range of asset classes -- equities, fixed income and real-estate to name a few—as well as astute observations on interest rates, monetary policy, the credit markets and currencies. All of this we frame in the context of financial history and express in jargon-free English.
Recent issues of Grant's have featured analyses of the cycles of interest rates, of income opportunities across the credit spectrum, and why Fed chairman Jerome Powell is a "prisoner of history." Where can an income-seeking investor earn a suitable yield offered at a deeply discounted price? What investment product might play the role of financial villain in a future House of Representatives committee meeting?
The Financial Times columnist John Authers, reviewing the 2008 collection of Grant's articles entitled "Mr. Market Miscalculates," called our prescience concerning the-then unfolding financial crisis "uncanny." And he asked, "If Grant could see what was happening this clearly, and warn of it in a well-circulated publication, how did the world's financial regulators fail to avert the crisis before it became deadly, and how did the rest of us continue to make the irrational investing decisions that make Mr. Market behave the way he does?"
Please help yourself to the free issues provided. Reading Grant's—really reading it—you will find you ask better questions, read better books, and keep company with a better class of investment.
Dispatch
Are you on the list? Sign up for a free email notification of current Grant's news - from new issue postings, to conference updates, to Mr. Grant's appearances in the media.
About James Grant

James Grant founded Grant's Interest Rate Observer in 1983 following a stint at Barron's, where he originated the "Current Yield" column.

His books include works of financial history, finance and biography. They are: "Bernard M. Baruch: The Adventures of a Wall Street Legend" (Simon & Schuster, 1983); "Money of the Mind: Borrowing and Lending from the Civil War to Michael Milken" (Farrar, Straus & Giroux, 1992); "Minding Mr. Market" (Farrar, Straus & Giroux, 1993); "The Trouble with Prosperity" (Times Books, 1996); "John Adams: Party of One" (Farrar, Straus & Giroux, 2005); "Mr. Market Miscalculates" (Axios Press, 2008); and "Mr. Speaker! The Life and Times of Thomas B. Reed, the Man Who Broke the Filibuster" (Simon & Schuster, 2011).
Books by James Grant View All
The definitive biography of one of the most brilliant and influential financial minds?banker, essayist, and editor of the Economist...
Read More >
By the publisher of the prestigious Grant's Interest Rate Observer, an account of the deep economic slump of 1920–21 that proposes, with respect to federal intervention, "less is more...
Read More >
"It is good to have this excellent biography of Thomas Reed, a vastly underappreciated major figure in American political history...
Read More >
"James Grant's Mr. Market Miscalculates may well be the most perceptive book on the current financial crisis yet published...
Read More >
Hand-Picked Grant's
What delights await a Grant's subscriber? Read the free sampler of complete issues to find out.
Current Issue
View More >
Credit virus superspreader
You might have thought that a decade's patching and legislating would have mended the broken financial system...
Typical but unprecedented
The yo-yo action in security prices is not the only fact that beggars historical comparison in this strange springtime...
America the homebound
On a certain homebuilder and on the safer of two income plays that featured in the prior issue of Grant's, we remain bullish...
Lowering the boom
A provocative new report from Moody's Investors Service clarifies the cost and warns of the resulting, looming difficulties to state and local governments of lower stock prices and lower (and lower and lower) interest rates...
Not-so-fine dining
Frozen bread, salad dressing, dips and croutons are its stock in trade...
Compared to what?
We are in uncharted waters and few real-time economic trackers are designed to deal with sharp, sudden stops in activity...
Credit Creation • Cause & Effect
What You'll Get...
Clear and unconventional thinking
Analysis both micro and macro
Ideas both long and short across a range of asset classes
35+ years of archived material --yours to browse for free
Speculation about the future informed by knowledge of the past
Writing you'd read for pleasure alone.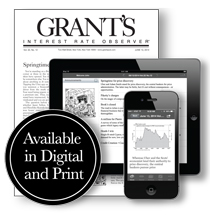 Follow Grant's
Archives
Browse 35 years of Grant's archives by topic or article.
Cartoons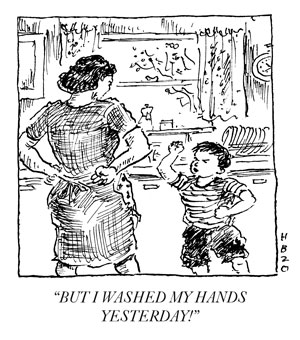 Conferences
Grant's hosts semiannual investment conferences in New York.
Help?
Questions/Problems with the site?
Questions regarding your subscription?