"The interesting people read Grant's."--a statement of fact from a friendly reader.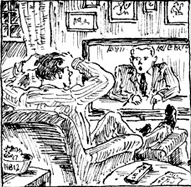 Our editorial mission is to see the present more clearly and to squint into the future more imaginatively. Twenty-four times a year, we strive to uncover good ideas and to expose bad ones. To identify the next important event in markets is the main prize. We try hard to win it, and sometimes—as with the 2008 crash in mortgages or the 2009 recovery in credit or the 2012-13 upturn in house prices—we succeed.

In every 12-page issue, we present long and short investment candidates in a range of asset classes--equities, fixed income and real-estate to name a few—as well as astute observations on interest rates, monetary policy, the credit markets and currencies. All of this we frame in the context of financial history and express in jargon-free English.
Recent issues of Grant's have featured interest income (that rare and precious commodity!), the radical policies of the world's central banks and the "man with the perfect resumé." Do you care to know who that man is? About where an income-seeking investor may earn a substantial yield and still sleep through the night? About why central banks pose a clear and present danger to your financial well-being?
The Financial Times columnist John Authers, reviewing the 2008 collection of Grant's articles entitled "Mr. Market Miscalculates," called our prescience concerning the-then unfolding financial crisis "uncanny." And he asked, "If Grant could see what was happening this clearly, and warn of it in a well-circulated publication, how did the world's financial regulators fail to avert the crisis before it became deadly, and how did the rest of us continue to make the irrational investing decisions that make Mr. Market behave the way he does?"
Please help yourself to the free issues provided. You will notice that, while many financial publications these days write down to their readers, we write up. Reading Grant's—really reading it—you will find you ask better questions, read better books, and keep company with a better class of investment.
Dispatch
Are you on the list? Sign up for a free email notification of current Grant's news - from new issue postings, to conference updates, to Mr. Grant's appearances in the media.
About James Grant

James Grant founded Grant's Interest Rate Observer in 1983 following a stint at Barron's, where he originated the "Current Yield" column.

His books include works of financial history, finance and biography. They are: "Bernard M. Baruch: The Adventures of a Wall Street Legend" (Simon & Schuster, 1983); "Money of the Mind: Borrowing and Lending from the Civil War to Michael Milken" (Farrar, Straus & Giroux, 1992); "Minding Mr. Market" (Farrar, Straus & Giroux, 1993); "The Trouble with Prosperity" (Times Books, 1996); "John Adams: Party of One" (Farrar, Straus & Giroux, 2005); "Mr. Market Miscalculates" (Axios Press, 2008); and "Mr. Speaker! The Life and Times of Thomas B. Reed, the Man Who Broke the Filibuster" (Simon & Schuster, 2011).
Books by James Grant View All
By the publisher of the prestigious Grant's Interest Rate Observer, an account of the deep economic slump of 1920–21 that proposes, with respect to federal intervention, "less is more...
Read More >
"It is good to have this excellent biography of Thomas Reed, a vastly underappreciated major figure in American political history...
Read More >
"James Grant's Mr. Market Miscalculates may well be the most perceptive book on the current financial crisis yet published...
Read More >
The life and times of the renowned investor, venture capitalist and Democratic political operative...
Read More >
Hand-Picked Grant's
What delights await a Grant's subscriber? Read the free sampler of complete issues to find out.
Current Issue
View More >
Price war for Warren Buffett
"There are just way too many assets chasing the sales," says a man as wise—in this particular instance—as the Sage of Omaha himself...
Excess lingers long
"The hedge fund isn't an asset class. It is a compensation scheme...
'Yes, but' they said
Bullishness dominated, though they did not quite monopolize, the day's proceedings...
$1 billion a day
"Indexing doesn't need any help. It is growing at an astonishing rate and, for someone who never intended to build a colossus, a kind of frightening rate...
Rejoice, mediocrities!
Where in life can a sub-par performer achieve average results with a light tap on a computer key? Investment indexation, attested a preeminent active investor, is "incredible...
The Age of Trump
The text of your editor's early-morning remarks: "The Age of Trump will go down as the Age of the Consequences of Radical Monetary Policy...
Whence D. Trump?
A long and a short for a Trump Market where "what has worked so well in investing will fade or stop working...
Four letters unspoken
The word "gold" went unmentioned at the Plaza, except in the context of an unassailable rule for living: "Never stand in line to buy an asset...
Last to first
Yes, buying low and selling high is hard to do, but there are ways...
The great escape
To close the era of extraordinary monetary policy, the Federal Reserve must open its mind...
Narendra Reagan
A pair of stocks in a country poised on the brink of capitalist emergence...
Mentioned at the Plaza
Other investment ideas presented by our speakers at the Spring 2017 Grant's conference...
Where's that boom?
While the S&P 500 is near an all-time high, the much-vaunted wealth effect does not seem to be working its magic...
Undoing Extraordinary Monetary Policy
Remarks of Peter R. Fisher Tuck School of Business at Dartmouth *** Grant's Interest Rate Observer Spring 2017 Conference New York, New York *** March 15, 2017