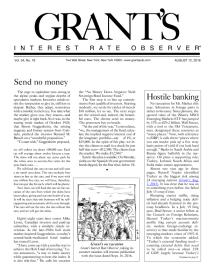 Send no money
Inventive minds resist the urge to capitulate at the alpine peaks and stygian depths of speculative markets. Rather, they adapt, sometimes with a twinkle in their eye. A no-risk, index-beating scheme for this sub-zero time.
Hostile banking
No staycation for Mr. Market this year. Adventure in foreign parts is rather to his taste. Kind words for a pair of pariahs.
'Pervasive and persistent'
When people say "structural," don't they really mean "familiar"?
Dorian gray
A former Grant's pick to click was always a speculation. It is now a very cheap and very risky speculation.
Pants on fire
Quick, which nation is the world's top gold producer? China, you say? Maybe not.
Bump in the road
Digital break-ins. The price that we pay in a time of monetary insanity.
At the intersection of cars and banks
E-Z money was the spark plug of the post-crisis auto recovery. Beware, now, a creeping tightness.
Books by the editor
James Grant is the author of these books on finance and American history.