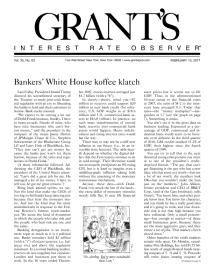 Bankers' White House koffee klatch
In the 91st month of a business expansion comes a push to liberate the banks to lend and their customers to borrow. A speculation on the consequences of the possible liberation of $2 trillion. "Larry did a great job for me. He managed a lot of my money."
Spin cycle
Ingenious humans can produce better products at lower prices. They can likewise transform low GAAP earnings into high non-GAAP earnings. Such intellects make their home at a certain iconic American manufacturer. But whither free cash flow?
When tongues lashed
Nowadays, Democrats and Republicans seem to hurl insults rather than arguments. Then, again, the delicate ears of the 21st-century partisans were never exposed to the blistering rhetoric of William Darrah Kelley (R., Pa.).
Mine disaster
We return to a low-cost, option-laden play on the mismanagement of the world's monetary system. So much potential, yet – in the moment – such disappointment. A speculation on lemonade.
Bid wanted, eh?
Credit constriction in China ripples far and even, even to the northern fringe of NAFTA-land.
Books by the editor
James Grant is the author of these books on finance and American history.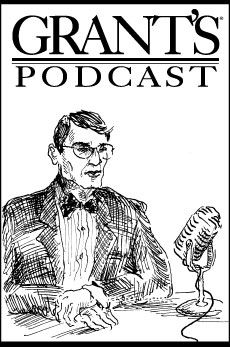 Episode 1: Grant's Interest Rate Observer
How has this celebrated 12-page beacon of skeptical long-form financial journalism prospered for almost 34 years in an age of credulous inattention?
Episode 2: Just enough about interest rates
The most important prices in capitalism have a long, colorful and—in the capable hands of James Grant—witty history. What the past may teach about the future.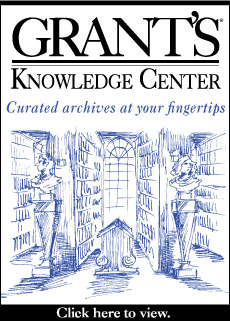 Grant's 30-year
Highlight Reel
Peruse a baker's dozen of articles Grant's produced at some of the critical junctures in the past generation.

Click the link to see what we had to say when opportunity knocked.
Center Section Explained
What the figures say is obvious enough. But what do they mean? Click for a guided tour of the statistics.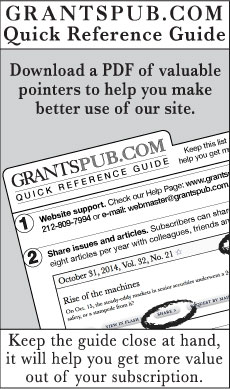 Share
Articles
As a subscriber to Grant's, you may share articles with your friends and colleagues. Simply click on the "share button" next to the article to spread the wealth