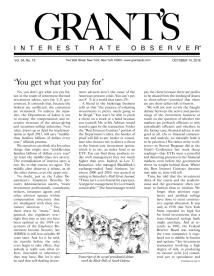 'You get what you pay for'
Federally-mandated overhaul of the retirement-themed investment business promises a big boost to passive investing, which was doing fine without the government's imprimatur. Robotic disruption plus federal coercion makes a force to be reckoned with.
On the ETF divide
A golden age of active investment management awaits only one signal, disastrous event. Is there an exchange-traded fund for which ExxonMobil is not ideally suited?
Battle of the bonds
In the great debate over interest rates at the fall 2016 Grant's conference, the scholarly bull and the newly fledged bear butted heads over more than the future of bond yields.
**Ed. note: John H. Cochrane's, essay, "Inflation and Debt", as mentioned in the issue. Click here to view.
They said it
What to do with money? A grand survey of the wit and wisdom dispensed by the Grant's speakers at The Pierre Hotel last week. "Almost everything that is particularly attractive is a little bit unusual."
Dysfunctional CDO
Deutsche's bond sale registered an increased cost of borrowing for the big sick puppy. Unclear is whether investors are taking a dimmer view of Deutsche or a closer look at its fine print.
Books by the editor
James Grant is the author of these books on finance and American history.