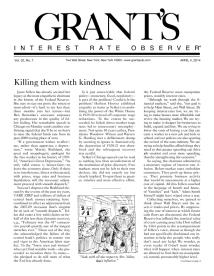 Killing them with kindness
Janet Yellen has already secured her legacy as the most empathetic chairman in the history of the Federal Reserve. Her remarkable speech in Chicago on Monday can be read as nothing less than an indictment of the institution of price discovery.
Yield to worst
"The food is terrible," to quote the famously ambivalent restaurant review--"and the portions are so small." Much the same can be said of today's junk-bond market. The yields are terrible--and there's not enough new supply to satisfy the clamoring demand. On the art of selling what you don't even own.
Somewhat efficient
On March 25, Facebook Inc. agreed to buy Oculus VR, a private, development-stage maker of virtual-reality goggles, for $400 million in cash and $1.6 billion in stock. Oculus had a very good day--as did one homonymic other.
Banking on India
On average, the Indian stock market is neither cheap nor dear. The heart of the investment narrative is rather revealed in the investment peaks and valleys--one fertile and ill-favored valley in particular.
Borrowing way too well
Expressed as a percentage of world output, borrowings of governments the world over jumped to 79% in 2013 up from 62% in 2007, according to the IMF. And what did the sovereigns get for their money?
Books by the editor
James Grant is the author of these books on finance and American history.
Hand-Picked Grant's
What delights await a Grant's subscriber? Read the free sampler of articles and complete issues to find out.
About James Grant

James Grant founded Grant's Interest Rate Observer in 1983 following a stint at Barron's, where he originated the "Current Yield" column.

His books include works of financial history, finance and biography. They are: "Bernard M. Baruch: The Adventures of a Wall Street Legend" (Simon & Schuster, 1983); "Money of the Mind: Borrowing and Lending from the Civil War to Michael Milken" (Farrar, Straus & Giroux, 1992); "Minding Mr. Market" (Farrar, Straus & Giroux, 1993); "The Trouble with Prosperity" (Times Books, 1996); "John Adams: Party of One" (Farrar, Straus & Giroux, 2005); "Mr. Market Miscalculates" (Axios Press, 2008); and "Mr. Speaker! The Life and Times of Thomas B. Reed, the Man Who Broke the Filibuster" (Simon & Schuster, 2011).