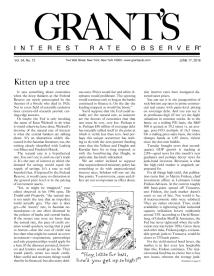 Kitten up a tree
Sky-high asset prices make an odd accompaniment to softening business activity. Now what, First Chief Yellen?
Waiter, the check
People have to eat, and investors want to invest. The trouble, in 2016, is that the urge to eat and the propensity to invest have fallen out of phase.
We are Metro
Washington's subway system has been 50 years in the unmaking. Problems do not become less problematic simply on account of their being familiar, the editor of Grant's reminded the Washington, D.C. Chartered Financial Analysts.
Just enough hair
Widows, orphans and college students may avert their eyes. Now in progress
Can't say goodbye
A correction of a correction. Now, please, go away.
Foreign and domestic
America is a massive net debtor to the world. Then, again – a mitigating fact – Americans are good investors.
Books by the editor
James Grant is the author of these books on finance and American history.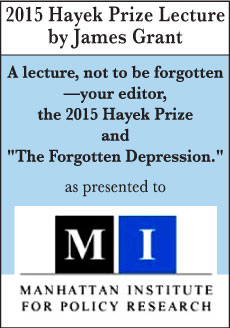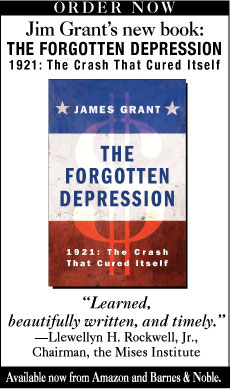 Grant's 30-year
Highlight Reel
Peruse a baker's dozen of articles Grant's produced at some of the critical junctures in the past generation.

Click the link to see what we had to say when opportunity knocked.
Archives
Browse 30 years of Grant's archives by topic or article.
Cartoons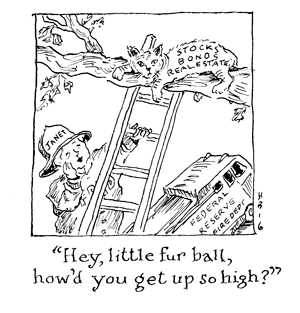 Conferences
Grant's hosts semiannual investment conferences in New York.
Help?
Questions/Problems with the site?
Questions regarding your subscription?