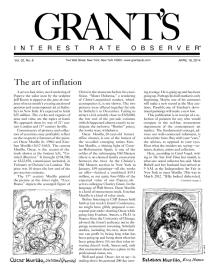 The art of inflation
How many Old Masters for a seven-foot, $25 million Popeye? How many Esteban Murillos for a 21st century Oscar? Shedding bright new light on the cycles of taste and value in art and central banking alike.
Awful to bad
"My No.1 rule of investing," Arjun Divecha told the Grant's Conference-comers, "is you make more money when things go from truly awful to merely bad than when they go from good to great. And I'm going to show you some examples of truly awful." He was as good as his word.
Pretty darn rational
Some contend that markets are generally efficient. Others--perhaps better acquainted with the nut they call Mr. Market--deny it. Cliff Asness, money-maker and scholar, settled the argument.
Too few buildings
The editor of Grant's gently interrogated Jonathan Gray, global head of real estate at the Blackstone Group, on house prices, Indian real estate, the Blackstone Mortgage Trust, office buildings and other timely topics.
Treasury melt-up?
Surveying the bond market, Jeffrey Gundlach, CEO of DoubleLine, declared that Treasurys are historically cheap. That is, compared to Treasurys, nearly every other kind of debt security is historically rich. Wait till the bears have to cover.
Bubble's in biotech
Is 2,000 times earnings the right valuation for companies that, nine times out of 10, strike out? Joe Lawler weighed the evidence.
Cataclysm tomorrow
The junk-bond market suffered a disastrous 2009, all right, allowed Marty Fridson. But, he cheerfully added, just wait till 2016.
Land of refuges
As China decelerates and the Federal Reserve ruminates, what's an investor to do? Invest in Africa, proposed Francis Daniels.
When, oh when?
Story stocks are seasonal plantings; they flower in bull markets. Never-never stocks, explained Andy Redleaf, founder and CEO of Whitebox Advisors, are perennials; they bear fruit in all seasons--for the insiders.
What they wish for
The consumer price index rose by 1.5% in March, measured year-over-year, the Bureau of Labor Statistics announced on Tuesday. Shoulders must have sagged in the Eccles Building.
Books by the editor
James Grant is the author of these books on finance and American history.
Hand-Picked Grant's
What delights await a Grant's subscriber? Read the free sampler of articles and complete issues to find out.
About James Grant

James Grant founded Grant's Interest Rate Observer in 1983 following a stint at Barron's, where he originated the "Current Yield" column.

His books include works of financial history, finance and biography. They are: "Bernard M. Baruch: The Adventures of a Wall Street Legend" (Simon & Schuster, 1983); "Money of the Mind: Borrowing and Lending from the Civil War to Michael Milken" (Farrar, Straus & Giroux, 1992); "Minding Mr. Market" (Farrar, Straus & Giroux, 1993); "The Trouble with Prosperity" (Times Books, 1996); "John Adams: Party of One" (Farrar, Straus & Giroux, 2005); "Mr. Market Miscalculates" (Axios Press, 2008); and "Mr. Speaker! The Life and Times of Thomas B. Reed, the Man Who Broke the Filibuster" (Simon & Schuster, 2011).