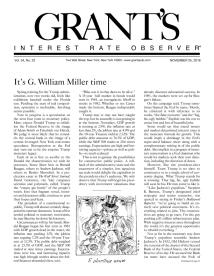 It's G. William Miller time
Spring training for the Trump administration feels like exhibition baseball under the Florida sun. Pending the start of real competition, optimism is irrefutable. Anything seems possible. A speculation on the next four years in monetary policy.
Redheaded stepchild REIT
Put aside the adage, "Buy the best building on the worst block." We here propose the purchase of OK buildings on a terrible block. Anyway, who needs analyst coverage, an annual report, a dividend or a 10-Q?
Dept. of foresight
Markets make opinions.
Contain your enthusiasm
Years of ultra-low interest rates have facilitated the cartelization of a certain branch of American industry. Rarely have its profits been so high. And rarely has it been so overvalued. An eagle eye on the soaring dollar.
Move over, mandarins
Herewith the text of your editor's speech to the 34th Annual Cato Monetary Conference in Washington, D.C., complete with a few things that he thought of later.
This is your government: Stick 'em up.
This is your money—or was. The state would like it now.
Books by the editor
James Grant is the author of these books on finance and American history.