A free Grant's lunch
These hand-picked issues and articles from the recent, and not-so-recent past, are for your enjoyment at no charge. Highlight the free issue or article you would like to read, then click "View PDF" to download it. Click the left or right arrow to view more free issues. All issues and articles are in PDF format, so you will need the Adobe Acrobat Reader to open them.
If you would rather receive a free physical issue via regular mail,
Click Here
.
September 7, 2018
Vol. 36, No. 17
April 6, 2018
Vol. 36, No. 07
June 2, 2017
Vol. 35, No. 11
July 29, 2016
Vol. 34, No. 15
December 11, 2015
Vol. 33, No. 24
March 7, 2014
Vol. 32, No. 05
September 7, 2018, Vol. 36, No. 17
You wonder how the same race of men who conquered smallpox and abolished the slave trade and spread democracy and invented the Internet could persist in the financial errors that periodically send the world into a tailspin. We have the answer.
It's good to be rich – everyone says so – but not necessarily good to cater to the rich. Watch out for splashy newspaper stories.
On Wall Street, success begets failure. Take a good idea, emulate it and embellish it, drive it into the ground like a tomato stake. Voilà: It's a bad idea. How a great idea of the last recession is poised to menace the next one.
America guzzles liquidity
The United States remains no less connected to the rest of the world because the president puts America first.
What You'll Get...
Clear and unconventional thinking
Analysis both micro and macro
Ideas both long and short across a range of asset classes
35+ years of archived material --yours to browse for free
Speculation about the future informed by knowledge of the past
Writing you'd read for pleasure alone.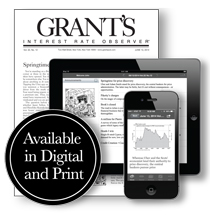 Follow Grant's
Archives
Browse 35 years of Grant's archives by topic or article.
Cartoons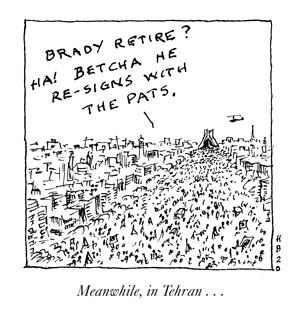 Conferences
Grant's hosts semiannual investment conferences in New York.
Help?
Questions/Problems with the site?
Questions regarding your subscription?