A free Grant's lunch
These hand-picked issues and articles from the recent, and not-so-recent past, are for your enjoyment at no charge. Highlight the free issue or article you would like to read, then click "View PDF" to download it. Click the left or right arrow to view more free issues. All issues and articles are in PDF format, so you will need the Adobe Acrobat Reader to open them.
If you would rather receive a free physical issue via regular mail,
Click Here
.
January 10, 2020
Vol. 38, No. 1
September 7, 2018
Vol. 36, No. 17
April 6, 2018
Vol. 36, No. 07
June 2, 2017
Vol. 35, No. 11
July 29, 2016
Vol. 34, No. 15
December 11, 2015
Vol. 33, No. 24
March 7, 2014
Vol. 32, No. 05
January 10, 2020, Vol. 38, No. 1
Pennies in the fiscal fuse box
The history of the growth of the public debt is also the history of the failed attempts to control it.
You have cash and a problem: How to earn income with an acceptable level of risk?
A long overdue demotion for the home of American high finance.
Buried under a curious choice of nomenclature.
Bearish on a Midwest dividend aristocrat and wary on what its valuation and vulnerability may signify for the stock market as a whole.
It's not hard to see the investment attraction. Yet, speculators betting on reflation may be disappointed.
What You'll Get...
Clear and unconventional thinking
Analysis both micro and macro
Ideas both long and short across a range of asset classes
35+ years of archived material --yours to browse for free
Speculation about the future informed by knowledge of the past
Writing you'd read for pleasure alone.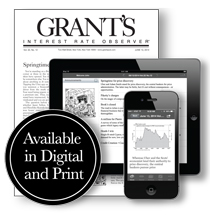 Follow Grant's
Archives
Browse 35 years of Grant's archives by topic or article.
Cartoons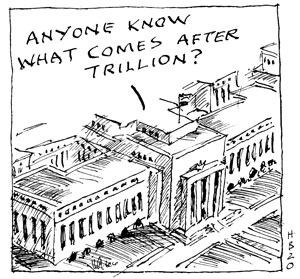 Conferences
Grant's hosts semiannual investment conferences in New York.
Help?
Questions/Problems with the site?
Questions regarding your subscription?