Additional Reading
Below are some of my favorite titles on money, banking and interest rates.
David Kynaston's three-volume history of British finance from 1815 to 2000, entitled "City of London," is not for the faint of heart. But its many words tell timeless stories. Here, for example, the senior partner of Wallace Bros., a merchant bank, cautioning his firm in the wake of a Victorian-era financial crisis. He wished, Alexander Wallace said, "to impress upon all that the sun does not always shine, that the best ships have to face storms and that credit which has taken 50 years to create may disappear in a night, it is such a delicate thing." Or, in brief: "We must be as careful of our credit now as if we were still creating it."
Citigroup, the chronic problem child of modern American banking, is the object of a pair of worthwhile histories. "Citibank, 1812-1970," by Harold van B. Cleveland and Thomas F. Huertas, is a careful and fascinating authorized biography, which does not omit the warts. "The First Billion," by John K. Winkler, is a Depression-era debunking, often quite funny.
The popular demand for more money to cure depressions and institute perpetual prosperity is an ancient story well told in a slim volume of yesteryear. "Fiat Money Inflation in France," by Andrew Dickson White, had its genesis in the late 1870s (White stood opposed to the prevailing Greenback agitation) before seeing the light of day as a book in 1912.
Bray Hammond's "Banks and Politics in America from the Revolution to the Civil War" is financial history at its most insightful and literate. Of the inexperienced yet leveraged American bankers of 200 years ago, for instance, Hammond writes that they "were like boys with racing cars—the first ever built." My own "Money of the Mind: Borrowing and Lending in America from the Civil War to Michael Milken" takes a different approach to advance the same essential story up to the early 1990s.
Henry Hazlitt, author of the essential "Economics in One Lesson," wrote a battery of editorials in the old, pre-Krugman New York Times attacking the emerging monetary arrangements of the mid-1940s, known today as Bretton Woods. These masterful broadsides were collected in "From Bretton Woods to World Inflation."
Charles Goodhart, known best as a senior adviser to the Bank of England, wrote a history in 1969 with the daunting title "The New York Money Market and the Finance of Trade, 1900-1913." But there is nothing obscure or musty about it. "On the basis of its record," he wrote, "the financial system as constituted in the years 1900-1913 must be considered successful to an extent rarely equaled in the United States." This was, of course, before either the Federal Reserve or the FDIC arrived on the scene.
Would the founders of the Federal Reserve recognize their own handiwork if they were brought back to life to inspect it? The story of creation of the Fed by its chief progenitor, Carter Glass, makes you doubt it. Glass's "An Adventure in Constructive Finance," which appeared in 1927, quotes the author exploding in indignation at any who would impugn the proposed Federal Reserve note as mere fiat money. Why, Glass retorted, the currency was as good as gold—or better.
What is money, anyway? You can tease an answer from Lawrence Weschler's book about J.S.G. Boggs, a performance artist who transacted with the currency that he himself painted. "Boggs: A Comedy of Values," is the title of this charming work about the nature of art, money—and counterfeiting.
Martin Mayer's "The Fed" is a superb account of the Greenspan-era central bank by one of America's most prolific and versatile writers on money and banking.
You wouldn't necessarily assume that a volume entitled "A History of Interest Rates" would meet the definition of a page-turner, but Sidney Homer managed to pull it off. The fourth edition, with Richard Sylla, traces the story from antiquity to about 2005.
"Inside the Yield Book," by Sidney Homer and Martin Leibowitz, an acknowledged classic of the fixed-income literature, will serve to remind you of how nice it was to have genuine interest rates. "Interest–on-interest," i.e., the rate at which coupon income can be reinvested in the future, the authors wrote in 1972, "is a surprisingly important part of the total compounded return to the bondholder: typically over half."
What You'll Get...
Clear and unconventional thinking
Analysis both micro and macro
Ideas both long and short across a range of asset classes
35+ years of archived material --yours to browse for free
Speculation about the future informed by knowledge of the past
Writing you'd read for pleasure alone.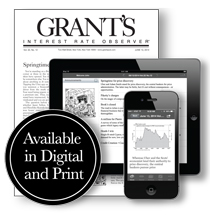 Follow Grant's
Archives
Browse 35 years of Grant's archives by topic or article.
Cartoons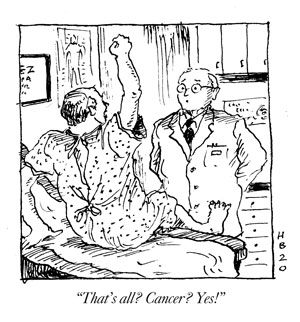 Conferences
Grant's hosts semiannual investment conferences in New York.
Help?
Questions/Problems with the site?
Questions regarding your subscription?