James Grant is the author of these books on finance and American history.
The Forgotten Depression: 1921: The Crash That Cured Itself
By the publisher of the prestigious Grant's Interest Rate Observer, an account of the deep economic slump of 1920–21 that proposes, with respect to federal intervention, "less is more." This is a free-market rejoinder to the Keynesian stimulus applied by Bush and Obama to the 2007–09 recession, in whose aftereffects, Grant asserts, the nation still toils.

James Grant tells the story of America's last governmentally-untreated depression; relatively brief and self-correcting, it gave way to the Roaring Twenties. His book appears in the fifth year of a lackluster recovery from the overmedicated downturn of 2007–2009.
Mr. Speaker!: The Life and Times of Thomas B Reed, the Man Who Broke the Filibuster
"It is good to have this excellent biography of Thomas Reed, a vastly underappreciated major figure in American political history. But it is especially worthwhile reading about him right now, because his era has so many similarities—maybe too many—with our own tumultuous and dysfunctional times." –The New York Times Book Review
Mr. Market Miscalculates:The Bubble Years & Beyond
"James Grant's Mr. Market Miscalculates may well be the most perceptive book on the current financial crisis yet published. What is most impressive is that almost all of it was written years before the crisis struck in July last year." -- Financial Times
Bernard Baruch: The Adventures of a Wall Street Legend
The life and times of the renowned investor, venture capitalist and Democratic political operative.

"Grant paints a wonderfully evocative social, geographical and financial portrait of Wall Street during those early rough and tumble years." – Barron's
Security Analysis: Sixth Edition
Based on the 1940 edition, the new, sixth edition is enhanced with 200 pages of commentary from some of today's leading Wall Street thinkers and doers—including James Grant. The moderns explain why and how the principles and techniques of value investing are just as relevant today as they were when Graham and Dodd first enunciated them 80 years ago.
John Adams: Party of One
Incorruptible, bloody-minded, blustery, tender and brilliant—and, to boot, a principled foe of paper currency and inflated credit—the second President is an American for all seasons.

"One gets the sense that old Adams, who understood and forgave the folly of human nature, including his own, would greatly appreciate Mr. Grant's shrewd and witty biography." – The Providence Journal
Minding Mister Market: Ten Years on Wall Street with Grant's Interest Rate Observer
A comprehensive account of the 1980s, among the least-inhibited decades in modern financial history, culled from the observant and witty pages of Grant's.

"A splendid work . . . filled with lucid observations."- Publishers Weekly.
Money of the Mind
"A brilliantly eccentric, kaleidoscopic tour of our credit lunacy. . . . A splendid, tooth-gnashing saga that should be savored for its ghoulish humor and passionately debated for its iconoclastic analysis. It is a fitting epitaph to the credit binge of the '80s."-Ron Chernow, The Wall Street Journal.
What You'll Get...
Clear and unconventional thinking
Analysis both micro and macro
Ideas both long and short across a range of asset classes
35+ years of archived material --yours to browse for free
Speculation about the future informed by knowledge of the past
Writing you'd read for pleasure alone.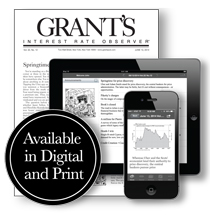 Follow Grant's
Archives
Browse 35 years of Grant's archives by topic or article.
Cartoons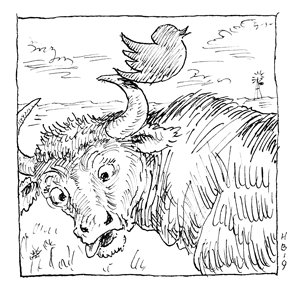 Conferences
Grant's hosts semiannual investment conferences in New York.
Help?
Questions/Problems with the site?
Questions regarding your subscription?