To the readers (and potential readers) of Grant's:
This compilation of recent articles, our annual Grant's Holiday e-issue, is for you—and for your friends, co-workers, clients, classmates, shipmates, brothers-in-law and maids-of-honor, too. Please pass it along, with our compliments, to any and all prospective members of the greater Grant's family.
We resume regular publication with the issue dated Jan. 11, 2013.
Sincerely yours,
James Grant
What You'll Get...
Clear and unconventional thinking
Analysis both micro and macro
Ideas both long and short across a range of asset classes
35+ years of archived material --yours to browse for free
Speculation about the future informed by knowledge of the past
Writing you'd read for pleasure alone.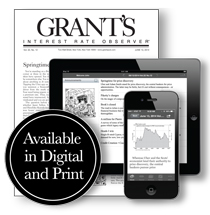 Follow Grant's
Archives
Browse 35 years of Grant's archives by topic or article.
Cartoons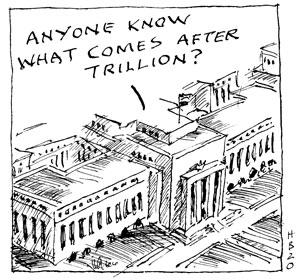 Conferences
Grant's hosts semiannual investment conferences in New York.
Help?
Questions/Problems with the site?
Questions regarding your subscription?