Help
General
Renewals
Dispatch
Are you on the list? Sign up for a free email notification of current Grant's news - from new issue postings, to conference updates, to Mr. Grant's appearances in the media.
About James Grant

James Grant founded Grant's Interest Rate Observer in 1983 following a stint at Barron's, where he originated the "Current Yield" column.

His books include works of financial history, finance and biography. They are: "Bernard M. Baruch: The Adventures of a Wall Street Legend" (Simon & Schuster, 1983); "Money of the Mind: Borrowing and Lending from the Civil War to Michael Milken" (Farrar, Straus & Giroux, 1992); "Minding Mr. Market" (Farrar, Straus & Giroux, 1993); "The Trouble with Prosperity" (Times Books, 1996); "John Adams: Party of One" (Farrar, Straus & Giroux, 2005); "Mr. Market Miscalculates" (Axios Press, 2008); and "Mr. Speaker! The Life and Times of Thomas B. Reed, the Man Who Broke the Filibuster" (Simon & Schuster, 2011).
Books by James Grant View All
By the publisher of the prestigious Grant's Interest Rate Observer, an account of the deep economic slump of 1920–21 that proposes, with respect to federal intervention, "less is more...
Read More >
"It is good to have this excellent biography of Thomas Reed, a vastly underappreciated major figure in American political history...
Read More >
"James Grant's Mr. Market Miscalculates may well be the most perceptive book on the current financial crisis yet published...
Read More >
The life and times of the renowned investor, venture capitalist and Democratic political operative...
Read More >
Hand-Picked Grant's
What delights await a Grant's subscriber? Read the free sampler of complete issues to find out.
Current Issue
View More >
What do you mean, reverting?
Concerning one cosmological proposition or another, Sir Martin Rees, Astronomer Royal, said he thought it was true...
For rising rates
No matter how much you invest in zero percent yields, zero is what you earn...
Trophies for all
"If you're managing money and your job is to find strong companies and short weak ones," observed Jason Trennert, leadoff speaker at the Fall 2018 Grant's Conference, "it is awfully hard when everyone gets a trophy...
Modern media leviathan
"The most levered nonfinancial company in the history of the world is also about as levered as Thailand or Portugal, if it were a country...
Arise, prudent man
"There is no such thing as objective value. That is, all value is subjective to the person doing the valuing – and specifically insofar as he acts toward a desired end...
Central bonkers
Seated with your editor onstage at the Plaza, the great wealth compounder Stanley Druckenmiller hurled thunderbolts at the conduct of monetary policy...
Starbucks also mentioned
"Our approach usually is, if we don't think management is good, we change the management...
'Making stuff up'
"In the salad days of the 1980s and 1990s, a penny-per-share earnings beat could jiggle a share price...
Sell the yuan
"There is no nuance involved in cutting credit growth in half, particularly in a system that is used to very rapid credit growth in previous years...
Father of QE
The improbable, tragi-comic life of a certain Scottish "policymaker cum business projector, stock promoter and activist central banker holds a lesson for our own day...
Relationship counseling
The standard 60/40 stock/bond portfolio-allocation protocol is more than a rule of thumb, our speaker informed the Grant's audience, and "the relationship is in a period of transition...
Times table
The money multiplier is inching up, but growth in the money supply is sputtering...
What You'll Get...
Clear and unconventional thinking
Analysis both micro and macro
Ideas both long and short across a range of asset classes
34+ years of archived material --yours to browse for free
Speculation about the future informed by knowledge of the past
Writing you'd read for pleasure alone.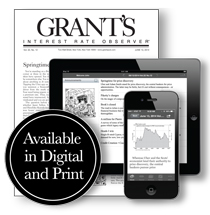 Follow Grant's
Archives
Browse 35 years of Grant's archives by topic or article.
Cartoons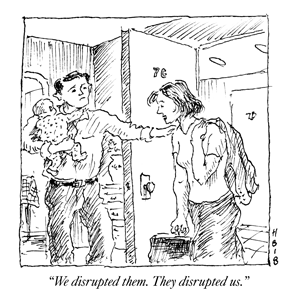 Conferences
Grant's hosts semiannual investment conferences in New York.
Help?
Questions/Problems with the site?
Questions regarding your subscription?