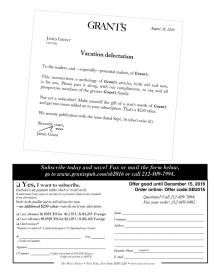 2016 Summer Vacation Issue
This summertime e-anthology of Grant's articles, both old and new, is for you. Please pass it along, with our compliments, to any and all prospective members of the greater Grant's family.
Trudges, the nation's business
"Speculate" is the operative word. Economic cycles, interest rates and the dollar are the topics at hand. A skeptical eye on the world's "most crowded trade."
Sell Donald Trump
Crash or no crash, the personal stock of Donald J. Trump, the New York real-estate celebrity, was up. Up is Trump's favorite direction....
Driving the automo-bezzle
The automakers are selling more and more cars, or so they say. An inquiry into the meaning of the word "sell."
Paper tigers
A new high in the prestige of modern central banks was recorded two Fridays ago when Britain waylaid the gold market. Without warning, Her Majesty's government announced the sale of more than half of the U.K. gold reserve, formerly called "treasure."
Sell Big Food
Americans may be buying the stocks. They are not – as they have done in the past – buying the products. The trouble is that crowds are
Monetary regime change
On August 30, at the annual monetary jamboree of the Kansas City Federal Reserve Bank in Jackson Hole, Wyo., Alan Greenspan washed his hands of responsibility for the bubble he said he could not have pricked even if he had noticed it floating above his desk on a string.
Books by the editor
James Grant is the author of these books on finance and American history.