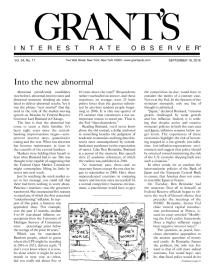 Into the new abnormal
Abnormal presidential candidates, abnormal interest rates and abnormal monetary thinking are calculated to deliver abnormal results. "I hear the choppers hovering. They're hovering overhead."
Musk, Edison, Tesla
If you ever wondered where Elon Musk came from--what peculiar alignment of stars produced this protean creator, spender, borrower, innovator, printer of red ink, spinner of yarns and blower of deadlines--only look to the great Thomas Alva Edison, or, perhaps, to Edison's brilliant enemy and Musk's corporate namesake, Nikola Tesla.
From hunger
Low-vol is a cult for this age of low growth and zero-percent money-market interest rates. A bearish appraisal of one of the beneficiaries of a love affair with boredom.
Worst is yet to come
The story remains the same for a Grant's candidate for the title of most likely not to succeed. Picking apart the one-offs and monitoring the credit troubles of a bank-in-all-but-name.
Why bankers fret
Some borrowers stretch to meet looming interest payments. Can interest rates ever be low enough?
Books by the editor
James Grant is the author of these books on finance and American history.