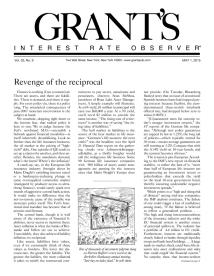 Revenge of the reciprocal
Finance is nothing if not symmetrical. There are assets, and there are liabilities. There is demand, and there is supply. For every policy yin, there is a policy yang. The unscripted consequences of post-2007 monetary intervention is the subject at hand.
Listed bear-baiting
Coming soon: the first ETF dedicated to taunting the bears. SQZZ is the symbol. Is it wrong to suspect that people create new ETFs just for the pleasure of unfurling a clever ticker?
Mother Earth retraces
Average Iowa farmland prices tumbled by 8.9% last year, the first and only meaningful decline since 1986. The nearly three decade-long bull market in tillable American real estate is over, as the city-dwelling editors of Grant's weigh the evidence. Grain prices, land prices, weather, inflation and deflation are the topics under discussion.
Elevator going down
Let it be said, writes Evan Lorenz, that China has the best airports, the fastest trains and the comeliest empty residential towers in the world. I can say this with some authority after spending last week in the People's Republic.
Welcome back, Sumner Slichter
On Tuesday, as the FOMC sat down to weigh a decision to raise the funds rate for very nearly the first time in modern memory, the New York Times produced a story to showcase the argument for a much higher inflation target. Paging Prof. Slichter, 1950s-era father of the "new inflation."
Books by the editor
James Grant is the author of these books on finance and American history.
Hand-Picked Grant's
What delights await a Grant's subscriber? Read the free sampler of complete issues to find out.
About James Grant

James Grant founded Grant's Interest Rate Observer in 1983 following a stint at Barron's, where he originated the "Current Yield" column.

His books include works of financial history, finance and biography. They are: "Bernard M. Baruch: The Adventures of a Wall Street Legend" (Simon & Schuster, 1983); "Money of the Mind: Borrowing and Lending from the Civil War to Michael Milken" (Farrar, Straus & Giroux, 1992); "Minding Mr. Market" (Farrar, Straus & Giroux, 1993); "The Trouble with Prosperity" (Times Books, 1996); "John Adams: Party of One" (Farrar, Straus & Giroux, 2005); "Mr. Market Miscalculates" (Axios Press, 2008); and "Mr. Speaker! The Life and Times of Thomas B. Reed, the Man Who Broke the Filibuster" (Simon & Schuster, 2011).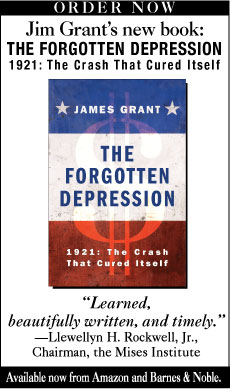 Grant's 30-year
Highlight Reel
Peruse a baker's dozen of articles Grant's produced at some of the critical junctures in the past generation.

Click the link to see what we had to say when opportunity knocked.
Archives
Browse 30 years of Grant's archives by topic or article.
Cartoons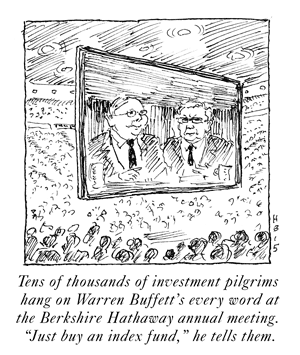 Conferences
Grant's hosts semiannual investment conferences in New York.
Help?
Questions/Problems with the site?
Questions regarding your subscription?