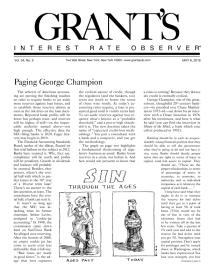 Paging George Champion
Before desk-top computers—before consultants—a worldwise banker laid in reserves against loan losses in the certain knowledge that credit experience is cyclical. What the great man could teach the Financial Accounting Standards Board.
Inherent safety?
Risk is where you don't look for it.
Sell New York
Not the city, but the ticker. Where's the value, Larry Silverstein?
Made (up) in Japan
You can run from credit risk, but you can't hide it. A kind word for bankruptcy reform, no matter how belated.
Bubble No. 3
Growth in household net worth had handily outstripped growth in after-tax income. You may thank the Fed, Donald Trump.
Under the headline
The share price would be lower if the analysts were more curious. Attention, Wall Street: There's a balance sheet, too.
Buncombe glut
Did the president of the European Central Bank say "savings" when – with a little more attention to analytical detail – he should have said "credit"?
Books by the editor
James Grant is the author of these books on finance and American history.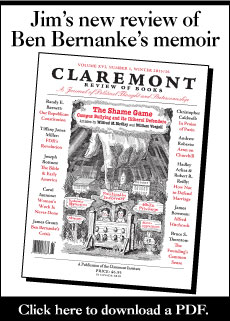 Subscribe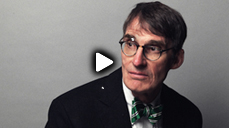 There's more.
How much more?
Call John D'Alberto:
(646) 312-8890
Hand-Picked Grant's
What delights await a Grant's subscriber? Read the free sampler of complete issues to find out.
About James Grant

James Grant founded Grant's Interest Rate Observer in 1983 following a stint at Barron's, where he originated the "Current Yield" column.

His books include works of financial history, finance and biography. They are: "Bernard M. Baruch: The Adventures of a Wall Street Legend" (Simon & Schuster, 1983); "Money of the Mind: Borrowing and Lending from the Civil War to Michael Milken" (Farrar, Straus & Giroux, 1992); "Minding Mr. Market" (Farrar, Straus & Giroux, 1993); "The Trouble with Prosperity" (Times Books, 1996); "John Adams: Party of One" (Farrar, Straus & Giroux, 2005); "Mr. Market Miscalculates" (Axios Press, 2008); and "Mr. Speaker! The Life and Times of Thomas B. Reed, the Man Who Broke the Filibuster" (Simon & Schuster, 2011).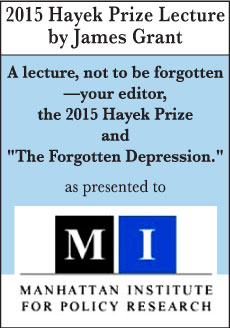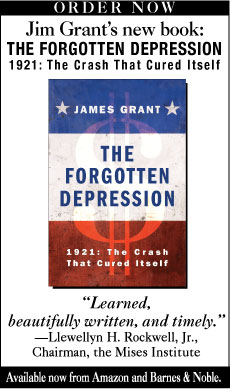 Grant's 30-year
Highlight Reel
Peruse a baker's dozen of articles Grant's produced at some of the critical junctures in the past generation.

Click the link to see what we had to say when opportunity knocked.
Archives
Browse 30 years of Grant's archives by topic or article.
Cartoons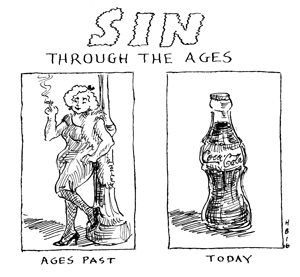 Conferences
Grant's hosts semiannual investment conferences in New York.
Help?
Questions/Problems with the site?
Questions regarding your subscription?