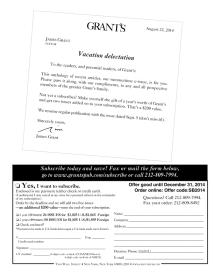 Vacation delectation 2014
To the readers, and potential readers, of Grant's:
This anthology of recent articles, our summertime e-issue, is for you. Please pass it along, with our compliments, to any and all prospective members of the greater Grant's family.
Not yet a subscriber? Make yourself the gift of a year's worth of Grant's and get two issues added on to your subscription. That's a $200 value.
We resume regular publication with the issue dated Sept. 5 (don't miss it!).

Sincerely yours,

James Grant
Books by the editor
James Grant is the author of these books on finance and American history.
Hand-Picked Grant's
What delights await a Grant's subscriber? Read the free sampler of complete issues to find out.
About James Grant

James Grant founded Grant's Interest Rate Observer in 1983 following a stint at Barron's, where he originated the "Current Yield" column.

His books include works of financial history, finance and biography. They are: "Bernard M. Baruch: The Adventures of a Wall Street Legend" (Simon & Schuster, 1983); "Money of the Mind: Borrowing and Lending from the Civil War to Michael Milken" (Farrar, Straus & Giroux, 1992); "Minding Mr. Market" (Farrar, Straus & Giroux, 1993); "The Trouble with Prosperity" (Times Books, 1996); "John Adams: Party of One" (Farrar, Straus & Giroux, 2005); "Mr. Market Miscalculates" (Axios Press, 2008); and "Mr. Speaker! The Life and Times of Thomas B. Reed, the Man Who Broke the Filibuster" (Simon & Schuster, 2011).