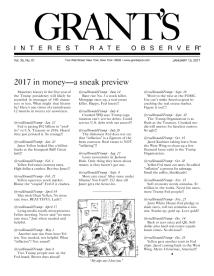 2017 in money -- a sneak preview
A vision of the next tumultuous 12 months in 140 characters or less. For Janet Yellen and Jared Kushner there's good news, bad news—and good news all over again.
Sell a non sequitur
The asset-allocation votes are in for 2017, and the results are confounding. You can defend one big idea or the other big idea, but hardly both at once. What coal owes to Chinese speculators.
Horrible to bad
In investing, timing is said to be everything. In value investing in far-away places, solvency—in fact—is everything. Kind words for a pariah.
Luther the disrupter
Cometh the man (or the woman), cometh the hour. No worldwide web required.
Mushroom cloud parts
Returning to the scene of an error in judgment, we are bullish all over again. Why a lift is in store for the Earth's heaviest naturally occurring element.
Smiling Contest
Rages a new bull market in equanimity.
Credit Creation • Cause & Effect
Books by the editor
James Grant is the author of these books on finance and American history.