Grant's Dispatch
Are you on the list? Sign up for a free email notification of upcoming Grant's events - from new issue postings to conference updates to Jim Grant's appearances in other media.

PLEASE NOTE: To receive these bulletins, please add grantspub.com and grantsdispatch@grantspub.com to your list of approved e-mail address and domain names
Dispatch
Are you on the list? Sign up for a free email notification of current Grant's news - from new issue postings, to conference updates, to Mr. Grant's appearances in the media.
About James Grant

James Grant founded Grant's Interest Rate Observer in 1983 following a stint at Barron's, where he originated the "Current Yield" column.

His books include works of financial history, finance and biography. They are: "Bernard M. Baruch: The Adventures of a Wall Street Legend" (Simon & Schuster, 1983); "Money of the Mind: Borrowing and Lending from the Civil War to Michael Milken" (Farrar, Straus & Giroux, 1992); "Minding Mr. Market" (Farrar, Straus & Giroux, 1993); "The Trouble with Prosperity" (Times Books, 1996); "John Adams: Party of One" (Farrar, Straus & Giroux, 2005); "Mr. Market Miscalculates" (Axios Press, 2008); and "Mr. Speaker! The Life and Times of Thomas B. Reed, the Man Who Broke the Filibuster" (Simon & Schuster, 2011).
Books by James Grant View All
By the publisher of the prestigious Grant's Interest Rate Observer, an account of the deep economic slump of 1920–21 that proposes, with respect to federal intervention, "less is more...
Read More >
"It is good to have this excellent biography of Thomas Reed, a vastly underappreciated major figure in American political history...
Read More >
"James Grant's Mr. Market Miscalculates may well be the most perceptive book on the current financial crisis yet published...
Read More >
The life and times of the renowned investor, venture capitalist and Democratic political operative...
Read More >
Hand-Picked Grant's
What delights await a Grant's subscriber? Read the free sampler of complete issues to find out.
Current Issue
View More >
Crypto-monetary easing drive
Could the boom in alt-currencies disrupt the policy-making monopoly of the fiat central banks? What the consensual suspension of the law against private-sector counterfeiting has wrought...
His highest praise
Contagious, our bullishness is so far not. We write to freshen an equity story and to highlight a pair of fetching bonds...
Motoring City
In which we close out a deep value investment. Here's to you, "the most exciting city in America...
Checking out
Old-time travel agents are gone. Middlemen are going. Now taste and technology are closing in a supposed untouchable franchise...
Out of gas
Never mind sex, data breaches or intellectual-property jiggery-pokery...
Divine currency call
Yes, a certain large, picturesque troubled country deserves a break, but not with your money...
Amber lights among the green
Not all signs are on-message, and more than a few are concerning...
What You'll Get...
Clear and unconventional thinking
Analysis both micro and macro
Ideas both long and short across a range of asset classes
33+ years of archived material --yours to browse for free
Speculation about the future informed by knowledge of the past
Writing you'd read for pleasure alone.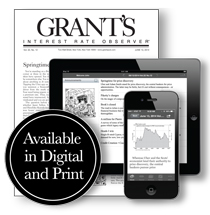 Follow Grant's
Archives
Browse 32 years of Grant's archives by topic or article.
Cartoons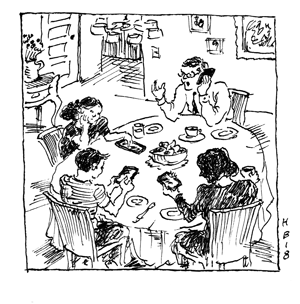 Conferences
Grant's hosts semiannual investment conferences in New York.
Help?
Questions/Problems with the site?
Questions regarding your subscription?