"The interesting people read Grant's."--a statement of fact from a friendly reader.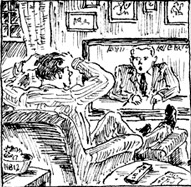 Our editorial mission is to see the present more clearly and to squint into the future more imaginatively. Twenty-four times a year, we strive to uncover good ideas and to expose bad ones. To identify the next important event in markets is the main prize. We try hard to win it, and sometimes—as with the 2008 crash in mortgages or the 2009 recovery in credit or the 2012-13 upturn in house prices—we succeed.

In every 12-page issue, we present long and short investment candidates in a range of asset classes--equities, fixed income and real-estate to name a few—as well as astute observations on interest rates, monetary policy, the credit markets and currencies. All of this we frame in the context of financial history and express in jargon-free English.
Recent issues of Grant's have featured interest income (that rare and precious commodity!), the radical policies of the world's central banks and the "man with the perfect resumé." Do you care to know who that man is? About where an income-seeking investor may earn a substantial yield and still sleep through the night? About why central banks pose a clear and present danger to your financial well-being?
The Financial Times columnist John Authers, reviewing the 2008 collection of Grant's articles entitled "Mr. Market Miscalculates," called our prescience concerning the-then unfolding financial crisis "uncanny." And he asked, "If Grant could see what was happening this clearly, and warn of it in a well-circulated publication, how did the world's financial regulators fail to avert the crisis before it became deadly, and how did the rest of us continue to make the irrational investing decisions that make Mr. Market behave the way he does?"
Please help yourself to the free issues provided. You will notice that, while many financial publications these days write down to their readers, we write up. Reading Grant's—really reading it—you will find you ask better questions, read better books, and keep company with a better class of investment.
Dispatch
Are you on the list? Sign up for a free email notification of current Grant's news - from new issue postings, to conference updates, to Mr. Grant's appearances in the media.
About James Grant

James Grant founded Grant's Interest Rate Observer in 1983 following a stint at Barron's, where he originated the "Current Yield" column.

His books include works of financial history, finance and biography. They are: "Bernard M. Baruch: The Adventures of a Wall Street Legend" (Simon & Schuster, 1983); "Money of the Mind: Borrowing and Lending from the Civil War to Michael Milken" (Farrar, Straus & Giroux, 1992); "Minding Mr. Market" (Farrar, Straus & Giroux, 1993); "The Trouble with Prosperity" (Times Books, 1996); "John Adams: Party of One" (Farrar, Straus & Giroux, 2005); "Mr. Market Miscalculates" (Axios Press, 2008); and "Mr. Speaker! The Life and Times of Thomas B. Reed, the Man Who Broke the Filibuster" (Simon & Schuster, 2011).
Books by James Grant View All
"It is good to have this excellent biography of Thomas Reed, a vastly underappreciated major figure in American political history...
Read More >
"James Grant's Mr. Market Miscalculates may well be the most perceptive book on the current financial crisis yet published...
Read More >
The life and times of the renowned investor, venture capitalist and Democratic political operative...
Read More >
Based on the 1940 edition, the new, sixth edition is enhanced with 200 pages of commentary from some of today's leading Wall Street thinkers and doers—including James Grant...
Read More >
Hand-Picked Grant's
What delights await a Grant's subscriber? Read the free sampler of articles and complete issues to find out.
Current Issue
View More >
Memo to the bubble police
Federal Reserve investigators can't seem to detect more than a few market excesses traceable to the monetary policy of the Bank of Bernanke...
Nuclear option
Having built the boilers for Teddy Roosevelt's Great White Fleet, a certain company grew and grew--only, much later, to file for bankruptcy protection and suffer from the plunging price of natural gas...
Didn't take long
Margin debt is back to the 2007 highs, while the price of implied volatility of the S&P 500 Index is back near its lows...
Read books, get rich
Where do ideas come from? Why, from books, sometimes. Three new (or newish) titles are well worth perusal...
Physical fever
Last month's 16% swoon in the price of gold instigated a worldwide countervailing up-swoon...
Cooperstown of yield
On April 18, the editor of Grant's was inducted into the Fixed Income Analysts Society Hall of Fame...
A difficult subject is the future
Macroeconomic forecasts aren't very useful except at short time horizons, and when the future closely resembles the present, is the breaking news from the research department of the European Central Bank...