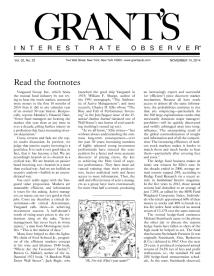 Read the footnotes
Vanguard Group Inc., which beats the mutual fund industry by not trying to beat the stock market, attracted more money in the first 10 months of 2014 than it did in any calendar year of its storied 39-year history. Costs, returns and fads are the topics under discussion.
Unaccountably cheap
If efficient-market doctrine were correct, the share price of a certain alternative asset manager would likewise, necessarily, be correct. As we doubt the doctrine, so do we doubt the price. It is too low.
Pick to not click
Mr. Stock Market is fully attuned to the problems of this major oil producer. Mr. Bond Market needs to focus.
Monetary action agenda
With respect to the radicalization of monetary policy, investors en masse resemble the sleepy frog in the warming saucepan. They don't jump out while the jumping's good.
Race to debase
A strong exchange rate is the Old Maid of global trade. If neither the dollar nor the euro nor the yen nor the franc nor the renminbi will bear a high exchange rate, which monetary medium will consent to excel?
Books by the editor
James Grant is the author of these books on finance and American history.
Hand-Picked Grant's
What delights await a Grant's subscriber? Read the free sampler of complete issues to find out.
About James Grant

James Grant founded Grant's Interest Rate Observer in 1983 following a stint at Barron's, where he originated the "Current Yield" column.

His books include works of financial history, finance and biography. They are: "Bernard M. Baruch: The Adventures of a Wall Street Legend" (Simon & Schuster, 1983); "Money of the Mind: Borrowing and Lending from the Civil War to Michael Milken" (Farrar, Straus & Giroux, 1992); "Minding Mr. Market" (Farrar, Straus & Giroux, 1993); "The Trouble with Prosperity" (Times Books, 1996); "John Adams: Party of One" (Farrar, Straus & Giroux, 2005); "Mr. Market Miscalculates" (Axios Press, 2008); and "Mr. Speaker! The Life and Times of Thomas B. Reed, the Man Who Broke the Filibuster" (Simon & Schuster, 2011).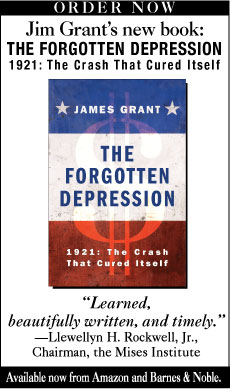 Grant's 30-year
Highlight Reel
Peruse a baker's dozen of articles Grant's produced at some of the critical junctures in the past generation.

Click the link to see what we had to say when opportunity knocked.
Archives
Browse 30 years of Grant's archives by topic or article.
Cartoons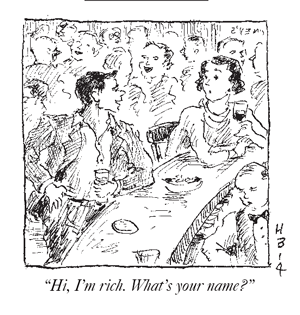 Conferences
Grant's hosts semiannual investment conferences in New York.
Help?
Questions/Problems with the site?
Questions regarding your subscription?