On the systematic mispricing of debt
Fidelity & Guaranty Life is the firm that "helps middle-income Americans prepare for retirement," or so claim its copywriters. If so, the life insurer's investment department, with its RadioShack trifecta, itself needs help. Certainly, it's getting none from the world's central banks—or from the post-1981 interest-rate zeitgeist.
Attention, Larry Fink
Is contemporary art one of the "greatest stores of wealth?" Not if the life, celebrity and obscurity of the 19th century French painter Jean-Louis-Ernest Meissonier is any guide.
The only game
If a company seems to be cheap in the sixth year of a bull market, it probably isn't a legitimate company, and it probably isn't cheap. An exception to prove the rule is the subject at hand.
America the unhedged
Native-born citizens of the United States are famously mono-lingual. Likewise, they are mono-monetary—dollars are what they cling to, whether or not the home currency is appreciating against the alien alternatives. How to diversify out of green money?
Balance-sheet story
Constant readers may remember the company herein featured. Some will regret having ever heard the name. As central banks have gained prestige, our subject has lost market cap. What it has not lost is its speculative appeal.
Pick your own data
"Monetary Policy It's Data Dependent" is the legend on the t-shirt that the president of the San Francisco Fed waved to the TV cameras Monday morning when Steve Liesman asked him, So when will the Fed raise interest rates? We deconstruct the central banker's non-answer.
Books by the editor
James Grant is the author of these books on finance and American history.
Hand-Picked Grant's
What delights await a Grant's subscriber? Read the free sampler of complete issues to find out.
About James Grant

James Grant founded Grant's Interest Rate Observer in 1983 following a stint at Barron's, where he originated the "Current Yield" column.

His books include works of financial history, finance and biography. They are: "Bernard M. Baruch: The Adventures of a Wall Street Legend" (Simon & Schuster, 1983); "Money of the Mind: Borrowing and Lending from the Civil War to Michael Milken" (Farrar, Straus & Giroux, 1992); "Minding Mr. Market" (Farrar, Straus & Giroux, 1993); "The Trouble with Prosperity" (Times Books, 1996); "John Adams: Party of One" (Farrar, Straus & Giroux, 2005); "Mr. Market Miscalculates" (Axios Press, 2008); and "Mr. Speaker! The Life and Times of Thomas B. Reed, the Man Who Broke the Filibuster" (Simon & Schuster, 2011).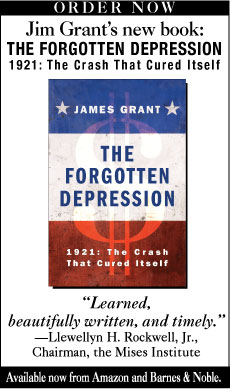 Grant's 30-year
Highlight Reel
Peruse a baker's dozen of articles Grant's produced at some of the critical junctures in the past generation.

Click the link to see what we had to say when opportunity knocked.
Archives
Browse 30 years of Grant's archives by topic or article.
Cartoons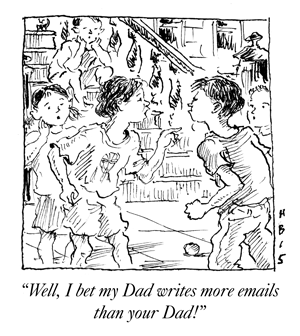 Conferences
Grant's hosts semiannual investment conferences in New York.
Help?
Questions/Problems with the site?
Questions regarding your subscription?