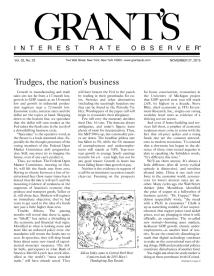 Trudges, the nation's business
"Speculate" is the operative word. Economic cycles, interest rates and the dollar are the topics at hand. A skeptical eye on the world's "most crowded trade."
Money-good, but . . .
Neither sterling nor speculative, probably OK but maybe not, a certain kind of investment-grade security is the flavor of the cycle. What goes wrong with the most popular credit ideas? Something, usually.
Banking on energy
You can't blame this Grant's-assembled collection of energy lenders for the macro- and microeconomic scrapes in which they find themselves. But you could sell them.
Guilt by association
"Small, illiquid, complex" to which we now append another attribute: unprofitable, at least so far.
But can they?
Wanting to lift the funds rate is one thing, actually doing it is another. Good luck to you, Dr. Potter.
Books by the editor
James Grant is the author of these books on finance and American history.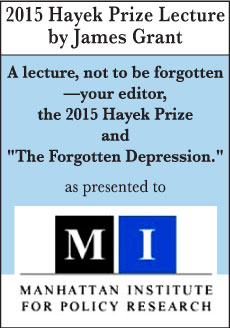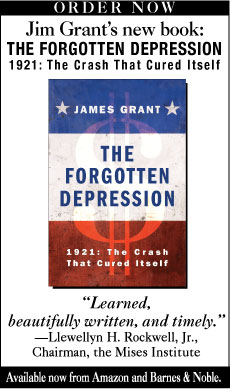 Grant's 30-year
Highlight Reel
Peruse a baker's dozen of articles Grant's produced at some of the critical junctures in the past generation.

Click the link to see what we had to say when opportunity knocked.
Archives
Browse 30 years of Grant's archives by topic or article.
Cartoons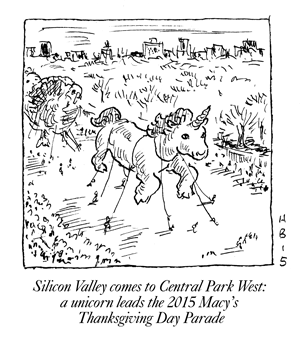 Conferences
Grant's hosts semiannual investment conferences in New York.
Help?
Questions/Problems with the site?
Questions regarding your subscription?