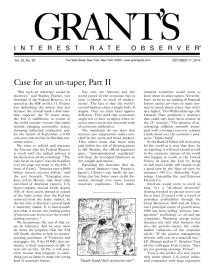 Case for an un-taper, Part II
America and the world are joined at the economic hip (a joint evidently in need of replacement). So the Bank of Yellen will do its duty for the world as it sees that duty. We write to refresh and reiterate the forecast that the Federal Reserve is stuck with the radical policies it has foisted on all the earthlings.
Yield times four
Savers need something besides consolation and a Social Security check. What they need is income—safe, dependable and (to the extent possible) lavish. Pending the return of the 6% Treasury bill yield, next best alternatives are the subject under discussion.
Yield to hope
The weight of debt in the world is one topic at hand. The puny yields attached to that debt is a second. Finally, just what does it take for a sovereign to be denied access to the bond markets?
America the defaulter?
A deep and textured topic is emerging market sovereign debt.
The Rule of 72—a deflationary update.
People weaned on rising prices are struggling with stable ones.
Books by the editor
James Grant is the author of these books on finance and American history.
Hand-Picked Grant's
What delights await a Grant's subscriber? Read the free sampler of complete issues to find out.
About James Grant

James Grant founded Grant's Interest Rate Observer in 1983 following a stint at Barron's, where he originated the "Current Yield" column.

His books include works of financial history, finance and biography. They are: "Bernard M. Baruch: The Adventures of a Wall Street Legend" (Simon & Schuster, 1983); "Money of the Mind: Borrowing and Lending from the Civil War to Michael Milken" (Farrar, Straus & Giroux, 1992); "Minding Mr. Market" (Farrar, Straus & Giroux, 1993); "The Trouble with Prosperity" (Times Books, 1996); "John Adams: Party of One" (Farrar, Straus & Giroux, 2005); "Mr. Market Miscalculates" (Axios Press, 2008); and "Mr. Speaker! The Life and Times of Thomas B. Reed, the Man Who Broke the Filibuster" (Simon & Schuster, 2011).