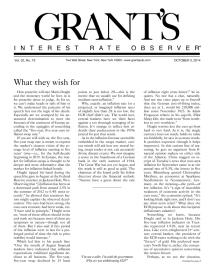 What they wish for
Mario Draghi worries lest the euro go from hard to very hard. As it is, the single currency buys too much, holds its value too faithfully, the ECB president says in so many words. His preferred North Star? The consensus of speculative opinion concerning the remote future.
Yield on sale
Income is what many need nowadays—while balancing credit and interest rate risk, of course. Herewith, some ideas on how to procure it.
Bonds of debt
A certain Latin American energy company's debts are ubiquitous. Are bondholders being compensated for the risks they bear? A story of credit, interest rates, politics--and liquidity too.
The dollar's strength saps Asia's
Over the past three months, the U.S. Dollar index has rallied by 7.7%. Export powerhouses like South Korea and Japan, you would think, should be booming. They aren't.
Books by the editor
James Grant is the author of these books on finance and American history.
Hand-Picked Grant's
What delights await a Grant's subscriber? Read the free sampler of complete issues to find out.
About James Grant

James Grant founded Grant's Interest Rate Observer in 1983 following a stint at Barron's, where he originated the "Current Yield" column.

His books include works of financial history, finance and biography. They are: "Bernard M. Baruch: The Adventures of a Wall Street Legend" (Simon & Schuster, 1983); "Money of the Mind: Borrowing and Lending from the Civil War to Michael Milken" (Farrar, Straus & Giroux, 1992); "Minding Mr. Market" (Farrar, Straus & Giroux, 1993); "The Trouble with Prosperity" (Times Books, 1996); "John Adams: Party of One" (Farrar, Straus & Giroux, 2005); "Mr. Market Miscalculates" (Axios Press, 2008); and "Mr. Speaker! The Life and Times of Thomas B. Reed, the Man Who Broke the Filibuster" (Simon & Schuster, 2011).