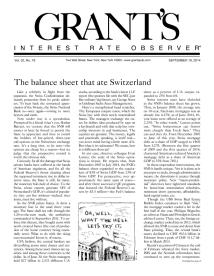 The balance sheet that ate Switzerland
Like a celebrity in flight from the paparazzi, the Swiss Confederation demands protection from its pesky admirers. To beat back the unwanted appreciation of the Swissie, the central bank is—once again—vowing to move heaven and earth. How to profit from it?
'Timing artist,' RIP
Paul Macrae Montgomery, proprietor of the Universal Economics technical service, died on Sept. 6 at the age of 72.
Sell advisory
Physicians get sick, lawyers run afoul of the law and financiers make ill-advised financial choices. Herewith a skeptical look at the recent doings of some of the leading lights of Wall Street.
Heavy seas
Toward Russia, Ukraine, and the West, these pages have taken the approach, "this too shall pass." It hasn't yet, Mr. Market continues to remind us.
Wages of complexity
Central banks are printing rules almost as fast as they're printing money. With apologies to Hyman Minsky, this is a monetary moment.
A cloud no bigger than a man's hand.
Outside of the go-go, upsizing world of tech investing—Twitter and Alibaba make handy examples—cracks in corporate financing are starting to appear.
Books by the editor
James Grant is the author of these books on finance and American history.
Hand-Picked Grant's
What delights await a Grant's subscriber? Read the free sampler of complete issues to find out.
About James Grant

James Grant founded Grant's Interest Rate Observer in 1983 following a stint at Barron's, where he originated the "Current Yield" column.

His books include works of financial history, finance and biography. They are: "Bernard M. Baruch: The Adventures of a Wall Street Legend" (Simon & Schuster, 1983); "Money of the Mind: Borrowing and Lending from the Civil War to Michael Milken" (Farrar, Straus & Giroux, 1992); "Minding Mr. Market" (Farrar, Straus & Giroux, 1993); "The Trouble with Prosperity" (Times Books, 1996); "John Adams: Party of One" (Farrar, Straus & Giroux, 2005); "Mr. Market Miscalculates" (Axios Press, 2008); and "Mr. Speaker! The Life and Times of Thomas B. Reed, the Man Who Broke the Filibuster" (Simon & Schuster, 2011).