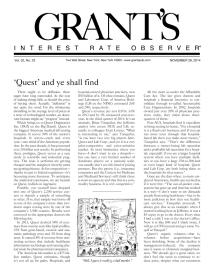 Quest and ye shall find
There ought to be deflation, these pages have long contended. As the cost of making things falls, so should the price of buying them. Which brings us to a certain Big Board-listed case study in the progress of the species.
Built by bonds
RIP, Jim Lebenthal.
Preferred income
Mortgage REITs deliver income but not always serenity. The common shares pay big dividends until the yield curve becomes disarranged or mortgage prepayments accelerate. Then—poof! There are safer yield vehicles.
Opportunity in confusion
Herewith a survey of risk and opportunity in the junk bond market, post the energy bust. This is the time for security analysis.
Rootin' for Putin
As to credit risk, these bonds share the triple A credit rating of their issuer. As to currency risk, they bear the mark of Cain. If a widow or orphan is reading, would he or she kindly now refrain?
Trap of a different kind
Try as they might, all the central banks can't devalue every currency. At least, they can't successfully devalue—all at the same time—against each other. But they seem to be testing the possibilities.
Books by the editor
James Grant is the author of these books on finance and American history.
Hand-Picked Grant's
What delights await a Grant's subscriber? Read the free sampler of complete issues to find out.
About James Grant

James Grant founded Grant's Interest Rate Observer in 1983 following a stint at Barron's, where he originated the "Current Yield" column.

His books include works of financial history, finance and biography. They are: "Bernard M. Baruch: The Adventures of a Wall Street Legend" (Simon & Schuster, 1983); "Money of the Mind: Borrowing and Lending from the Civil War to Michael Milken" (Farrar, Straus & Giroux, 1992); "Minding Mr. Market" (Farrar, Straus & Giroux, 1993); "The Trouble with Prosperity" (Times Books, 1996); "John Adams: Party of One" (Farrar, Straus & Giroux, 2005); "Mr. Market Miscalculates" (Axios Press, 2008); and "Mr. Speaker! The Life and Times of Thomas B. Reed, the Man Who Broke the Filibuster" (Simon & Schuster, 2011).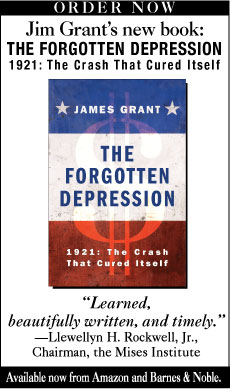 Grant's 30-year
Highlight Reel
Peruse a baker's dozen of articles Grant's produced at some of the critical junctures in the past generation.

Click the link to see what we had to say when opportunity knocked.
Archives
Browse 30 years of Grant's archives by topic or article.
Cartoons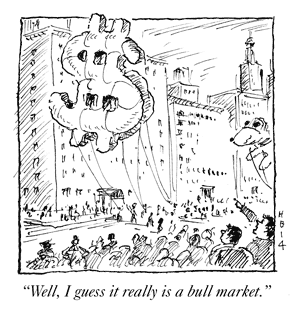 Conferences
Grant's hosts semiannual investment conferences in New York.
Help?
Questions/Problems with the site?
Questions regarding your subscription?