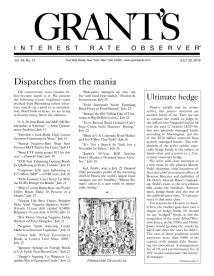 Dispatches from the mania
Bond bulls or bears, we are living in historic times. Savior the zaniness.
Ultimate hedge
The tribulations of the active spirits, especially hedge funds, is the subject at hand – that and a revisit to a 21st century monetary hedge.
Corporate mystery meat
The strategy of selling complex solutions rather than individual products is the new, new thing in flavors and ingredients. Safety, or rather, perceived safety, is what investors seem to crave.
Speculating for income
For U.S. dollar-denominated yields in excess of 3%, one must settle for the types of securities once known as a businessman's risk.
They asked for it
Short-term interest rates didn't wait for the Federal Open Market Committee. Back to you, federal overseers.
Books by the editor
James Grant is the author of these books on finance and American history.