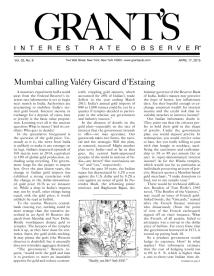 Mumbai calling Valéry Giscard d'Estaing
A monetary experiment half a world away from the Federal Reserve's interest rate laboratories is set to begin next month in India. Looming over all, an ancient question: What is money?
Radical negative one
David Einhorn, long-short equity investor par excellence, led off the Grant's Spring Conference with a long idea and a short-sale candidate. He prefaced his stock picks with a grand tour of interest rates, such as they are.
Up with India
"India is one of the biggest structural changes taking place in the world today," Jon Thorn, manager of the India Capital Fund, told the Grant's audience, "and, unlike, say, Greece, it's a very positive one."
Drill they must
"I've run through a lot of industries as they've involuntarily entered my domain," bankruptcy lawyer James Sprayregen, explained to the Grant's faithful. Next up, he said: the E&P segment of the energy business.
Leaders have to lead
David Abrams, a top-flight Boston investor whose nearly invisible public profile led The Wall Street Journal to speculate that he might be a unicorn, sat on stage at the Plaza Hotel fielding questions.
Liquidity to the max
125 pages of charts and graphs complemented lunch at the Grant's event. Stretching from the dawn of financial time to the present, the pictures, compiled by Bank of America Merrill Lynch strategist Michael Hartnett, amounted to a kind of museum of astounding facts
Something to shock
Bill Gross observed that the Fed, by remitting the interest in earns on government securities, in effect absolves the Treasury of its obligation to pay. You might even think of it as a species of default, said the king of bonds.
Value times three
Cash constitutes 62.8% of his portfolio, Mitch Cantor, portfolio manager of Mountain Lake Investment Management, told the Grant's audience. After which he pitched a trio of value-laden, improbable-sounding equities.
The Bigger Short
Paul Singer, founder of Elliott Management Corp. and among the earliest proponents of the 2006-08 trade that Michael Lewis popularized in "The Big Short," took the Plaza stage to propose an even bigger short.
The great debate
Passive investing is no fad, contended John C. Bogle, in an opening salvo of the debate over the merits of indexation. The editor of Grant's spoke to the virtues of research, analysis and imagination.
Not so safe
J.P. Morgan Chase has hired 8,000 people just to comply with the onslaught of post-crisis regulation. At some higher level of regulatory intensity, the Fed may just achieve its mandate for full employment. Its mandate for financial stability? That's another story.
Books by the editor
James Grant is the author of these books on finance and American history.
Hand-Picked Grant's
What delights await a Grant's subscriber? Read the free sampler of complete issues to find out.
About James Grant

James Grant founded Grant's Interest Rate Observer in 1983 following a stint at Barron's, where he originated the "Current Yield" column.

His books include works of financial history, finance and biography. They are: "Bernard M. Baruch: The Adventures of a Wall Street Legend" (Simon & Schuster, 1983); "Money of the Mind: Borrowing and Lending from the Civil War to Michael Milken" (Farrar, Straus & Giroux, 1992); "Minding Mr. Market" (Farrar, Straus & Giroux, 1993); "The Trouble with Prosperity" (Times Books, 1996); "John Adams: Party of One" (Farrar, Straus & Giroux, 2005); "Mr. Market Miscalculates" (Axios Press, 2008); and "Mr. Speaker! The Life and Times of Thomas B. Reed, the Man Who Broke the Filibuster" (Simon & Schuster, 2011).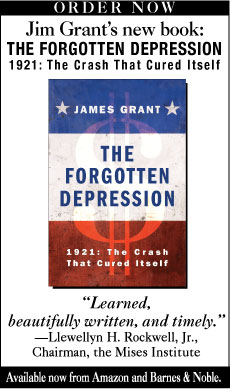 Grant's 30-year
Highlight Reel
Peruse a baker's dozen of articles Grant's produced at some of the critical junctures in the past generation.

Click the link to see what we had to say when opportunity knocked.
Archives
Browse 30 years of Grant's archives by topic or article.
Cartoons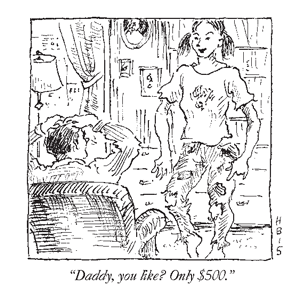 Conferences
Grant's hosts semiannual investment conferences in New York.
Help?
Questions/Problems with the site?
Questions regarding your subscription?