What's in your wallet?
What investment asset, though it yields nothing and costs nothing to produce, is gaining in worldwide popularity? A leading, London-based Fidelity bond manager has the answer.
Check, please, waiter
People have to eat, but they don't have to go out to eat. Investors have to invest, but they don't have to buy restaurant stocks.
Underachiever update
Even in this levitating bull market, investors give wide berth to a pair of Grant's-favored ideas.
Posterity will smile
Which mistakes—financial ones, that is—will our children's children identify as our most gratuitous? Wisdom from Edinburgh's Library of Mistakes.
Thanks all around
On June 23, the editor of Grant's received the Gerald Loeb Lifetime Achievement Award. Universal praise for the brevity of his acceptance speech.
Happy birthday, prosperity of a certain kind
How to account for the smashing rebound of household net worth since the 2007-09? A theory from the author of "The Legend of Sleepy Hollow."
Books by the editor
James Grant is the author of these books on finance and American history.
Why Grant's?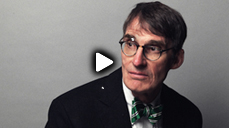 Watch Jim's two-minute video
There's more.
How much more?
Call John D'Alberto:
(646) 312-8890
Hand-Picked Grant's
What delights await a Grant's subscriber? Read the free sampler of complete issues to find out.
About James Grant

James Grant founded Grant's Interest Rate Observer in 1983 following a stint at Barron's, where he originated the "Current Yield" column.

His books include works of financial history, finance and biography. They are: "Bernard M. Baruch: The Adventures of a Wall Street Legend" (Simon & Schuster, 1983); "Money of the Mind: Borrowing and Lending from the Civil War to Michael Milken" (Farrar, Straus & Giroux, 1992); "Minding Mr. Market" (Farrar, Straus & Giroux, 1993); "The Trouble with Prosperity" (Times Books, 1996); "John Adams: Party of One" (Farrar, Straus & Giroux, 2005); "Mr. Market Miscalculates" (Axios Press, 2008); and "Mr. Speaker! The Life and Times of Thomas B. Reed, the Man Who Broke the Filibuster" (Simon & Schuster, 2011).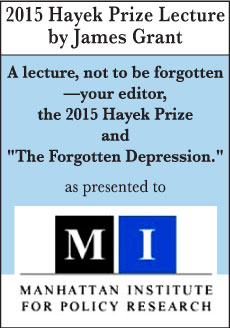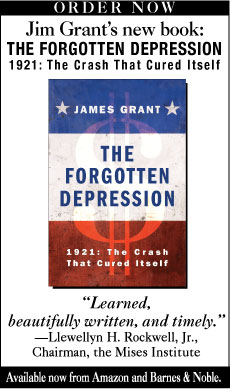 Grant's 30-year
Highlight Reel
Peruse a baker's dozen of articles Grant's produced at some of the critical junctures in the past generation.

Click the link to see what we had to say when opportunity knocked.
Archives
Browse 30 years of Grant's archives by topic or article.
Cartoons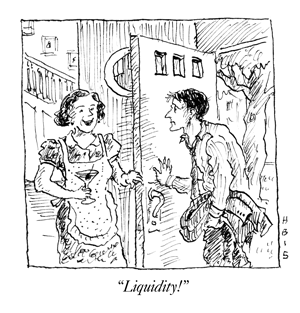 Conferences
Grant's hosts semiannual investment conferences in New York.
Help?
Questions/Problems with the site?
Questions regarding your subscription?