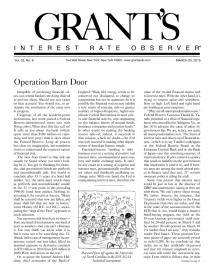 Operation Barn door
Incapable of predicting financial crises, our central bankers are doing their utmost to prevent them. Should you rest easier on that account? You should not.
Bullish even now
"Settle in" for a period of relatively weak oil prices, Rex Tillerson, CEO of ExxonMobil, resignedly advised analysts the other day. Reconsider the values inherent in a pair of orphaned energy stocks, Grant's proposes.
Monetary diversity
That currency in your wallet, Ms. or Mr. American, is it all the same color green? If so, you are in violation of the time-honored investment precept of diversification. The case for diversifying into a new and different color combination
'Patient' is--still--the word
From the vantage point of Tuesday, the Fed will stand pat on Wednesday. We hereby make brave to forecast an event that will have occurred before the forecast is issued. Patience, Ms. Yellen.
Books by the editor
James Grant is the author of these books on finance and American history.
Hand-Picked Grant's
What delights await a Grant's subscriber? Read the free sampler of complete issues to find out.
About James Grant

James Grant founded Grant's Interest Rate Observer in 1983 following a stint at Barron's, where he originated the "Current Yield" column.

His books include works of financial history, finance and biography. They are: "Bernard M. Baruch: The Adventures of a Wall Street Legend" (Simon & Schuster, 1983); "Money of the Mind: Borrowing and Lending from the Civil War to Michael Milken" (Farrar, Straus & Giroux, 1992); "Minding Mr. Market" (Farrar, Straus & Giroux, 1993); "The Trouble with Prosperity" (Times Books, 1996); "John Adams: Party of One" (Farrar, Straus & Giroux, 2005); "Mr. Market Miscalculates" (Axios Press, 2008); and "Mr. Speaker! The Life and Times of Thomas B. Reed, the Man Who Broke the Filibuster" (Simon & Schuster, 2011).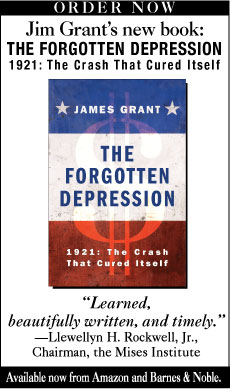 Grant's 30-year
Highlight Reel
Peruse a baker's dozen of articles Grant's produced at some of the critical junctures in the past generation.

Click the link to see what we had to say when opportunity knocked.
Archives
Browse 30 years of Grant's archives by topic or article.
Cartoons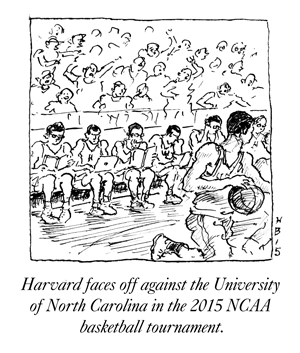 Conferences
Grant's hosts semiannual investment conferences in New York.
Help?
Questions/Problems with the site?
Questions regarding your subscription?