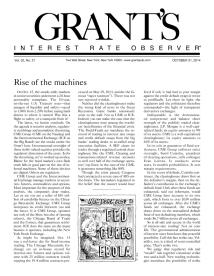 Rise of the machines
On Oct. 15, the steady-eddy markets in senior securities underwent a 24 hour personality transplant. Was this a flight to safety, or a stampede from it?
Case for inactivism
Rare is the eminence who willingly addresses an unwelcoming audience. Martin Lipton holds forth at the Oct. 21 Grant's conference on the menace of activist "wolf packs," members of which had front row seats.
Ackman on Lipton
After lunch, the microphone passes from critic to alpha wolf.
Extreme contrary opinion
Cullen Thompson and Ian Hague sing the praises of pariah markets.
Red sunset
China has twice as much debt as a year's GDP. That debt is growing twice as fast as GDP. Charlene Chu probes the consequences of those interesting facts.
Three thousand millionaires
Capitalism, the rise of Home Depot, margin debt, political investing and common stocks are the subjects on Ken Langone's mind.
Man with a plan
Plan 'A' for the serious investor is to deal with the financial world as it is. Plan 'B' is--or ought to be--a monetary alternative. So says Simon Mikhailovich.
Just stay home
In lending and borrowing--and tractor maintenance, too--the local market's best, according to Bruce Greenwald.
Banking on Africa
Bob Diamond identifies the problem: undercapitalized, overly complex, meagerly profitable, too-big-to-fail European Banks. Now for the solution.
SNBN is the Ticker, in Zurich
The Swiss National Bank (it's a stock, incidentally) finds itself in the crosshairs of an angry public.
Books by the editor
James Grant is the author of these books on finance and American history.
Hand-Picked Grant's
What delights await a Grant's subscriber? Read the free sampler of complete issues to find out.
About James Grant

James Grant founded Grant's Interest Rate Observer in 1983 following a stint at Barron's, where he originated the "Current Yield" column.

His books include works of financial history, finance and biography. They are: "Bernard M. Baruch: The Adventures of a Wall Street Legend" (Simon & Schuster, 1983); "Money of the Mind: Borrowing and Lending from the Civil War to Michael Milken" (Farrar, Straus & Giroux, 1992); "Minding Mr. Market" (Farrar, Straus & Giroux, 1993); "The Trouble with Prosperity" (Times Books, 1996); "John Adams: Party of One" (Farrar, Straus & Giroux, 2005); "Mr. Market Miscalculates" (Axios Press, 2008); and "Mr. Speaker! The Life and Times of Thomas B. Reed, the Man Who Broke the Filibuster" (Simon & Schuster, 2011).