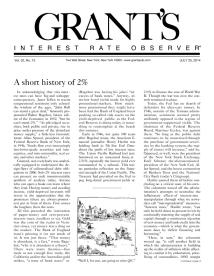 A short history of 2%
Having money and needing income, yield-deprived investors will invest in the opportunities that the promoters put in front of them. First comes the laughter, then the tears.
Hello, Jay Carney
On the market timing of the press secretary—and that of Grant's.
Meet Valeant Jr.
With its zippy share price and fashion-forward business model, Valeant Pharmaceuticals International Inc. has become a kind of drug industry idol. One of Valeant's many votaries is the subject at hand.
Good dog, Snoopy
One particular passage in the text of last week's Humphrey-Hawkins testimony had the owners of life insurance stocks blowing kisses at Janet Yellen. The bulls wish that she had said not one word more.
Fasten your seatbelts
This long-successful distributor of nuts and bolts faces intensifying competition and diminishing profitability. Is multiple compression next?
Stay-cations for Wall Street
Nearly four million pounds of paper money do create a sense of inflationary anticipation. But where's the thing itself?
Books by the editor
James Grant is the author of these books on finance and American history.
Hand-Picked Grant's
What delights await a Grant's subscriber? Read the free sampler of complete issues to find out.
About James Grant

James Grant founded Grant's Interest Rate Observer in 1983 following a stint at Barron's, where he originated the "Current Yield" column.

His books include works of financial history, finance and biography. They are: "Bernard M. Baruch: The Adventures of a Wall Street Legend" (Simon & Schuster, 1983); "Money of the Mind: Borrowing and Lending from the Civil War to Michael Milken" (Farrar, Straus & Giroux, 1992); "Minding Mr. Market" (Farrar, Straus & Giroux, 1993); "The Trouble with Prosperity" (Times Books, 1996); "John Adams: Party of One" (Farrar, Straus & Giroux, 2005); "Mr. Market Miscalculates" (Axios Press, 2008); and "Mr. Speaker! The Life and Times of Thomas B. Reed, the Man Who Broke the Filibuster" (Simon & Schuster, 2011).