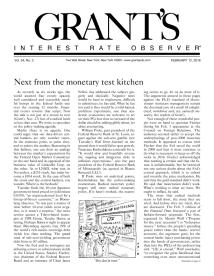 Next from the monetary kitchen
Negative nominal interest rates, helicopter money and the "cashless society" – like a play on tryout in New Haven, the ideas of the next phase of radical monetary control are getting a public airing before their Broadway debut.
Big sick puppy
Fears of Deutsche Bank AG's missing an interest payment on a contingent convertible security sent the bank's common-stock price skidding. Are Deutsche's problems idiosyncratic or systemic?
Canadian sunrise
For many a disappointed Canadian retail investor, "preferred" is more a term of derision than of description. We write to suggest that their loss is the contrarian's gain.
New default cycle
Fear, always a value accelerant, is back in the air and on the palms. Putting the "high" back into high yield.
Toward zero or less
Mortgage real-estate investment trusts are the topic, interest rates are the sub-topic and income – precious income – is the point of it all.
Outflows to themselves
China's cadres command that the People's Republic will grow by 6.5% in 2016. Say it were true. How much financing would that require and where would the money come from?
Books by the editor
James Grant is the author of these books on finance and American history.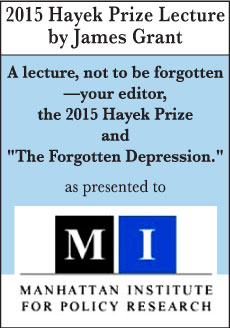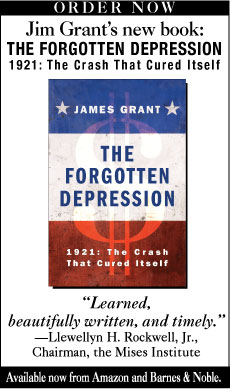 Grant's 30-year
Highlight Reel
Peruse a baker's dozen of articles Grant's produced at some of the critical junctures in the past generation.

Click the link to see what we had to say when opportunity knocked.
Archives
Browse 30 years of Grant's archives by topic or article.
Cartoons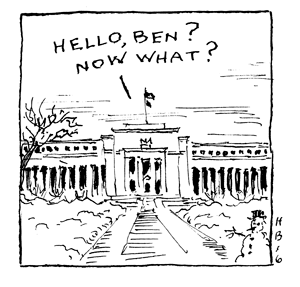 Conferences
Grant's hosts semiannual investment conferences in New York.
Help?
Questions/Problems with the site?
Questions regarding your subscription?