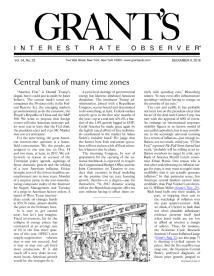 Central bank of many time zones
"America First" is Donald Trump's moto, but it could just as easily be Janet Yellen's. How foreign events will color American monetary policy in ways that the Fed chair, the president-elect and even Mr. Market may not yet anticipate.
Discombobulation trade
Tax-rate uncertainty and the November spike in interest rates have combined to turn the municipal-bond market upside-down. From tumult comes opportunity.
Past Performance, Inc.
Good news you shout from the rooftops, bad news you mumble in a footnote. The most successful Canadian company you've never heard of isn't one for shouting.
The short of it
Sixty-three short-sale candidates have featured in the pages of Grant's over the past three years. We write to render an accounting.
Don't say they didn't warn you
From Italy's revitalized 5-Star Movement, a modest proposal for a "parallel" currency. Now, wither the euro?
Books by the editor
James Grant is the author of these books on finance and American history.