Request Free Issue By Mail
* indicates required field
Center Section Explained
What the figures say is obvious enough. But what do they mean? Click for a guided tour of the statistics.
Quick Reference Guide
Print out this list of pointers and keep it handy to extract maximum value from your subscription.
Additional Reading
Here you will find a selection of some of James Grant's favorite titles on money, banking and interest rates including:
City of London
by David Kynaston
Citibank, 1812-1970
by Harold van B. Cleveland and Thomas F. Huertas
Fiat Money Inflation in France
by Andrew Dickson White
Banks and Politics in America from the Revolution to the Civil War
by Bray Hammond
The New York Money Market and the Finance of Trade, 1900-1913
by Charles Goodhart
Grant's 30-year
Highlight Reel
Peruse a baker's dozen of articles Grant's produced at some of the critical junctures in the past generation.

Click the link to see what we had to say when opportunity knocked.
Online Resources
Herewith a selection of links to Websites that the Grant's analysts favor.
Hand-Picked Grant's
What delights await a Grant's subscriber? Read the free sampler of complete issues to find out.
What You'll Get...
Clear and unconventional thinking
Analysis both micro and macro
Ideas both long and short across a range of asset classes
35+ years of archived material --yours to browse for free
Speculation about the future informed by knowledge of the past
Writing you'd read for pleasure alone.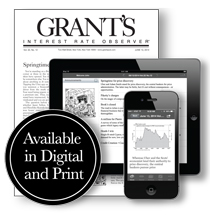 Follow Grant's
Archives
Browse 35 years of Grant's archives by topic or article.
Cartoons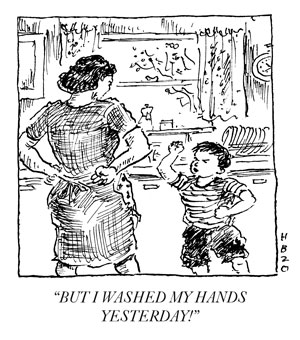 Conferences
Grant's hosts semiannual investment conferences in New York.
Help?
Questions/Problems with the site?
Questions regarding your subscription?