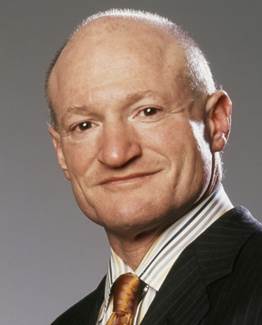 James Sprayregen
Kirkland & Ellis, LLP
James H.M. Sprayregen is a Restructuring partner in the Chicago and New York offices of Kirkland & Ellis LLP and serves on Kirkland's worldwide management committee. Mr. Sprayregen is recognized as one of the outstanding restructuring lawyers in the United States and around the world. Mr. Sprayregen has extensive experience representing major U.S. and international companies in restructurings out of court and in court around the world. He also has extensive experience advising boards of directors, and generally representing debtors and creditors in workout, insolvency, restructuring, and bankruptcy matters worldwide. He has handled matters for clients in industries as varied as manufacturing, technology, transportation, energy, media, and real estate. Chambers & Partners has described Mr. Sprayregen as a "great clients' lawyer, admired for his 'unflustered ways.'" Chambers said that clients it spoke to noted that he is "probably the best restructuring lawyer in the world." Most recently, in 2014, Mr. Sprayregen was described by Chambers as "the godfather of restructuring" and "one of the major stars of the industry." In March 2010, Mr. Sprayregen was selected by The National Law Journal as one of "The Decade's Most Influential Lawyers." In 2013, Mr. Sprayregen was named "Global Insolvency & Restructuring Lawyer of the Year" by Who's Who Legal Awards, receiving more votes from clients and peers than any other individual worldwide. In October 2013, Mr. Sprayregen was inducted into the TMA Turnaround, Restructuring, and Distressed Investing Industry Hall of Fame?.
Mr. Sprayregen joined Kirkland in 1990 and built its international Restructuring Group. He joined Goldman Sachs in 2006 where he was co-head of Goldman Sachs' Restructuring Group and advised clients in restructuring and distressed situations. He rejoined Kirkland three years later. In the 2009 edition of Chambers USA, Mr. Sprayregen was listed as a first tier lawyer practicing in the bankruptcy/restructuring category, and was described as having an "outstanding reputation for complex Chapter 11 cases." The 2011 edition of Chambers USA, America's Leading Lawyers for Business recognized Mr. Sprayregen as a key individual, noting that sources refer to him as "a restructuring genius and one of the best strategists in the country." In the 2012 edition of Chambers USA, Mr. Sprayregen was praised for his "incredible work ethic and skill" and for his ability to "bring a mastery of the law to practical application." In 2014, Chambers Global named Mr. Sprayregen as "one of the leading practitioners in the industry." Clients look to him as someone who is "providing leadership and strategic guidance on the big issues." "Tireless and very creative," Mr. Sprayregen is described as "very good in complicated and difficult situations" and clients are "impressed by his boundless energy to work on issues." Sources in the 2014 edition of Chambers USA noted there is "not a question or a nuance that I can ask him that he won't know about."
Mr. Sprayregen has led bankruptcy cases for numerous companies including United Airlines, Conseco, General Growth Properties, Energy Future Holdings Corp., Innkeepers USA Trust, Japan Airlines Corporation as U.S. and international counsel, The Great Atlantic & Pacific Tea Company, Edison Mission Energy, MSR Resort Golf Course LLC, Hawker Beechcraft Inc., Cengage Learning, Inc., Sbarro Inc., Visteon Corporation, Lear Corporation, The Reader's Digest Association, Corus Bankshares, Inc., Majestic Star Casino LLC, and ION Media Networks, Inc.
Mr. Sprayregen is a frequent lecturer and speaker, and has published numerous articles on insolvency, fiduciary duty, and distressed M&A issues. He has served as an Adjunct Professor at the University of Chicago Booth School of Business, New York University School of Law, and University of Pennsylvania Law School. In May 2013, Mr. Sprayregen was appointed to serve a two year term as the President of INSOL International, the leading insolvency association in the world.
Presentations:
Conferences:
Past Conferences & Presentations
What You'll Get...
Clear and unconventional thinking
Analysis both micro and macro
Ideas both long and short across a range of asset classes
35+ years of archived material --yours to browse for free
Speculation about the future informed by knowledge of the past
Writing you'd read for pleasure alone.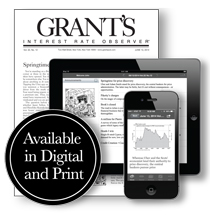 Follow Grant's
Archives
Browse 35 years of Grant's archives by topic or article.
The web site you are accessing has experienced an unexpected error.
Please contact the website administrator.
The following information is meant for the website developer for debugging purposes.
Error Occurred While Processing Request
Error Executing Database Query.
[Macromedia][SQLServer JDBC Driver][SQLServer]Invalid column name 'Name'.
The error occurred in C:/ColdFusion2016/cfusion/CustomTags/cms_V3.cfm: line 68
Called from C:/ColdFusion2016/cfusion/CustomTags/cms_V3.cfm: line 1
Called from E:/inetpub/wwwroot/grants2013/contentBlocks/cartoon.cfm: line 10
Called from E:/inetpub/wwwroot/grants2013/includes/sidebar.cfm: line 158
Called from E:/inetpub/wwwroot/grants2013/conferences/bio.cfm: line 171
Called from E:/inetpub/wwwroot/grants2013/includes/inc_campaignTemplate.cfm: line 7
Called from e:/inetpub/wwwroot/grants2013/404.cfm: line 288
Called from e:/inetpub/wwwroot/grants2013/404.cfm: line 238
Called from e:/inetpub/wwwroot/grants2013/404.cfm: line 1
Called from C:/ColdFusion2016/cfusion/CustomTags/cms_V3.cfm: line 68
Called from C:/ColdFusion2016/cfusion/CustomTags/cms_V3.cfm: line 1
Called from E:/inetpub/wwwroot/grants2013/contentBlocks/cartoon.cfm: line 10
Called from E:/inetpub/wwwroot/grants2013/includes/sidebar.cfm: line 158
Called from E:/inetpub/wwwroot/grants2013/conferences/bio.cfm: line 171
Called from E:/inetpub/wwwroot/grants2013/includes/inc_campaignTemplate.cfm: line 7
Called from e:/inetpub/wwwroot/grants2013/404.cfm: line 288
Called from e:/inetpub/wwwroot/grants2013/404.cfm: line 238
Called from e:/inetpub/wwwroot/grants2013/404.cfm: line 1

66 : 		AND regionID = #regionID#
67 : 		AND langID = #langID#
68 : 		#status#
69 : </CFQUERY>
70 : 

---
| | |
| --- | --- |
| SQLSTATE | 42S22 |
| DATASOURCE | Grants |
| VENDORERRORCODE | 207 |
| SQL | SELECT nextschedule,type,description,sortorder FROM cmsContent2020 WITH(NOLOCK) WHERE Name = 'SEOPageTitle' AND ID = '/contentblocks/cartoon.cfm' AND regionID = 1 AND langID = 1 AND Status = 0 |
Resources:
| | |
| --- | --- |
| Browser | CCBot/2.0 (https://commoncrawl.org/faq/) |
| Remote Address | 3.239.112.140 |
| Referrer | |
| Date/Time | 03-Dec-22 02:15 PM |
Stack Trace
at cfcms_V32ecfm607504366._factor7(C:/ColdFusion2016/cfusion/CustomTags/cms_V3.cfm:68) at cfcms_V32ecfm607504366.runPage(C:/ColdFusion2016/cfusion/CustomTags/cms_V3.cfm:1) at cfcartoon2ecfm991852267.runPage(E:/inetpub/wwwroot/grants2013/contentBlocks/cartoon.cfm:10) at cfsidebar2ecfm1968803614.runPage(E:/inetpub/wwwroot/grants2013/includes/sidebar.cfm:158) at cfbio2ecfm114172326.runPage(E:/inetpub/wwwroot/grants2013/conferences/bio.cfm:171) at cfinc_campaignTemplate2ecfm954938142.runPage(E:/inetpub/wwwroot/grants2013/includes/inc_campaignTemplate.cfm:7) at cf4042ecfm923406845._factor5(e:/inetpub/wwwroot/grants2013/404.cfm:288) at cf4042ecfm923406845._factor6(e:/inetpub/wwwroot/grants2013/404.cfm:238) at cf4042ecfm923406845.runPage(e:/inetpub/wwwroot/grants2013/404.cfm:1) at cfcms_V32ecfm607504366._factor7(C:/ColdFusion2016/cfusion/CustomTags/cms_V3.cfm:68) at cfcms_V32ecfm607504366.runPage(C:/ColdFusion2016/cfusion/CustomTags/cms_V3.cfm:1) at cfcartoon2ecfm991852267.runPage(E:/inetpub/wwwroot/grants2013/contentBlocks/cartoon.cfm:10) at cfsidebar2ecfm1968803614.runPage(E:/inetpub/wwwroot/grants2013/includes/sidebar.cfm:158) at cfbio2ecfm114172326.runPage(E:/inetpub/wwwroot/grants2013/conferences/bio.cfm:171) at cfinc_campaignTemplate2ecfm954938142.runPage(E:/inetpub/wwwroot/grants2013/includes/inc_campaignTemplate.cfm:7) at cf4042ecfm923406845._factor5(e:/inetpub/wwwroot/grants2013/404.cfm:288) at cf4042ecfm923406845._factor6(e:/inetpub/wwwroot/grants2013/404.cfm:238) at cf4042ecfm923406845.runPage(e:/inetpub/wwwroot/grants2013/404.cfm:1)


java.sql.SQLSyntaxErrorException: [Macromedia][SQLServer JDBC Driver][SQLServer]Invalid column name 'Name'.
	at macromedia.jdbc.sqlserverbase.ddcw.b(Unknown Source)
	at macromedia.jdbc.sqlserverbase.ddcw.a(Unknown Source)
	at macromedia.jdbc.sqlserverbase.ddcv.b(Unknown Source)
	at macromedia.jdbc.sqlserverbase.ddcv.a(Unknown Source)
	at macromedia.jdbc.sqlserver.tds.ddr.v(Unknown Source)
	at macromedia.jdbc.sqlserver.tds.ddr.a(Unknown Source)
	at macromedia.jdbc.sqlserver.tds.ddr.c(Unknown Source)
	at macromedia.jdbc.sqlserver.dda4.m(Unknown Source)
	at macromedia.jdbc.sqlserverbase.dde7.e(Unknown Source)
	at macromedia.jdbc.sqlserverbase.dde7.a(Unknown Source)
	at macromedia.jdbc.sqlserverbase.dde7.x(Unknown Source)
	at macromedia.jdbc.sqlserverbase.dde7.t(Unknown Source)
	at macromedia.jdbc.sqlserverbase.dde7.execute(Unknown Source)
	at coldfusion.server.j2ee.sql.JRunStatement.execute(JRunStatement.java:359)
	at coldfusion.sql.Executive.executeQuery(Executive.java:1537)
	at coldfusion.sql.Executive.executeQuery(Executive.java:1287)
	at coldfusion.sql.Executive.executeQuery(Executive.java:1217)
	at coldfusion.sql.SqlImpl.execute(SqlImpl.java:406)
	at coldfusion.tagext.sql.QueryTag.executeQuery(QueryTag.java:1181)
	at coldfusion.tagext.sql.QueryTag.startQueryExecution(QueryTag.java:815)
	at coldfusion.tagext.sql.QueryTag.doEndTag(QueryTag.java:768)
	at cfcms_V32ecfm607504366._factor7(C:\ColdFusion2016\cfusion\CustomTags\cms_V3.cfm:68)
	at cfcms_V32ecfm607504366.runPage(C:\ColdFusion2016\cfusion\CustomTags\cms_V3.cfm:1)
	at coldfusion.runtime.CfJspPage.invoke(CfJspPage.java:254)
	at coldfusion.filter.CFVariablesScopeFilter.invoke(CFVariablesScopeFilter.java:56)
	at coldfusion.tagext.lang.ModuleTag.doStartTag(ModuleTag.java:332)
	at coldfusion.runtime.CfJspPage._emptyTcfTag(CfJspPage.java:3707)
	at cfcartoon2ecfm991852267.runPage(E:\inetpub\wwwroot\grants2013\contentBlocks\cartoon.cfm:10)
	at coldfusion.runtime.CfJspPage.invoke(CfJspPage.java:254)
	at coldfusion.tagext.lang.IncludeTag.handlePageInvoke(IncludeTag.java:737)
	at coldfusion.tagext.lang.IncludeTag.doStartTag(IncludeTag.java:573)
	at coldfusion.runtime.CfJspPage._emptyTcfTag(CfJspPage.java:3707)
	at cfsidebar2ecfm1968803614.runPage(E:\inetpub\wwwroot\grants2013\includes\sidebar.cfm:158)
	at coldfusion.runtime.CfJspPage.invoke(CfJspPage.java:254)
	at coldfusion.tagext.lang.IncludeTag.handlePageInvoke(IncludeTag.java:737)
	at coldfusion.tagext.lang.IncludeTag.doStartTag(IncludeTag.java:573)
	at coldfusion.runtime.CfJspPage._emptyTcfTag(CfJspPage.java:3707)
	at cfbio2ecfm114172326.runPage(E:\inetpub\wwwroot\grants2013\conferences\bio.cfm:171)
	at coldfusion.runtime.CfJspPage.invoke(CfJspPage.java:254)
	at coldfusion.tagext.lang.IncludeTag.handlePageInvoke(IncludeTag.java:737)
	at coldfusion.tagext.lang.IncludeTag.doStartTag(IncludeTag.java:573)
	at coldfusion.runtime.CfJspPage._emptyTcfTag(CfJspPage.java:3707)
	at cfinc_campaignTemplate2ecfm954938142.runPage(E:\inetpub\wwwroot\grants2013\includes\inc_campaignTemplate.cfm:7)
	at coldfusion.runtime.CfJspPage.invoke(CfJspPage.java:254)
	at coldfusion.tagext.lang.IncludeTag.handlePageInvoke(IncludeTag.java:737)
	at coldfusion.tagext.lang.IncludeTag.doStartTag(IncludeTag.java:573)
	at coldfusion.runtime.CfJspPage._emptyTcfTag(CfJspPage.java:3707)
	at cf4042ecfm923406845._factor5(e:\inetpub\wwwroot\grants2013\404.cfm:288)
	at cf4042ecfm923406845._factor6(e:\inetpub\wwwroot\grants2013\404.cfm:238)
	at cf4042ecfm923406845.runPage(e:\inetpub\wwwroot\grants2013\404.cfm:1)
	at coldfusion.runtime.CfJspPage.invoke(CfJspPage.java:254)
	at coldfusion.tagext.lang.IncludeTag.handlePageInvoke(IncludeTag.java:737)
	at coldfusion.tagext.lang.IncludeTag.doStartTag(IncludeTag.java:573)
	at coldfusion.filter.CfincludeFilter.invoke(CfincludeFilter.java:65)
	at coldfusion.filter.IpFilter.invoke(IpFilter.java:45)
	at coldfusion.filter.ApplicationFilter.invoke(ApplicationFilter.java:505)
	at coldfusion.filter.RequestMonitorFilter.invoke(RequestMonitorFilter.java:43)
	at coldfusion.filter.MonitoringFilter.invoke(MonitoringFilter.java:40)
	at coldfusion.filter.PathFilter.invoke(PathFilter.java:153)
	at coldfusion.filter.ExceptionFilter.invoke(ExceptionFilter.java:94)
	at coldfusion.filter.BrowserDebugFilter.invoke(BrowserDebugFilter.java:78)
	at coldfusion.filter.ClientScopePersistenceFilter.invoke(ClientScopePersistenceFilter.java:28)
	at coldfusion.filter.BrowserFilter.invoke(BrowserFilter.java:38)
	at coldfusion.filter.NoCacheFilter.invoke(NoCacheFilter.java:60)
	at coldfusion.filter.GlobalsFilter.invoke(GlobalsFilter.java:38)
	at coldfusion.filter.DatasourceFilter.invoke(DatasourceFilter.java:22)
	at coldfusion.filter.CachingFilter.invoke(CachingFilter.java:62)
	at coldfusion.CfmServlet.service(CfmServlet.java:223)
	at coldfusion.bootstrap.BootstrapServlet.service(BootstrapServlet.java:89)
	at org.apache.catalina.core.ApplicationFilterChain.internalDoFilter(ApplicationFilterChain.java:231)
	at org.apache.catalina.core.ApplicationFilterChain.doFilter(ApplicationFilterChain.java:166)
	at coldfusion.monitor.event.MonitoringServletFilter.doFilter(MonitoringServletFilter.java:42)
	at coldfusion.bootstrap.BootstrapFilter.doFilter(BootstrapFilter.java:46)
	at org.apache.catalina.core.ApplicationFilterChain.internalDoFilter(ApplicationFilterChain.java:193)
	at org.apache.catalina.core.ApplicationFilterChain.doFilter(ApplicationFilterChain.java:166)
	at org.apache.tomcat.websocket.server.WsFilter.doFilter(WsFilter.java:52)
	at org.apache.catalina.core.ApplicationFilterChain.internalDoFilter(ApplicationFilterChain.java:193)
	at org.apache.catalina.core.ApplicationFilterChain.doFilter(ApplicationFilterChain.java:166)
	at com.seefusion.Filter.doFilter(Filter.java:109)
	at org.apache.catalina.core.ApplicationFilterChain.internalDoFilter(ApplicationFilterChain.java:193)
	at org.apache.catalina.core.ApplicationFilterChain.doFilter(ApplicationFilterChain.java:166)
	at org.apache.catalina.core.StandardWrapperValve.invoke(StandardWrapperValve.java:199)
	at org.apache.catalina.core.StandardContextValve.invoke(StandardContextValve.java:96)
	at org.apache.catalina.authenticator.AuthenticatorBase.invoke(AuthenticatorBase.java:493)
	at org.apache.catalina.core.StandardHostValve.invoke(StandardHostValve.java:140)
	at org.apache.catalina.valves.ErrorReportValve.invoke(ErrorReportValve.java:81)
	at org.apache.catalina.valves.RemoteIpValve.invoke(RemoteIpValve.java:685)
	at org.apache.catalina.core.StandardEngineValve.invoke(StandardEngineValve.java:87)
	at com.seefusion.SeeFusionValve.invoke(SeeFusionValve.java:52)
	at org.apache.catalina.connector.CoyoteAdapter.service(CoyoteAdapter.java:355)
	at org.apache.coyote.ajp.AjpProcessor.service(AjpProcessor.java:510)
	at org.apache.coyote.AbstractProcessorLight.process(AbstractProcessorLight.java:66)
	at org.apache.coyote.AbstractProtocol$ConnectionHandler.process(AbstractProtocol.java:800)
	at org.apache.tomcat.util.net.NioEndpoint$SocketProcessor.doRun(NioEndpoint.java:1471)
	at org.apache.tomcat.util.net.SocketProcessorBase.run(SocketProcessorBase.java:49)
	at java.util.concurrent.ThreadPoolExecutor.runWorker(ThreadPoolExecutor.java:1149)
	at java.util.concurrent.ThreadPoolExecutor$Worker.run(ThreadPoolExecutor.java:624)
	at org.apache.tomcat.util.threads.TaskThread$WrappingRunnable.run(TaskThread.java:61)
	at java.lang.Thread.run(Thread.java:748)