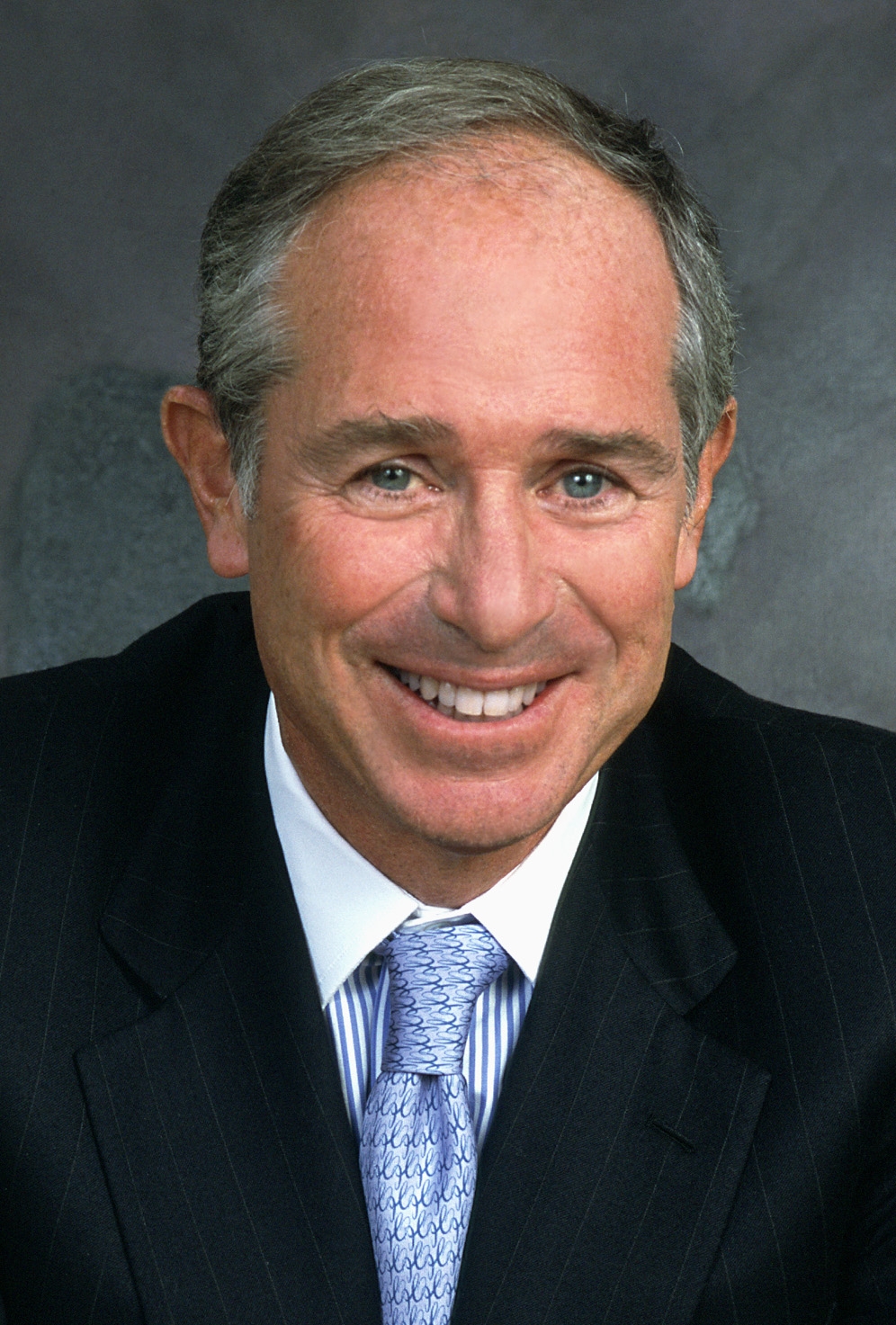 Stephen A. Schwarzman
Blackstone Group
Mr. Schwarzman is a member of The Council on Foreign Relations, The Business Council, The Business Roundtable, The International Business Council of the World Economic Forum. He serves on the boards of The New York Public Library, The Asia Society, The Board of Directors of The New York City Partnership and The Advisory Board of the School of Economics and Management at Tsinghua University, Beijing. He is a Trustee of The Frick Collection in New York City and Chairman Emeritus of the Board of Directors of The John F. Kennedy Center for the Performing Arts. In 2007, Mr. Schwarzman was included in TIME's "100 Most Influential People." He was awarded the Légion d'Honneur of France in 2007 and promoted to Officier by President Nicolas Sarkozy in 2010.
Mr. Schwarzman holds a B.A. from Yale University and an M.B.A. from Harvard Business School. He has served as an adjunct professor at the Yale School of Management and is on the Harvard Business School Board of Dean's Advisors. In 2012, he was awarded an Honorary Degree from Quinnipiac University.
Conferences:
Past Conferences & Presentations
What You'll Get...
Clear and unconventional thinking
Analysis both micro and macro
Ideas both long and short across a range of asset classes
35+ years of archived material --yours to browse for free
Speculation about the future informed by knowledge of the past
Writing you'd read for pleasure alone.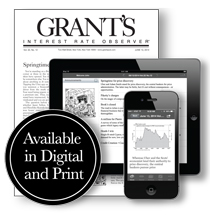 Follow Grant's
Archives
Browse 35 years of Grant's archives by topic or article.
The web site you are accessing has experienced an unexpected error.
Please contact the website administrator.
The following information is meant for the website developer for debugging purposes.
Error Occurred While Processing Request
Error Executing Database Query.
[Macromedia][SQLServer JDBC Driver][SQLServer]Invalid column name 'Name'.
The error occurred in C:/ColdFusion2016/cfusion/CustomTags/cms_V3.cfm: line 68
Called from C:/ColdFusion2016/cfusion/CustomTags/cms_V3.cfm: line 1
Called from E:/inetpub/wwwroot/grants2013/contentBlocks/cartoon.cfm: line 10
Called from E:/inetpub/wwwroot/grants2013/includes/sidebar.cfm: line 158
Called from E:/inetpub/wwwroot/grants2013/conferences/bio.cfm: line 171
Called from E:/inetpub/wwwroot/grants2013/includes/inc_campaignTemplate.cfm: line 7
Called from e:/inetpub/wwwroot/grants2013/404.cfm: line 288
Called from e:/inetpub/wwwroot/grants2013/404.cfm: line 238
Called from e:/inetpub/wwwroot/grants2013/404.cfm: line 1
Called from C:/ColdFusion2016/cfusion/CustomTags/cms_V3.cfm: line 68
Called from C:/ColdFusion2016/cfusion/CustomTags/cms_V3.cfm: line 1
Called from E:/inetpub/wwwroot/grants2013/contentBlocks/cartoon.cfm: line 10
Called from E:/inetpub/wwwroot/grants2013/includes/sidebar.cfm: line 158
Called from E:/inetpub/wwwroot/grants2013/conferences/bio.cfm: line 171
Called from E:/inetpub/wwwroot/grants2013/includes/inc_campaignTemplate.cfm: line 7
Called from e:/inetpub/wwwroot/grants2013/404.cfm: line 288
Called from e:/inetpub/wwwroot/grants2013/404.cfm: line 238
Called from e:/inetpub/wwwroot/grants2013/404.cfm: line 1

66 : 		AND regionID = #regionID#
67 : 		AND langID = #langID#
68 : 		#status#
69 : </CFQUERY>
70 : 

---
| | |
| --- | --- |
| SQLSTATE | 42S22 |
| DATASOURCE | Grants |
| VENDORERRORCODE | 207 |
| SQL | SELECT nextschedule,type,description,sortorder FROM cmsContent2020 WITH(NOLOCK) WHERE Name = 'SEOPageTitle' AND ID = '/contentblocks/cartoon.cfm' AND regionID = 1 AND langID = 1 AND Status = 0 |
Resources:
| | |
| --- | --- |
| Browser | CCBot/2.0 (https://commoncrawl.org/faq/) |
| Remote Address | 3.239.112.140 |
| Referrer | |
| Date/Time | 03-Dec-22 03:19 PM |
Stack Trace
at cfcms_V32ecfm607504366._factor7(C:/ColdFusion2016/cfusion/CustomTags/cms_V3.cfm:68) at cfcms_V32ecfm607504366.runPage(C:/ColdFusion2016/cfusion/CustomTags/cms_V3.cfm:1) at cfcartoon2ecfm991852267.runPage(E:/inetpub/wwwroot/grants2013/contentBlocks/cartoon.cfm:10) at cfsidebar2ecfm1968803614.runPage(E:/inetpub/wwwroot/grants2013/includes/sidebar.cfm:158) at cfbio2ecfm114172326.runPage(E:/inetpub/wwwroot/grants2013/conferences/bio.cfm:171) at cfinc_campaignTemplate2ecfm954938142.runPage(E:/inetpub/wwwroot/grants2013/includes/inc_campaignTemplate.cfm:7) at cf4042ecfm923406845._factor5(e:/inetpub/wwwroot/grants2013/404.cfm:288) at cf4042ecfm923406845._factor6(e:/inetpub/wwwroot/grants2013/404.cfm:238) at cf4042ecfm923406845.runPage(e:/inetpub/wwwroot/grants2013/404.cfm:1) at cfcms_V32ecfm607504366._factor7(C:/ColdFusion2016/cfusion/CustomTags/cms_V3.cfm:68) at cfcms_V32ecfm607504366.runPage(C:/ColdFusion2016/cfusion/CustomTags/cms_V3.cfm:1) at cfcartoon2ecfm991852267.runPage(E:/inetpub/wwwroot/grants2013/contentBlocks/cartoon.cfm:10) at cfsidebar2ecfm1968803614.runPage(E:/inetpub/wwwroot/grants2013/includes/sidebar.cfm:158) at cfbio2ecfm114172326.runPage(E:/inetpub/wwwroot/grants2013/conferences/bio.cfm:171) at cfinc_campaignTemplate2ecfm954938142.runPage(E:/inetpub/wwwroot/grants2013/includes/inc_campaignTemplate.cfm:7) at cf4042ecfm923406845._factor5(e:/inetpub/wwwroot/grants2013/404.cfm:288) at cf4042ecfm923406845._factor6(e:/inetpub/wwwroot/grants2013/404.cfm:238) at cf4042ecfm923406845.runPage(e:/inetpub/wwwroot/grants2013/404.cfm:1)


java.sql.SQLSyntaxErrorException: [Macromedia][SQLServer JDBC Driver][SQLServer]Invalid column name 'Name'.
	at macromedia.jdbc.sqlserverbase.ddcw.b(Unknown Source)
	at macromedia.jdbc.sqlserverbase.ddcw.a(Unknown Source)
	at macromedia.jdbc.sqlserverbase.ddcv.b(Unknown Source)
	at macromedia.jdbc.sqlserverbase.ddcv.a(Unknown Source)
	at macromedia.jdbc.sqlserver.tds.ddr.v(Unknown Source)
	at macromedia.jdbc.sqlserver.tds.ddr.a(Unknown Source)
	at macromedia.jdbc.sqlserver.tds.ddr.c(Unknown Source)
	at macromedia.jdbc.sqlserver.dda4.m(Unknown Source)
	at macromedia.jdbc.sqlserverbase.dde7.e(Unknown Source)
	at macromedia.jdbc.sqlserverbase.dde7.a(Unknown Source)
	at macromedia.jdbc.sqlserverbase.dde7.x(Unknown Source)
	at macromedia.jdbc.sqlserverbase.dde7.t(Unknown Source)
	at macromedia.jdbc.sqlserverbase.dde7.execute(Unknown Source)
	at coldfusion.server.j2ee.sql.JRunStatement.execute(JRunStatement.java:359)
	at coldfusion.sql.Executive.executeQuery(Executive.java:1537)
	at coldfusion.sql.Executive.executeQuery(Executive.java:1287)
	at coldfusion.sql.Executive.executeQuery(Executive.java:1217)
	at coldfusion.sql.SqlImpl.execute(SqlImpl.java:406)
	at coldfusion.tagext.sql.QueryTag.executeQuery(QueryTag.java:1181)
	at coldfusion.tagext.sql.QueryTag.startQueryExecution(QueryTag.java:815)
	at coldfusion.tagext.sql.QueryTag.doEndTag(QueryTag.java:768)
	at cfcms_V32ecfm607504366._factor7(C:\ColdFusion2016\cfusion\CustomTags\cms_V3.cfm:68)
	at cfcms_V32ecfm607504366.runPage(C:\ColdFusion2016\cfusion\CustomTags\cms_V3.cfm:1)
	at coldfusion.runtime.CfJspPage.invoke(CfJspPage.java:254)
	at coldfusion.filter.CFVariablesScopeFilter.invoke(CFVariablesScopeFilter.java:56)
	at coldfusion.tagext.lang.ModuleTag.doStartTag(ModuleTag.java:332)
	at coldfusion.runtime.CfJspPage._emptyTcfTag(CfJspPage.java:3707)
	at cfcartoon2ecfm991852267.runPage(E:\inetpub\wwwroot\grants2013\contentBlocks\cartoon.cfm:10)
	at coldfusion.runtime.CfJspPage.invoke(CfJspPage.java:254)
	at coldfusion.tagext.lang.IncludeTag.handlePageInvoke(IncludeTag.java:737)
	at coldfusion.tagext.lang.IncludeTag.doStartTag(IncludeTag.java:573)
	at coldfusion.runtime.CfJspPage._emptyTcfTag(CfJspPage.java:3707)
	at cfsidebar2ecfm1968803614.runPage(E:\inetpub\wwwroot\grants2013\includes\sidebar.cfm:158)
	at coldfusion.runtime.CfJspPage.invoke(CfJspPage.java:254)
	at coldfusion.tagext.lang.IncludeTag.handlePageInvoke(IncludeTag.java:737)
	at coldfusion.tagext.lang.IncludeTag.doStartTag(IncludeTag.java:573)
	at coldfusion.runtime.CfJspPage._emptyTcfTag(CfJspPage.java:3707)
	at cfbio2ecfm114172326.runPage(E:\inetpub\wwwroot\grants2013\conferences\bio.cfm:171)
	at coldfusion.runtime.CfJspPage.invoke(CfJspPage.java:254)
	at coldfusion.tagext.lang.IncludeTag.handlePageInvoke(IncludeTag.java:737)
	at coldfusion.tagext.lang.IncludeTag.doStartTag(IncludeTag.java:573)
	at coldfusion.runtime.CfJspPage._emptyTcfTag(CfJspPage.java:3707)
	at cfinc_campaignTemplate2ecfm954938142.runPage(E:\inetpub\wwwroot\grants2013\includes\inc_campaignTemplate.cfm:7)
	at coldfusion.runtime.CfJspPage.invoke(CfJspPage.java:254)
	at coldfusion.tagext.lang.IncludeTag.handlePageInvoke(IncludeTag.java:737)
	at coldfusion.tagext.lang.IncludeTag.doStartTag(IncludeTag.java:573)
	at coldfusion.runtime.CfJspPage._emptyTcfTag(CfJspPage.java:3707)
	at cf4042ecfm923406845._factor5(e:\inetpub\wwwroot\grants2013\404.cfm:288)
	at cf4042ecfm923406845._factor6(e:\inetpub\wwwroot\grants2013\404.cfm:238)
	at cf4042ecfm923406845.runPage(e:\inetpub\wwwroot\grants2013\404.cfm:1)
	at coldfusion.runtime.CfJspPage.invoke(CfJspPage.java:254)
	at coldfusion.tagext.lang.IncludeTag.handlePageInvoke(IncludeTag.java:737)
	at coldfusion.tagext.lang.IncludeTag.doStartTag(IncludeTag.java:573)
	at coldfusion.filter.CfincludeFilter.invoke(CfincludeFilter.java:65)
	at coldfusion.filter.IpFilter.invoke(IpFilter.java:45)
	at coldfusion.filter.ApplicationFilter.invoke(ApplicationFilter.java:505)
	at coldfusion.filter.RequestMonitorFilter.invoke(RequestMonitorFilter.java:43)
	at coldfusion.filter.MonitoringFilter.invoke(MonitoringFilter.java:40)
	at coldfusion.filter.PathFilter.invoke(PathFilter.java:153)
	at coldfusion.filter.ExceptionFilter.invoke(ExceptionFilter.java:94)
	at coldfusion.filter.BrowserDebugFilter.invoke(BrowserDebugFilter.java:78)
	at coldfusion.filter.ClientScopePersistenceFilter.invoke(ClientScopePersistenceFilter.java:28)
	at coldfusion.filter.BrowserFilter.invoke(BrowserFilter.java:38)
	at coldfusion.filter.NoCacheFilter.invoke(NoCacheFilter.java:60)
	at coldfusion.filter.GlobalsFilter.invoke(GlobalsFilter.java:38)
	at coldfusion.filter.DatasourceFilter.invoke(DatasourceFilter.java:22)
	at coldfusion.filter.CachingFilter.invoke(CachingFilter.java:62)
	at coldfusion.CfmServlet.service(CfmServlet.java:223)
	at coldfusion.bootstrap.BootstrapServlet.service(BootstrapServlet.java:89)
	at org.apache.catalina.core.ApplicationFilterChain.internalDoFilter(ApplicationFilterChain.java:231)
	at org.apache.catalina.core.ApplicationFilterChain.doFilter(ApplicationFilterChain.java:166)
	at coldfusion.monitor.event.MonitoringServletFilter.doFilter(MonitoringServletFilter.java:42)
	at coldfusion.bootstrap.BootstrapFilter.doFilter(BootstrapFilter.java:46)
	at org.apache.catalina.core.ApplicationFilterChain.internalDoFilter(ApplicationFilterChain.java:193)
	at org.apache.catalina.core.ApplicationFilterChain.doFilter(ApplicationFilterChain.java:166)
	at org.apache.tomcat.websocket.server.WsFilter.doFilter(WsFilter.java:52)
	at org.apache.catalina.core.ApplicationFilterChain.internalDoFilter(ApplicationFilterChain.java:193)
	at org.apache.catalina.core.ApplicationFilterChain.doFilter(ApplicationFilterChain.java:166)
	at com.seefusion.Filter.doFilter(Filter.java:109)
	at org.apache.catalina.core.ApplicationFilterChain.internalDoFilter(ApplicationFilterChain.java:193)
	at org.apache.catalina.core.ApplicationFilterChain.doFilter(ApplicationFilterChain.java:166)
	at org.apache.catalina.core.StandardWrapperValve.invoke(StandardWrapperValve.java:199)
	at org.apache.catalina.core.StandardContextValve.invoke(StandardContextValve.java:96)
	at org.apache.catalina.authenticator.AuthenticatorBase.invoke(AuthenticatorBase.java:493)
	at org.apache.catalina.core.StandardHostValve.invoke(StandardHostValve.java:140)
	at org.apache.catalina.valves.ErrorReportValve.invoke(ErrorReportValve.java:81)
	at org.apache.catalina.valves.RemoteIpValve.invoke(RemoteIpValve.java:685)
	at org.apache.catalina.core.StandardEngineValve.invoke(StandardEngineValve.java:87)
	at com.seefusion.SeeFusionValve.invoke(SeeFusionValve.java:52)
	at org.apache.catalina.connector.CoyoteAdapter.service(CoyoteAdapter.java:355)
	at org.apache.coyote.ajp.AjpProcessor.service(AjpProcessor.java:510)
	at org.apache.coyote.AbstractProcessorLight.process(AbstractProcessorLight.java:66)
	at org.apache.coyote.AbstractProtocol$ConnectionHandler.process(AbstractProtocol.java:800)
	at org.apache.tomcat.util.net.NioEndpoint$SocketProcessor.doRun(NioEndpoint.java:1471)
	at org.apache.tomcat.util.net.SocketProcessorBase.run(SocketProcessorBase.java:49)
	at java.util.concurrent.ThreadPoolExecutor.runWorker(ThreadPoolExecutor.java:1149)
	at java.util.concurrent.ThreadPoolExecutor$Worker.run(ThreadPoolExecutor.java:624)
	at org.apache.tomcat.util.threads.TaskThread$WrappingRunnable.run(TaskThread.java:61)
	at java.lang.Thread.run(Thread.java:748)