R. Brad Martin
RBM Venture Company
R. Brad Martin is Retired Chairman and CEO of Saks Incorporated and Chairman of RBM Venture Company, his family investment company.
Martin retired on May 4, 2007, as Chairman of Saks after serving nearly 20 years as an executive with that firm. He was the principal investor in RBM Acquisition Company, an entity which acquired Saks' predecessor business, Proffitt's, Inc.  Martin became the Chief Executive Officer of the company in 1989 when it was comprised of ten stores with annual revenues of approximately $70 million. Over the subsequent ten years, Proffitt's grew to become one of the largest department store businesses in the United States generating revenues in excess of $4 billion. In 1998, Proffitt's acquired Saks Holdings and merged it into Proffitt's, renaming the combined enterprise Saks Incorporated. In 2005 and 2006, recognizing the continuing consolidation of the mid-range department store business and the growth prospects of the luxury retail segment, Martin developed and oversaw a strategy of divesting the traditional department store assets, returning over $2 billion to shareholders through a series of transactions. During the 18-year period when Martin served as CEO and then Chairman of Proffitt's/Saks, the value of its stock increased more than 12-fold.
Martin has also engaged in a number of other entrepreneurial and private equity activities. In 1987, he co-founded Corporate Child Care, Inc., which subsequently evolved into the largest corporate-affiliated child care company in the United States. Martin serves on the Board of Directors of four public companies—FedEx Corporation; First Horizon National Corporation; Dillard's Department Stores; and lululemon athletica. He is also a member of the.U.S. Advisory Board of CVC—a global private equity firm.
Brad Martin
is a graduate of The University of Memphis where he served as President of the student body and holds an MBA from the Owen Graduate School of Management at Vanderbilt University. Martin also served five terms as a member of the Tennessee House of Representatives. He is involved in a number of civic and philanthropic activities. 
He is married to the former Dina Miller and is the father of five sons. 
Past Conferences & Presentations
What You'll Get...
Clear and unconventional thinking
Analysis both micro and macro
Ideas both long and short across a range of asset classes
35+ years of archived material --yours to browse for free
Speculation about the future informed by knowledge of the past
Writing you'd read for pleasure alone.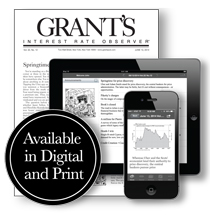 Follow Grant's
Archives
Browse 35 years of Grant's archives by topic or article.
The web site you are accessing has experienced an unexpected error.
Please contact the website administrator.
The following information is meant for the website developer for debugging purposes.
Error Occurred While Processing Request
Error Executing Database Query.
[Macromedia][SQLServer JDBC Driver][SQLServer]Invalid column name 'Name'.
The error occurred in C:/ColdFusion2016/cfusion/CustomTags/cms_V3.cfm: line 68
Called from C:/ColdFusion2016/cfusion/CustomTags/cms_V3.cfm: line 1
Called from E:/inetpub/wwwroot/grants2013/contentBlocks/cartoon.cfm: line 10
Called from E:/inetpub/wwwroot/grants2013/includes/sidebar.cfm: line 158
Called from E:/inetpub/wwwroot/grants2013/conferences/bio.cfm: line 171
Called from E:/inetpub/wwwroot/grants2013/includes/inc_campaignTemplate.cfm: line 7
Called from e:/inetpub/wwwroot/grants2013/404.cfm: line 288
Called from e:/inetpub/wwwroot/grants2013/404.cfm: line 238
Called from e:/inetpub/wwwroot/grants2013/404.cfm: line 1
Called from C:/ColdFusion2016/cfusion/CustomTags/cms_V3.cfm: line 68
Called from C:/ColdFusion2016/cfusion/CustomTags/cms_V3.cfm: line 1
Called from E:/inetpub/wwwroot/grants2013/contentBlocks/cartoon.cfm: line 10
Called from E:/inetpub/wwwroot/grants2013/includes/sidebar.cfm: line 158
Called from E:/inetpub/wwwroot/grants2013/conferences/bio.cfm: line 171
Called from E:/inetpub/wwwroot/grants2013/includes/inc_campaignTemplate.cfm: line 7
Called from e:/inetpub/wwwroot/grants2013/404.cfm: line 288
Called from e:/inetpub/wwwroot/grants2013/404.cfm: line 238
Called from e:/inetpub/wwwroot/grants2013/404.cfm: line 1

66 : 		AND regionID = #regionID#
67 : 		AND langID = #langID#
68 : 		#status#
69 : </CFQUERY>
70 : 

---
| | |
| --- | --- |
| SQLSTATE | 42S22 |
| DATASOURCE | Grants |
| VENDORERRORCODE | 207 |
| SQL | SELECT nextschedule,type,description,sortorder FROM cmsContent2020 WITH(NOLOCK) WHERE Name = 'SEOPageTitle' AND ID = '/contentblocks/cartoon.cfm' AND regionID = 1 AND langID = 1 AND Status = 0 |
Resources:
| | |
| --- | --- |
| Browser | CCBot/2.0 (https://commoncrawl.org/faq/) |
| Remote Address | 18.232.56.9 |
| Referrer | |
| Date/Time | 08-Dec-22 09:15 PM |
Stack Trace
at cfcms_V32ecfm607504366._factor7(C:/ColdFusion2016/cfusion/CustomTags/cms_V3.cfm:68) at cfcms_V32ecfm607504366.runPage(C:/ColdFusion2016/cfusion/CustomTags/cms_V3.cfm:1) at cfcartoon2ecfm991852267.runPage(E:/inetpub/wwwroot/grants2013/contentBlocks/cartoon.cfm:10) at cfsidebar2ecfm1968803614.runPage(E:/inetpub/wwwroot/grants2013/includes/sidebar.cfm:158) at cfbio2ecfm114172326.runPage(E:/inetpub/wwwroot/grants2013/conferences/bio.cfm:171) at cfinc_campaignTemplate2ecfm954938142.runPage(E:/inetpub/wwwroot/grants2013/includes/inc_campaignTemplate.cfm:7) at cf4042ecfm923406845._factor5(e:/inetpub/wwwroot/grants2013/404.cfm:288) at cf4042ecfm923406845._factor6(e:/inetpub/wwwroot/grants2013/404.cfm:238) at cf4042ecfm923406845.runPage(e:/inetpub/wwwroot/grants2013/404.cfm:1) at cfcms_V32ecfm607504366._factor7(C:/ColdFusion2016/cfusion/CustomTags/cms_V3.cfm:68) at cfcms_V32ecfm607504366.runPage(C:/ColdFusion2016/cfusion/CustomTags/cms_V3.cfm:1) at cfcartoon2ecfm991852267.runPage(E:/inetpub/wwwroot/grants2013/contentBlocks/cartoon.cfm:10) at cfsidebar2ecfm1968803614.runPage(E:/inetpub/wwwroot/grants2013/includes/sidebar.cfm:158) at cfbio2ecfm114172326.runPage(E:/inetpub/wwwroot/grants2013/conferences/bio.cfm:171) at cfinc_campaignTemplate2ecfm954938142.runPage(E:/inetpub/wwwroot/grants2013/includes/inc_campaignTemplate.cfm:7) at cf4042ecfm923406845._factor5(e:/inetpub/wwwroot/grants2013/404.cfm:288) at cf4042ecfm923406845._factor6(e:/inetpub/wwwroot/grants2013/404.cfm:238) at cf4042ecfm923406845.runPage(e:/inetpub/wwwroot/grants2013/404.cfm:1)


java.sql.SQLSyntaxErrorException: [Macromedia][SQLServer JDBC Driver][SQLServer]Invalid column name 'Name'.
	at macromedia.jdbc.sqlserverbase.ddcw.b(Unknown Source)
	at macromedia.jdbc.sqlserverbase.ddcw.a(Unknown Source)
	at macromedia.jdbc.sqlserverbase.ddcv.b(Unknown Source)
	at macromedia.jdbc.sqlserverbase.ddcv.a(Unknown Source)
	at macromedia.jdbc.sqlserver.tds.ddr.v(Unknown Source)
	at macromedia.jdbc.sqlserver.tds.ddr.a(Unknown Source)
	at macromedia.jdbc.sqlserver.tds.ddr.c(Unknown Source)
	at macromedia.jdbc.sqlserver.dda4.m(Unknown Source)
	at macromedia.jdbc.sqlserverbase.dde7.e(Unknown Source)
	at macromedia.jdbc.sqlserverbase.dde7.a(Unknown Source)
	at macromedia.jdbc.sqlserverbase.dde7.x(Unknown Source)
	at macromedia.jdbc.sqlserverbase.dde7.t(Unknown Source)
	at macromedia.jdbc.sqlserverbase.dde7.execute(Unknown Source)
	at coldfusion.server.j2ee.sql.JRunStatement.execute(JRunStatement.java:359)
	at coldfusion.sql.Executive.executeQuery(Executive.java:1537)
	at coldfusion.sql.Executive.executeQuery(Executive.java:1287)
	at coldfusion.sql.Executive.executeQuery(Executive.java:1217)
	at coldfusion.sql.SqlImpl.execute(SqlImpl.java:406)
	at coldfusion.tagext.sql.QueryTag.executeQuery(QueryTag.java:1181)
	at coldfusion.tagext.sql.QueryTag.startQueryExecution(QueryTag.java:815)
	at coldfusion.tagext.sql.QueryTag.doEndTag(QueryTag.java:768)
	at cfcms_V32ecfm607504366._factor7(C:\ColdFusion2016\cfusion\CustomTags\cms_V3.cfm:68)
	at cfcms_V32ecfm607504366.runPage(C:\ColdFusion2016\cfusion\CustomTags\cms_V3.cfm:1)
	at coldfusion.runtime.CfJspPage.invoke(CfJspPage.java:254)
	at coldfusion.filter.CFVariablesScopeFilter.invoke(CFVariablesScopeFilter.java:56)
	at coldfusion.tagext.lang.ModuleTag.doStartTag(ModuleTag.java:332)
	at coldfusion.runtime.CfJspPage._emptyTcfTag(CfJspPage.java:3707)
	at cfcartoon2ecfm991852267.runPage(E:\inetpub\wwwroot\grants2013\contentBlocks\cartoon.cfm:10)
	at coldfusion.runtime.CfJspPage.invoke(CfJspPage.java:254)
	at coldfusion.tagext.lang.IncludeTag.handlePageInvoke(IncludeTag.java:737)
	at coldfusion.tagext.lang.IncludeTag.doStartTag(IncludeTag.java:573)
	at coldfusion.runtime.CfJspPage._emptyTcfTag(CfJspPage.java:3707)
	at cfsidebar2ecfm1968803614.runPage(E:\inetpub\wwwroot\grants2013\includes\sidebar.cfm:158)
	at coldfusion.runtime.CfJspPage.invoke(CfJspPage.java:254)
	at coldfusion.tagext.lang.IncludeTag.handlePageInvoke(IncludeTag.java:737)
	at coldfusion.tagext.lang.IncludeTag.doStartTag(IncludeTag.java:573)
	at coldfusion.runtime.CfJspPage._emptyTcfTag(CfJspPage.java:3707)
	at cfbio2ecfm114172326.runPage(E:\inetpub\wwwroot\grants2013\conferences\bio.cfm:171)
	at coldfusion.runtime.CfJspPage.invoke(CfJspPage.java:254)
	at coldfusion.tagext.lang.IncludeTag.handlePageInvoke(IncludeTag.java:737)
	at coldfusion.tagext.lang.IncludeTag.doStartTag(IncludeTag.java:573)
	at coldfusion.runtime.CfJspPage._emptyTcfTag(CfJspPage.java:3707)
	at cfinc_campaignTemplate2ecfm954938142.runPage(E:\inetpub\wwwroot\grants2013\includes\inc_campaignTemplate.cfm:7)
	at coldfusion.runtime.CfJspPage.invoke(CfJspPage.java:254)
	at coldfusion.tagext.lang.IncludeTag.handlePageInvoke(IncludeTag.java:737)
	at coldfusion.tagext.lang.IncludeTag.doStartTag(IncludeTag.java:573)
	at coldfusion.runtime.CfJspPage._emptyTcfTag(CfJspPage.java:3707)
	at cf4042ecfm923406845._factor5(e:\inetpub\wwwroot\grants2013\404.cfm:288)
	at cf4042ecfm923406845._factor6(e:\inetpub\wwwroot\grants2013\404.cfm:238)
	at cf4042ecfm923406845.runPage(e:\inetpub\wwwroot\grants2013\404.cfm:1)
	at coldfusion.runtime.CfJspPage.invoke(CfJspPage.java:254)
	at coldfusion.tagext.lang.IncludeTag.handlePageInvoke(IncludeTag.java:737)
	at coldfusion.tagext.lang.IncludeTag.doStartTag(IncludeTag.java:573)
	at coldfusion.filter.CfincludeFilter.invoke(CfincludeFilter.java:65)
	at coldfusion.filter.IpFilter.invoke(IpFilter.java:45)
	at coldfusion.filter.ApplicationFilter.invoke(ApplicationFilter.java:505)
	at coldfusion.filter.RequestMonitorFilter.invoke(RequestMonitorFilter.java:43)
	at coldfusion.filter.MonitoringFilter.invoke(MonitoringFilter.java:40)
	at coldfusion.filter.PathFilter.invoke(PathFilter.java:153)
	at coldfusion.filter.ExceptionFilter.invoke(ExceptionFilter.java:94)
	at coldfusion.filter.BrowserDebugFilter.invoke(BrowserDebugFilter.java:78)
	at coldfusion.filter.ClientScopePersistenceFilter.invoke(ClientScopePersistenceFilter.java:28)
	at coldfusion.filter.BrowserFilter.invoke(BrowserFilter.java:38)
	at coldfusion.filter.NoCacheFilter.invoke(NoCacheFilter.java:60)
	at coldfusion.filter.GlobalsFilter.invoke(GlobalsFilter.java:38)
	at coldfusion.filter.DatasourceFilter.invoke(DatasourceFilter.java:22)
	at coldfusion.filter.CachingFilter.invoke(CachingFilter.java:62)
	at coldfusion.CfmServlet.service(CfmServlet.java:223)
	at coldfusion.bootstrap.BootstrapServlet.service(BootstrapServlet.java:89)
	at org.apache.catalina.core.ApplicationFilterChain.internalDoFilter(ApplicationFilterChain.java:231)
	at org.apache.catalina.core.ApplicationFilterChain.doFilter(ApplicationFilterChain.java:166)
	at coldfusion.monitor.event.MonitoringServletFilter.doFilter(MonitoringServletFilter.java:42)
	at coldfusion.bootstrap.BootstrapFilter.doFilter(BootstrapFilter.java:46)
	at org.apache.catalina.core.ApplicationFilterChain.internalDoFilter(ApplicationFilterChain.java:193)
	at org.apache.catalina.core.ApplicationFilterChain.doFilter(ApplicationFilterChain.java:166)
	at org.apache.tomcat.websocket.server.WsFilter.doFilter(WsFilter.java:52)
	at org.apache.catalina.core.ApplicationFilterChain.internalDoFilter(ApplicationFilterChain.java:193)
	at org.apache.catalina.core.ApplicationFilterChain.doFilter(ApplicationFilterChain.java:166)
	at com.seefusion.Filter.doFilter(Filter.java:109)
	at org.apache.catalina.core.ApplicationFilterChain.internalDoFilter(ApplicationFilterChain.java:193)
	at org.apache.catalina.core.ApplicationFilterChain.doFilter(ApplicationFilterChain.java:166)
	at org.apache.catalina.core.StandardWrapperValve.invoke(StandardWrapperValve.java:199)
	at org.apache.catalina.core.StandardContextValve.invoke(StandardContextValve.java:96)
	at org.apache.catalina.authenticator.AuthenticatorBase.invoke(AuthenticatorBase.java:493)
	at org.apache.catalina.core.StandardHostValve.invoke(StandardHostValve.java:140)
	at org.apache.catalina.valves.ErrorReportValve.invoke(ErrorReportValve.java:81)
	at org.apache.catalina.valves.RemoteIpValve.invoke(RemoteIpValve.java:685)
	at org.apache.catalina.core.StandardEngineValve.invoke(StandardEngineValve.java:87)
	at com.seefusion.SeeFusionValve.invoke(SeeFusionValve.java:52)
	at org.apache.catalina.connector.CoyoteAdapter.service(CoyoteAdapter.java:355)
	at org.apache.coyote.ajp.AjpProcessor.service(AjpProcessor.java:510)
	at org.apache.coyote.AbstractProcessorLight.process(AbstractProcessorLight.java:66)
	at org.apache.coyote.AbstractProtocol$ConnectionHandler.process(AbstractProtocol.java:800)
	at org.apache.tomcat.util.net.NioEndpoint$SocketProcessor.doRun(NioEndpoint.java:1471)
	at org.apache.tomcat.util.net.SocketProcessorBase.run(SocketProcessorBase.java:49)
	at java.util.concurrent.ThreadPoolExecutor.runWorker(ThreadPoolExecutor.java:1149)
	at java.util.concurrent.ThreadPoolExecutor$Worker.run(ThreadPoolExecutor.java:624)
	at org.apache.tomcat.util.threads.TaskThread$WrappingRunnable.run(TaskThread.java:61)
	at java.lang.Thread.run(Thread.java:748)