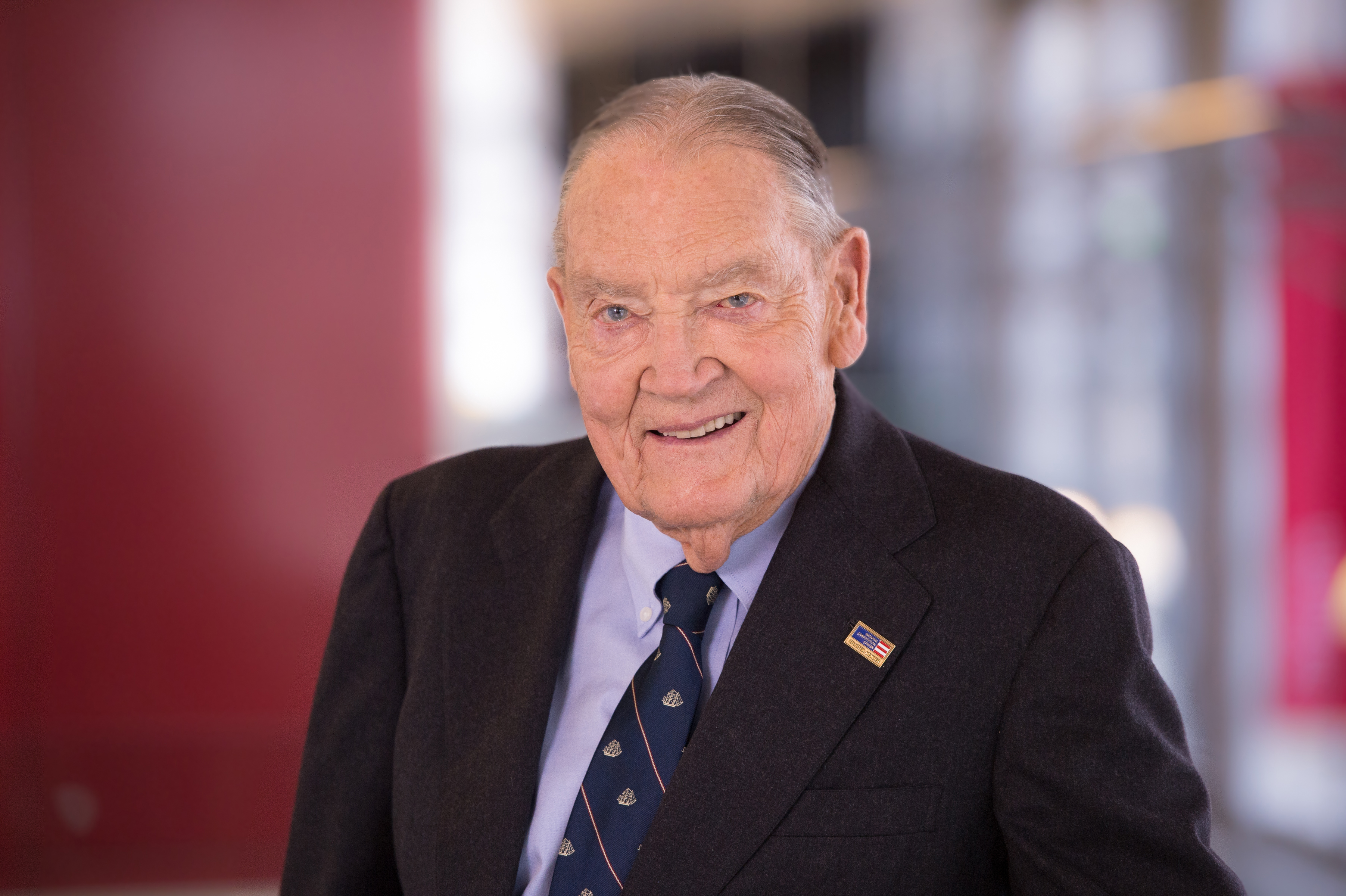 John C Bogle
The Vanguard Group, Inc.
John C. Bogle, 85, is Founder of The Vanguard Group, Inc., and President of the Bogle Financial Markets Research Center. He created Vanguard in 1974 and served as Chairman and Chief Executive Officer until 1996 and Senior Chairman until 2000. He had been associated with a predecessor company since 1951, immediately following his graduation from Princeton University, magna cum laude in Economics. He is a graduate of Blair Academy, Class of 1947.
Vanguard is the largest mutual fund organization in the world. Headquartered in Malvern, Pennsylvania, Vanguard comprises approximately 170 mutual funds with current assets totaling more than $2 trillion. Vanguard 500 Index Fund, the largest fund in the group, was founded by Mr. Bogle in 1975. It was the first index mutual fund. The story of his life and career is told in John Bogle and the Vanguard Experiment: One Man's Quest to Transform the Mutual Fund Industry, by Robert Slater (1996), The House That Jack Built, by Lewis Braham (2011), and "The Man in the Arena," by Knut Rostad (2013).
In 2004, TIME magazine named Mr. Bogle as one of the world's 100 most powerful and influential people, and Institutional Investor presented him with its Lifetime Achievement Award. In 1999, Fortune designated him as one of the investment industry's four "Giants of the 20th Century." In the same year, he received the Woodrow Wilson Award from Princeton University for "distinguished achievement in the Nation's service." In 1997, he was named one of the "Financial Leaders of the 20th Century" in Leadership in Financial Services (Macmillan Press Ltd., 1997). In 1998, Mr. Bogle was presented the Award for Professional Excellence from the Association for Investment Management and Research (now the CFA Institute), and in 1999 he was inducted into the Hall of Fame of the Fixed Income Analysts Society, Inc.
Mr. Bogle is a best-selling author, beginning with Bogle on Mutual Funds: New Perspectives for the Intelligent Investor (1993); Common Sense on Mutual Funds: New Imperatives for the Intelligent Investor (1999); John Bogle on Investing: The First 50 Years (2000); Character Counts: The Creation and Building of The Vanguard Group (2002); Battle for the Soul of Capitalism (2005); The Little Book of Common Sense Investing (2007); Enough: True Measures of Money, Business, and Life (2008); Common Sense on Mutual Funds, Fully Updated 10th Anniversary Edition (2009); and Don't Count On It! Reflections on Investment Illusions, Capitalism, "Mutual" Funds, Indexing, Entrepreneurship, Idealism, and Heroes (2010). His tenth book, Clash of the Cultures, was released in August of 2012.
Mr. Bogle served as Chairman of the Board of Governors of the Investment Company Institute in 1969-1970, and as a member of the Board in 1969-1974. In 1997, he was appointed by then-U.S. Securities and Exchange Commission Chairman Arthur Levitt to serve on the Independence Standards Board. In 2000, he was named by the Commonwealth's Chamber of Commerce as Pennsylvania's Business Leader of the Year.
He served as Chairman of the Board of the National Constitution Center from September 1999 through January 2007, and was a Director of Instinet Corporation until December 2005. He was a member of The Conference Board's Commission on Public Trust and Private Enterprise, and is a Fellow of the American Philosophical Society, and the American Academy of Arts and Sciences. A Trustee of Blair Academy, he served as Chairman in 1986-2001. He has received honorary doctorate degrees from the University of Delaware, University of Rochester, New School University, Susquehanna University, Eastern University, Widener University, Albright College, Pennsylvania State University, Drexel University, Immaculata University, Princeton University, Georgetown University, Trinity College, and Villanova University.
Mr. Bogle was born in Montclair, New Jersey, on May 8, 1929. He now resides in Bryn Mawr, Pennsylvania, with his wife, Eve. They are the parents of six children and the grandparents of twelve.
Presentations:
Conferences:
Spring 2017 - March 15
Spring 2015 - April 7
Fall 2011 - October 26
Past Conferences & Presentations
What You'll Get...
Clear and unconventional thinking
Analysis both micro and macro
Ideas both long and short across a range of asset classes
35+ years of archived material --yours to browse for free
Speculation about the future informed by knowledge of the past
Writing you'd read for pleasure alone.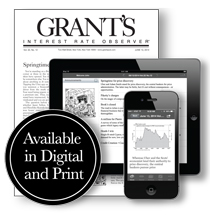 Follow Grant's
Archives
Browse 35 years of Grant's archives by topic or article.
The web site you are accessing has experienced an unexpected error.
Please contact the website administrator.
The following information is meant for the website developer for debugging purposes.
Error Occurred While Processing Request
Error Executing Database Query.
[Macromedia][SQLServer JDBC Driver][SQLServer]Invalid column name 'Name'.
The error occurred in C:/ColdFusion2016/cfusion/CustomTags/cms_V3.cfm: line 68
Called from C:/ColdFusion2016/cfusion/CustomTags/cms_V3.cfm: line 1
Called from E:/inetpub/wwwroot/grants2013/contentBlocks/cartoon.cfm: line 10
Called from E:/inetpub/wwwroot/grants2013/includes/sidebar.cfm: line 158
Called from E:/inetpub/wwwroot/grants2013/conferences/bio.cfm: line 171
Called from E:/inetpub/wwwroot/grants2013/includes/inc_campaignTemplate.cfm: line 7
Called from e:/inetpub/wwwroot/grants2013/404.cfm: line 288
Called from e:/inetpub/wwwroot/grants2013/404.cfm: line 238
Called from e:/inetpub/wwwroot/grants2013/404.cfm: line 1
Called from C:/ColdFusion2016/cfusion/CustomTags/cms_V3.cfm: line 68
Called from C:/ColdFusion2016/cfusion/CustomTags/cms_V3.cfm: line 1
Called from E:/inetpub/wwwroot/grants2013/contentBlocks/cartoon.cfm: line 10
Called from E:/inetpub/wwwroot/grants2013/includes/sidebar.cfm: line 158
Called from E:/inetpub/wwwroot/grants2013/conferences/bio.cfm: line 171
Called from E:/inetpub/wwwroot/grants2013/includes/inc_campaignTemplate.cfm: line 7
Called from e:/inetpub/wwwroot/grants2013/404.cfm: line 288
Called from e:/inetpub/wwwroot/grants2013/404.cfm: line 238
Called from e:/inetpub/wwwroot/grants2013/404.cfm: line 1

66 : 		AND regionID = #regionID#
67 : 		AND langID = #langID#
68 : 		#status#
69 : </CFQUERY>
70 : 

---
| | |
| --- | --- |
| SQLSTATE | 42S22 |
| DATASOURCE | Grants |
| VENDORERRORCODE | 207 |
| SQL | SELECT nextschedule,type,description,sortorder FROM cmsContent2020 WITH(NOLOCK) WHERE Name = 'SEOPageTitle' AND ID = '/contentblocks/cartoon.cfm' AND regionID = 1 AND langID = 1 AND Status = 0 |
Resources:
| | |
| --- | --- |
| Browser | CCBot/2.0 (https://commoncrawl.org/faq/) |
| Remote Address | 3.239.112.140 |
| Referrer | |
| Date/Time | 03-Dec-22 01:49 PM |
Stack Trace
at cfcms_V32ecfm607504366._factor7(C:/ColdFusion2016/cfusion/CustomTags/cms_V3.cfm:68) at cfcms_V32ecfm607504366.runPage(C:/ColdFusion2016/cfusion/CustomTags/cms_V3.cfm:1) at cfcartoon2ecfm991852267.runPage(E:/inetpub/wwwroot/grants2013/contentBlocks/cartoon.cfm:10) at cfsidebar2ecfm1968803614.runPage(E:/inetpub/wwwroot/grants2013/includes/sidebar.cfm:158) at cfbio2ecfm114172326.runPage(E:/inetpub/wwwroot/grants2013/conferences/bio.cfm:171) at cfinc_campaignTemplate2ecfm954938142.runPage(E:/inetpub/wwwroot/grants2013/includes/inc_campaignTemplate.cfm:7) at cf4042ecfm923406845._factor5(e:/inetpub/wwwroot/grants2013/404.cfm:288) at cf4042ecfm923406845._factor6(e:/inetpub/wwwroot/grants2013/404.cfm:238) at cf4042ecfm923406845.runPage(e:/inetpub/wwwroot/grants2013/404.cfm:1) at cfcms_V32ecfm607504366._factor7(C:/ColdFusion2016/cfusion/CustomTags/cms_V3.cfm:68) at cfcms_V32ecfm607504366.runPage(C:/ColdFusion2016/cfusion/CustomTags/cms_V3.cfm:1) at cfcartoon2ecfm991852267.runPage(E:/inetpub/wwwroot/grants2013/contentBlocks/cartoon.cfm:10) at cfsidebar2ecfm1968803614.runPage(E:/inetpub/wwwroot/grants2013/includes/sidebar.cfm:158) at cfbio2ecfm114172326.runPage(E:/inetpub/wwwroot/grants2013/conferences/bio.cfm:171) at cfinc_campaignTemplate2ecfm954938142.runPage(E:/inetpub/wwwroot/grants2013/includes/inc_campaignTemplate.cfm:7) at cf4042ecfm923406845._factor5(e:/inetpub/wwwroot/grants2013/404.cfm:288) at cf4042ecfm923406845._factor6(e:/inetpub/wwwroot/grants2013/404.cfm:238) at cf4042ecfm923406845.runPage(e:/inetpub/wwwroot/grants2013/404.cfm:1)


java.sql.SQLSyntaxErrorException: [Macromedia][SQLServer JDBC Driver][SQLServer]Invalid column name 'Name'.
	at macromedia.jdbc.sqlserverbase.ddcw.b(Unknown Source)
	at macromedia.jdbc.sqlserverbase.ddcw.a(Unknown Source)
	at macromedia.jdbc.sqlserverbase.ddcv.b(Unknown Source)
	at macromedia.jdbc.sqlserverbase.ddcv.a(Unknown Source)
	at macromedia.jdbc.sqlserver.tds.ddr.v(Unknown Source)
	at macromedia.jdbc.sqlserver.tds.ddr.a(Unknown Source)
	at macromedia.jdbc.sqlserver.tds.ddr.c(Unknown Source)
	at macromedia.jdbc.sqlserver.dda4.m(Unknown Source)
	at macromedia.jdbc.sqlserverbase.dde7.e(Unknown Source)
	at macromedia.jdbc.sqlserverbase.dde7.a(Unknown Source)
	at macromedia.jdbc.sqlserverbase.dde7.x(Unknown Source)
	at macromedia.jdbc.sqlserverbase.dde7.t(Unknown Source)
	at macromedia.jdbc.sqlserverbase.dde7.execute(Unknown Source)
	at coldfusion.server.j2ee.sql.JRunStatement.execute(JRunStatement.java:359)
	at coldfusion.sql.Executive.executeQuery(Executive.java:1537)
	at coldfusion.sql.Executive.executeQuery(Executive.java:1287)
	at coldfusion.sql.Executive.executeQuery(Executive.java:1217)
	at coldfusion.sql.SqlImpl.execute(SqlImpl.java:406)
	at coldfusion.tagext.sql.QueryTag.executeQuery(QueryTag.java:1181)
	at coldfusion.tagext.sql.QueryTag.startQueryExecution(QueryTag.java:815)
	at coldfusion.tagext.sql.QueryTag.doEndTag(QueryTag.java:768)
	at cfcms_V32ecfm607504366._factor7(C:\ColdFusion2016\cfusion\CustomTags\cms_V3.cfm:68)
	at cfcms_V32ecfm607504366.runPage(C:\ColdFusion2016\cfusion\CustomTags\cms_V3.cfm:1)
	at coldfusion.runtime.CfJspPage.invoke(CfJspPage.java:254)
	at coldfusion.filter.CFVariablesScopeFilter.invoke(CFVariablesScopeFilter.java:56)
	at coldfusion.tagext.lang.ModuleTag.doStartTag(ModuleTag.java:332)
	at coldfusion.runtime.CfJspPage._emptyTcfTag(CfJspPage.java:3707)
	at cfcartoon2ecfm991852267.runPage(E:\inetpub\wwwroot\grants2013\contentBlocks\cartoon.cfm:10)
	at coldfusion.runtime.CfJspPage.invoke(CfJspPage.java:254)
	at coldfusion.tagext.lang.IncludeTag.handlePageInvoke(IncludeTag.java:737)
	at coldfusion.tagext.lang.IncludeTag.doStartTag(IncludeTag.java:573)
	at coldfusion.runtime.CfJspPage._emptyTcfTag(CfJspPage.java:3707)
	at cfsidebar2ecfm1968803614.runPage(E:\inetpub\wwwroot\grants2013\includes\sidebar.cfm:158)
	at coldfusion.runtime.CfJspPage.invoke(CfJspPage.java:254)
	at coldfusion.tagext.lang.IncludeTag.handlePageInvoke(IncludeTag.java:737)
	at coldfusion.tagext.lang.IncludeTag.doStartTag(IncludeTag.java:573)
	at coldfusion.runtime.CfJspPage._emptyTcfTag(CfJspPage.java:3707)
	at cfbio2ecfm114172326.runPage(E:\inetpub\wwwroot\grants2013\conferences\bio.cfm:171)
	at coldfusion.runtime.CfJspPage.invoke(CfJspPage.java:254)
	at coldfusion.tagext.lang.IncludeTag.handlePageInvoke(IncludeTag.java:737)
	at coldfusion.tagext.lang.IncludeTag.doStartTag(IncludeTag.java:573)
	at coldfusion.runtime.CfJspPage._emptyTcfTag(CfJspPage.java:3707)
	at cfinc_campaignTemplate2ecfm954938142.runPage(E:\inetpub\wwwroot\grants2013\includes\inc_campaignTemplate.cfm:7)
	at coldfusion.runtime.CfJspPage.invoke(CfJspPage.java:254)
	at coldfusion.tagext.lang.IncludeTag.handlePageInvoke(IncludeTag.java:737)
	at coldfusion.tagext.lang.IncludeTag.doStartTag(IncludeTag.java:573)
	at coldfusion.runtime.CfJspPage._emptyTcfTag(CfJspPage.java:3707)
	at cf4042ecfm923406845._factor5(e:\inetpub\wwwroot\grants2013\404.cfm:288)
	at cf4042ecfm923406845._factor6(e:\inetpub\wwwroot\grants2013\404.cfm:238)
	at cf4042ecfm923406845.runPage(e:\inetpub\wwwroot\grants2013\404.cfm:1)
	at coldfusion.runtime.CfJspPage.invoke(CfJspPage.java:254)
	at coldfusion.tagext.lang.IncludeTag.handlePageInvoke(IncludeTag.java:737)
	at coldfusion.tagext.lang.IncludeTag.doStartTag(IncludeTag.java:573)
	at coldfusion.filter.CfincludeFilter.invoke(CfincludeFilter.java:65)
	at coldfusion.filter.IpFilter.invoke(IpFilter.java:45)
	at coldfusion.filter.ApplicationFilter.invoke(ApplicationFilter.java:505)
	at coldfusion.filter.RequestMonitorFilter.invoke(RequestMonitorFilter.java:43)
	at coldfusion.filter.MonitoringFilter.invoke(MonitoringFilter.java:40)
	at coldfusion.filter.PathFilter.invoke(PathFilter.java:153)
	at coldfusion.filter.ExceptionFilter.invoke(ExceptionFilter.java:94)
	at coldfusion.filter.BrowserDebugFilter.invoke(BrowserDebugFilter.java:78)
	at coldfusion.filter.ClientScopePersistenceFilter.invoke(ClientScopePersistenceFilter.java:28)
	at coldfusion.filter.BrowserFilter.invoke(BrowserFilter.java:38)
	at coldfusion.filter.NoCacheFilter.invoke(NoCacheFilter.java:60)
	at coldfusion.filter.GlobalsFilter.invoke(GlobalsFilter.java:38)
	at coldfusion.filter.DatasourceFilter.invoke(DatasourceFilter.java:22)
	at coldfusion.filter.CachingFilter.invoke(CachingFilter.java:62)
	at coldfusion.CfmServlet.service(CfmServlet.java:223)
	at coldfusion.bootstrap.BootstrapServlet.service(BootstrapServlet.java:89)
	at org.apache.catalina.core.ApplicationFilterChain.internalDoFilter(ApplicationFilterChain.java:231)
	at org.apache.catalina.core.ApplicationFilterChain.doFilter(ApplicationFilterChain.java:166)
	at coldfusion.monitor.event.MonitoringServletFilter.doFilter(MonitoringServletFilter.java:42)
	at coldfusion.bootstrap.BootstrapFilter.doFilter(BootstrapFilter.java:46)
	at org.apache.catalina.core.ApplicationFilterChain.internalDoFilter(ApplicationFilterChain.java:193)
	at org.apache.catalina.core.ApplicationFilterChain.doFilter(ApplicationFilterChain.java:166)
	at org.apache.tomcat.websocket.server.WsFilter.doFilter(WsFilter.java:52)
	at org.apache.catalina.core.ApplicationFilterChain.internalDoFilter(ApplicationFilterChain.java:193)
	at org.apache.catalina.core.ApplicationFilterChain.doFilter(ApplicationFilterChain.java:166)
	at com.seefusion.Filter.doFilter(Filter.java:109)
	at org.apache.catalina.core.ApplicationFilterChain.internalDoFilter(ApplicationFilterChain.java:193)
	at org.apache.catalina.core.ApplicationFilterChain.doFilter(ApplicationFilterChain.java:166)
	at org.apache.catalina.core.StandardWrapperValve.invoke(StandardWrapperValve.java:199)
	at org.apache.catalina.core.StandardContextValve.invoke(StandardContextValve.java:96)
	at org.apache.catalina.authenticator.AuthenticatorBase.invoke(AuthenticatorBase.java:493)
	at org.apache.catalina.core.StandardHostValve.invoke(StandardHostValve.java:140)
	at org.apache.catalina.valves.ErrorReportValve.invoke(ErrorReportValve.java:81)
	at org.apache.catalina.valves.RemoteIpValve.invoke(RemoteIpValve.java:685)
	at org.apache.catalina.core.StandardEngineValve.invoke(StandardEngineValve.java:87)
	at com.seefusion.SeeFusionValve.invoke(SeeFusionValve.java:52)
	at org.apache.catalina.connector.CoyoteAdapter.service(CoyoteAdapter.java:355)
	at org.apache.coyote.ajp.AjpProcessor.service(AjpProcessor.java:510)
	at org.apache.coyote.AbstractProcessorLight.process(AbstractProcessorLight.java:66)
	at org.apache.coyote.AbstractProtocol$ConnectionHandler.process(AbstractProtocol.java:800)
	at org.apache.tomcat.util.net.NioEndpoint$SocketProcessor.doRun(NioEndpoint.java:1471)
	at org.apache.tomcat.util.net.SocketProcessorBase.run(SocketProcessorBase.java:49)
	at java.util.concurrent.ThreadPoolExecutor.runWorker(ThreadPoolExecutor.java:1149)
	at java.util.concurrent.ThreadPoolExecutor$Worker.run(ThreadPoolExecutor.java:624)
	at org.apache.tomcat.util.threads.TaskThread$WrappingRunnable.run(TaskThread.java:61)
	at java.lang.Thread.run(Thread.java:748)